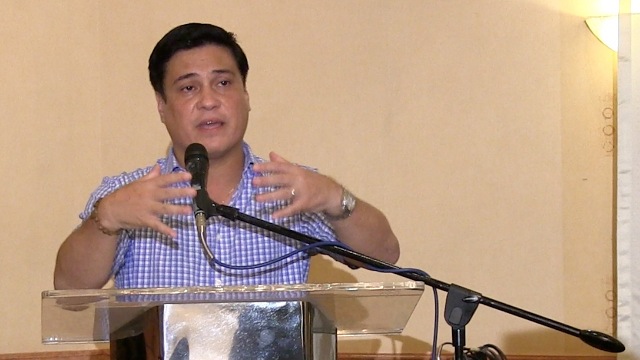 MANILA, Philippines - Petty Pimentel?
United Nationalist Alliance (UNA) senatorial bet Juan Miguel Zubiri wants his nemesis -- Team PNoy senatorial bet Aquilino "Koko" Pimentel III -- to stop attacking him. What he should do is talk about his track record, Zubiri said.
"Kailangan trabaho lang. Ang 'tinatapon niya sa akin ay medyo petty, sobrang petty," Zubiri told reporters on the sidelines of a health forum on Monday, March 11.
Zubiri defended Bukidnon province's "No Balance Billing" program, which offers free or socialized healthcare to residents. It was started during the governorship of Zubiri's father, and which Zubiri himself supported as congressman and senator.
Pimentel called it a "fraud," although it had been recognized by the health department and other local government units as a model program.
Zubiri dared Pimentel to visit the hospitals in Bukidnon to see this for himself. The problem, Zubiri said, is Pimentel didn't show up when Team PNoy campaigned in Bukidnon.
Environment to health
Zubiri, who introduced himself as a environmental advocate in the 2007 elections, has focused on health in this elections. Zubiri said the Senate needs a health champion.
Bukidnon's socialized medicare, he said, should be replicated nationwide to offer free-for-all healthcare services to the marginalized population.
Zubiri claimed that close to 200,000 families are enrolled in Bukidnon's No Balance Billing program. They have 19 municipal primary health centers and 3 tertiary hospitals with bed capacity of 150-200, he said.
He claimed that Bukidnon's healthcare program is something that has become a model for other local government units. Even officials from the Kingdom of Cambodia have supposedly visited Bukidnon to see how they're implementing it.
The problem with Philhealth, said Zubiri, is it doesn't cover 100 percent of the health services.
Zubiri also opposed the the Aquino admnistration's move to "corporatize" 26 government hospitals. It won't bring the price of health services down, Zubiri argued. It will result in the contrary.
"If we privatize this, I will tell you there will be a revolution. Hindi na natin mapapagamot ang ating mga kababayan," Zubiri said.
"I guarantee you, as the sun will rise tomorrow, the price of medicare will go up. I have not seen a privatized government program that has born fruit in helping Filipinos," Zubiri said.
Zubiri's position drew mixed reactions from health advocates present in the forum.
"I will oppose it. We will become street parliamentrains. We should keep government hospitals in government hands," Zubiri added.
Pimentel's paper list
Zubiri deprived Pimentel of his complete 6-year term as senator. Pimentel assumed as Philippine senator in August 2006 to replace Zubiri, who resigned after acknowledging that he benefitted from electoral fraud -- an operation that a few strategists in his party then, Lakas, said Zubiri didn't know about. Zubiri ranked 12th in the 2007 Comelec tally beating Pimentel who ranked 13th.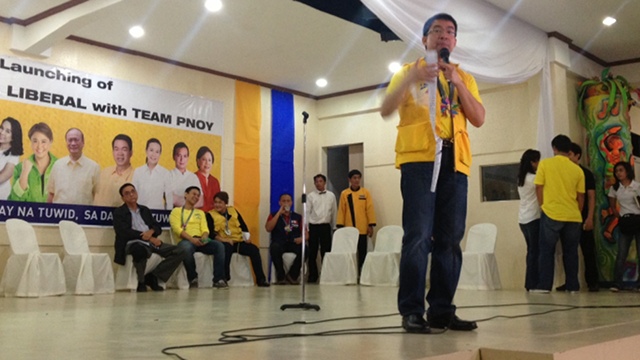 Pimentel won't let it go. He has made it his personal campaign to attack electoral fraud and Zubiri. It's the central message of his campaign. In Team PNoy sorties, Pimentel always talks about it. He describes himself as the man who won, cheated, but he fought and triumphed.
But Pimentel's story doesn't end there. The country's problem is not just electoral fraud, Pimentel tells voters. He keeps a rolled paper list in his pocket. He brings it out during his speeches to show other forms of fraud that Filipinos should fight.
During the Team PNoy sortie in his home province Cagayan de Oro, Pimentel introduced his own version of John Lennon's song Imagine. It describes a world where cheating doesn't happen.
Zubiri would match it with his own version of the song that promotes automated election. Zubiri maintained he was unaware of the Arroyo government cheated to make him win. Zubiri said it happened when voting was still manual.
Pimentel is the partymate of UNA stalwart Vice President Jejomar Binay in PDP-Laban. He bolted UNA to join Team PNoy because he refused to join Zubiri in the same senatorial ticket. - Rappler.com