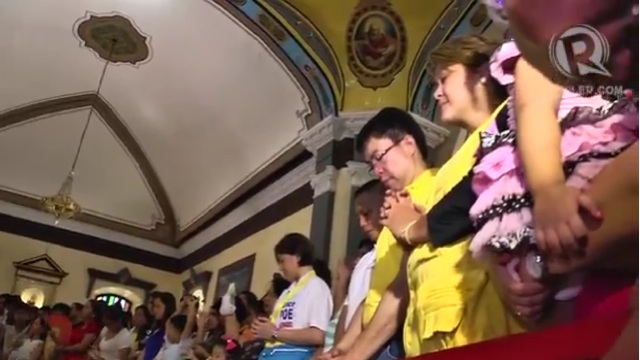 PRAYER TIME. Candidates of Team PNoy try to woo voters in vote-rich Pangasinan.
PANGASINAN, Philippines - In Pangasinan, prayers, proxies and PNoy are the formula.
If it helps the bets of President Benigno Aquino III then why not?
The coalition of Team PNoy is on its second day in vote-rich Pangasinan to woo voters in all 6 congressional districts.
While there, it drops by the shrine of Our Lady of Manaoag, known for granting miracles. Bets pray for safety, for the country, and to help people vote wisely. They also get a special blessing.
In rallies, bets emphasize Aquino's support for their candidacies -- a strategy that may work for the 1.6M voters in Pangasinan, especially because the province overwhelmingly supported Aquino's presidential run in 2010.
Knowing how significant Pangasinan is, bets who can't make it send proxies to maintain a presence in the all important province.
Pangasinan locals welcome Team PNoy warmly under the scorching heat. Will the two-day grind in the province work? Will prayers ensure the miracle of a 12-0 win? For now, knowing they're doing all they can is enough comfort for Team PNoy.
Natashya Gutierrez, Rappler, Pangasinan. - Rappler.com