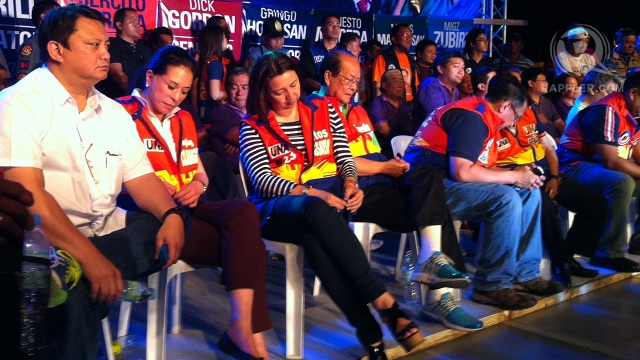 'CAMPAIGN EFFICIENTLY.' UNA wants to reduce waiting time during sorties by splitting the slate into 3 teams that will campaign in different areas simultaneously. File photo by Ayee Macaraig
BAGUIO CITY, Philippines – What it lacks in ads the opposition will make up for with triple the effort in the ground war.
By April, senatorial candidates of the United Nationalist Alliance (UNA) will no longer campaign as one slate but break into 3 teams, likely to be headed by the children of its top leaders: Vice President Jejomar Binay, former President Joseph Estrada, and Senate President Juan Ponce Enrile.
UNA campaign manager Navotas Rep Tobias "Toby" Tiangco told Rappler the plan will help UNA respond to a Nielsen study that shows that administration Team PNoy's ads aired 3 to 4 times more frequently than UNA ads did.
"Three to 4 times din ang sipag namin kaya may 3 groups kami sa sorties ngayon," Tiangco told Rappler in a phone interview on Saturday, March 16. (We will multiply our effort by 3 to 4 times so we will have 3 groups in our sorties.)
Yet Tiangco said that even before the Nielsen study and recent surveys came out, Binay already pushed for the plan so the candidates reach more places and make the campaign more efficient.
"The plan was to have one team for the first 30 days and then 3 teams after, but it did not initially push through because the candidates all wanted to be with VP Binay or one of our top 3 leaders. Now, we're telling them it's going to be implemented. We can't delay it any further."
Tiangco said all 9 UNA candidates will only come together during major rallies where Binay will be present. UNA expects Estrada to make fewer campaign appearances as he focuses on his candidacy for Manila mayor.
Greater coverage
Enrile is not active in the campaign for now, with Tiangco saying he even underwent an eye surgery on Saturday. The Senate President is suffering from macular degeneration and his doctors have advised him to rest.
"VP Binay said if the only reason you campaign together is because of me, why don't you break into groups because I'm not there every day so you can have more towns to cover?"
Tiangco said UNA is eyeing Senate bets Nancy Binay, San Juan Rep JV Ejercito, and Cagayan Rep Jack Enrile to be the 3 team leaders. They will be responsible for planning the sorties and schedules of their teams.
The campaign manager said the 3 were chosen because they have the resources and their own sortie managers who have been handling their individual schedules even before the start of the campaign period last February 12.Tiangco said the plan means the 3 teams can cover not just different towns, but even various provinces simultaneously.
UNA senatorial bet and resigned Sen Juan Miguel Zubiri supported the idea.
"It will make the campaign faster because if we stay in one place, there are 9 of us speaking, it will take us two to 3 hours when we can do motorcades in 5 towns if we split into groups," Zubiri said in Filipino during an interview in Candaba, Pampanga.
Long programs and some candidates' long speeches have delayed UNA sorties. In previous sorties, some candidates already leave the event to do their own motorcades and no longer wait for the rest to finish speaking.
'No NPC conflict with Sherwin'
Tiangco also expects better organization in UNA, with the addition of deputy campaign manager Valenzuela Mayor Sherwin Gatchalian into the team.
Gatchalian was initially considered as an UNA senatorial candidate but he decided to run for Congress instead, citing his survey numbers.
"Sherwin has been with us ever since and I've been considering a position for him in UNA. Now, I can no longer do the work on my own because I have so many tasks: I act as the spokesperson, approve schedules and budgets, make sure we comply with Comelec rules, think of strategies so the backroom work is really overwhelming," said Tiangco who is also seeking reelection.
Tiangco said he will now share the tasks with Gatchalian, who already joined the UNA sortie in Muntinlupa on Friday. He will also be present in UNA's Baguio sortie on Sunday.
The arrangement is unique though, with Gatchalian being a member of the Nationalist People's Coalition (NPC). NPC is in partnership with the ruling Liberal Party (LP) in the national level.
Yet Gatchalian told Rappler there will be no conflict with his new position.
"NPC posed no objection to my appointment with UNA. Ever since last year, I was very involved with UNA already. This is even way before the LP-NPC coalition," Gatchalian said in a text message.
Gatchalian said his job will entail planning and strategy.
UNA senatorial candidate former Sen Ernesto Maceda also said Gatchalian's new designation poses no problem. Maceda is president emeritus of NPC.
"The NPC as far as I know are not supporting all LP senatorial candidates. The NPC is supporting 5 or 6 candidates, most of them including UNA," Maceda told reporters in Pampanga.
Not stopping attacks on LP
UNA also responded to Team PNoy statements that it is suffering in the surveys because of negative campaigning. In the recent Social Weather Stations and Pulse Asia Survey, only 3 to 4 UNA bets made it to the so-called Magic 12.
Tiangco rejected Team PNoy's theory.
"Calling it negative campaigning is their defense mechanism because they don't want to answer the valid questions we raise. If Sen Drilon has delicadeza, he should resign as Team PNoy campaign manager for not having complete staff work in the appointment of Macabangkit Lanto."
Tiangco added, "To Bam Aquino, the question is: Do you believe GMA cheated and why did you still serve under her if you have delicadeza? These are all legitimate questions."
He also defended UNA's criticism of the low turnout in Team PNoy sorties. Tiangco rejected Drilon's statement that crowd numbers in sorties are not the standard for the campaigns.
UNA has challenged Team PNoy to draw a huge crowd as the two hold simultaneous rallies in Baguio on Sunday.
"Elections are always about numbers. If the sorties' turnout is not indicative, why hold sorties in the first place? They should just sleep in the house then instead of tiring themselves," Tiangco said. – Rappler.com