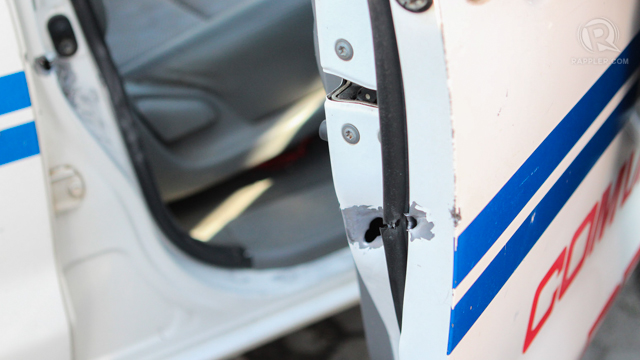 HOSTILE ENVIRONMENT. Bullet holes on one of the vehicles with Jack Enrile's convoy.
MANILA, Philippines (7th UPDATE) - Gunmen fired at a police vehicle that was following the 7-car convoy of senatorial candidate Jack Enrile in Mawab, Compostela Valley, shortly past 3 pm on Tuesday, March 19, Enrile himself told reporters.
About half an hour after initial reports showed that his convoy heard gunshots, Enrile told reporters they were travelling from the town of Nabunturan, Compostela Valley to Tagum in Davao Oriental when he "heard two distinct gunshots."
The shots "hit the Philippine National Police vehicle...the Compostela Valley provincial [police]. Hindi po sa akin 'yun," Enrile told reporters covering the campaign sortie of the United Nationalist Alliance (UNA) in Tagum.
"I was two vehicles away from the one that was hit," Enrile said in a statement he issued later.
A military report said the police vehicle was hit at the front passenger side. The shot apparently came from the mountainous area in sitio Banga, Barangay Sawangan in Mawab, an Eastern Mindanao Command report said. The police team was led by Police Insp Richard Dumasig, the report added.
Asked by reporters if he thinks he was the target, Enrile said: "I don't think so."
In a later statement he sent to media, he said: "I will not speculate on who fired the shots, who the intended target was, or the motive behind the incident. I am just extremely grateful that none of us was hurt. But I still deplore the fact that this happened."
Communist guerrillas operate in Compostela Valley and the nearby Davao provinces. The region, still struggling in the aftermath Typhoon Pablo, remains to be one of the rebels' strongholds in the country.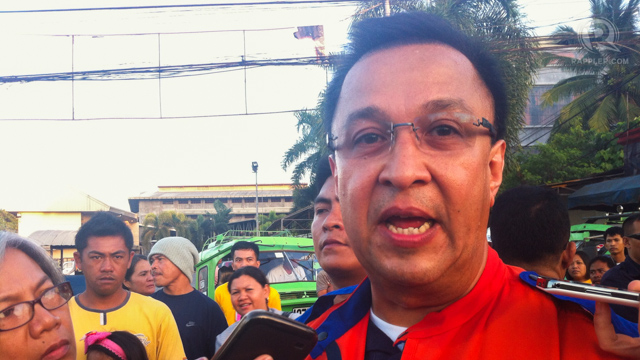 Jack Enrile describes how he felt to members of the media after the incident. RAPPLER/Ayee Macaraig
Volunteer security?
Enrile said the local police did not coordinate with him for any security arrangements.
But the military described the police as Enrile's "security escort."
"I could have probably heard more but then there was a return volley and we proceeded," Enrile told reporters. "We started to look behind us wondering where the other vehicles were. One by one they started to show themselves so we were less worried at that point but it was a little scary."
"The shots were fired at the PNP vehicle and soon right after we could hear a volley of return fire. It was two or 3 vehicles (PNP vehicle) behind us. It was following us."
"I hunkered down. You could probably call it duck, duck for safety."
One of his campaign staffers, Lizette Nepomuceno, told Rappler that the local police did not coordinate with them for any security arrangement. "They did not inform us that they will be joining us on our way to Tagum. We just saw them behind our convoy," she said in Filipino.
Enrile, son of Senate President Juan Ponce Enrile, downplayed the incident, saying it's "isolated." He said he and his fellow UNA candidates will likely discuss the matter tonight "and decide what to do as we progress towards the week."
In his initial statement sent to media, Enrile's media officer Richard Vargas said a "shooting incident" occurred while Enrile's convoy was travelling in Compostela Valley.
"The whole team is safe and Congressman Enrile is now in Tagum (Davao del Norte)," Vargas added. The Rappler team saw Enrile in Tagum City, outside the Gaisano mall, with his team at around 5:30 pm.
Enrile, current Cagayan representative, joined the campaign sortie of UNA in southern Mindanao. - with reports from Ayee Macaraig in Tagum, Davao Oriental/Rappler.com