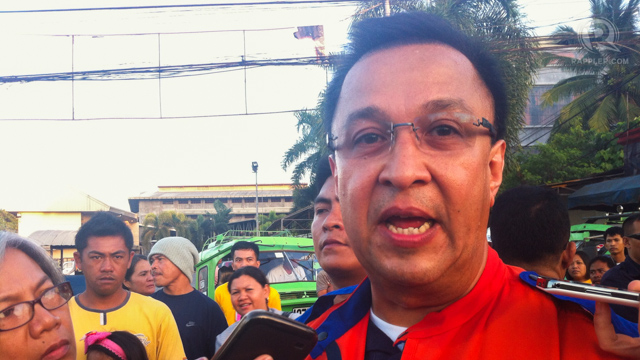 Jack Enrile describes how he felt to members of the media after the incident. RAPPLER/Ayee Macaraig
DAVAO ORIENTAL, Philippines – No, it's not a case of "ambush me."
Cagayan Rep Juan Ponce "Jack" Enrile Jr shrugged off speculations that the shooting incident on a police car tailing his convoy On Tuesday, March 19, was a campaign stunt. He also dismissed comparisons to his father's own ambush in 1972.
"There will always be conspiracy theorists. My advice to them: know the facts. Call up the Philippine National Police. Call up the Compostela Valley police to know what really happened and base your opinions and points of view on the facts," Enrile told reporters on the sidelines of a sortie in Manay, Davao Oriental, on Wednesday, March 20.
"Obviously, doubt is part of human nature. We expect that. We have an informed electorate. Members of our society can be quite jaded. We expect that [but] we move forward," Enrile said.
Enrile continued hitting the campaign trail a day after a Compostela Valley police car behind his convoy was strafed en route to Tagum City.
The son of Senate President Juan Ponce Enrile said police told him they are still investigating the motive behind the incident and the identity of the suspects. He insisted that he was not the target of the attack.
The incident triggered comments that it was much like what happened to the elder Enrile, whose ambush was used to help justify the declaration of Martial Law. In his controversial memoir, the Senate President retracted an earlier admission that the ambush was staged.
His son said the Tuesday shooting should not be compared to his father's ambush.
"In the case of my father, his car was hit and there were many bullets as we've seen in the pictures. In this case, it was one bullet that went through the door jam of the vehicle and it was not the vehicle that I was in. So there are no conspiracy theories here," he said.
Enrile said prior to the incident, he has not received any threats. He has no plans of changing his security arrangements.
"Mindanao by far has been safe for me. I've been going around this part of the country for about two years now. This is the first time I heard shooting…. It was one bullet. Hopefully that's the end of it."
Asked if he carries guns and wears a bulletproof vest now, Enrile said in jest, "No, what you see is bulletproof fat."
Other senatorial candidates of the opposition United Nationalist Alliance (UNA) also said there will be no changes in their security plan as a result of the incident.
Vice President Jejomar Binay's daughter, Nancy, and Zambales Rep Milagros "Mitos" Magsaysay said they believed Enrile's statement that what happened was just an isolated incident and he was not the target.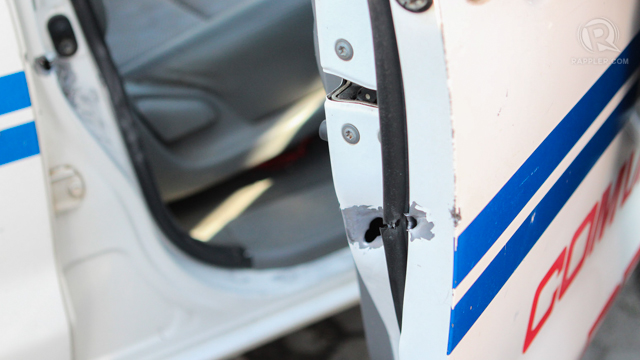 HOSTILE ENVIRONMENT. Bullet holes on one of the vehicles with Jack Enrile's convoy.
Father still on rest mode
Enrile also said his father will not yet be joining campaign sorties even if he appeared at a Senate probe a day ago. The elder Enrile has been absent in UNA sorties as doctors advised him to rest because of his macular degeneration.
"His eyesight is not as good as it once was and he has a hard time gauging his steps now. His body physically is very, very strong. His problem is with his vision so the steps are tentative so the hazards in the campaign trail are quite extensive," Jack Enrile said.
Instead, Enrile said his father will just be present in some sorties in Metro Manila, including the proclamation rally of former President Joseph Estrada in his Manila mayoral bid on March 31.
Jack Enrile said his family name is not always an advantage.
"It depends on the time. There are times the name Enrile is popular. There are times it's not so popular. Now, it depends who is voting. There are those believing in the Enrile brand of public service, those believing in my father. Some also believe in Jack but maybe not as much as my father."
'Davao good harvest area'
The UNA senatorial bets made stops in Manay and Mati cities in Davao Oriental ahead of a grand rally in Davao City.
Enrile, Binay and Magsaysay said they expect a successful event in Davao City even if UNA has no formal allies there. Long-time Davao politician, Vice Mayor Rodrigo Duterte, was ran under the Liberal Party in 2010 and endorsed the Benigno Aquino III-Mar Roxas ticket.
"I have high expectations. I'm already hearing that many people will attend the rally tonight," Binay said.
Enrile agreed: "I have not seen a town we've been to lately where the reception has not been warm. The local leaders have been welcoming of us. The crowd is quite large and enthusiastic so Davao Oriental is a good harvest area for UNA."
Magsaysay said she thinks she will get an "extra boost" in the Davao region because her father is from the area, and she studied grade school in the Philippine Women's College in Davao City.
"Also, I think the people of Compostela Valley and Davao Oriental hold grudges against the Aquino administration. Until now, the government has not yet repaired the infrastructure damaged by Pablo, the schools, barangay health centers, medical facilities, the road network and bridges," Magsaysay told Rappler.
"For me, it's unfortunate that this part of the world was forgotten by the Aquino administration. They don't need just relief goods but jobs so they won't rely on the government and look like refugees." – Rappler.com