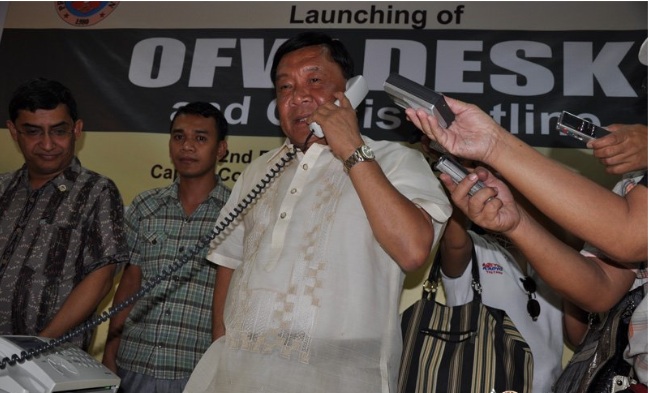 RE-ELECTIONIST. Pangasinan Gov. Amado Espino Jr. (in photo) is in a one-on-one race against Alaminos Mayor Hernani Braganza. Photo from http://www.pangasinan.gov.ph
PANGASINAN, Philippines — Right in the turf of his lone opponent, in Alaminos City, re-electionist Pangasinan Gov Amado Espino Jr got the endorsement of 3 rival slates on Thursday, March 21.
Three mayoral candidates — former 1st district Rep Arthur Celeste of the Nationalist People's Coalition (NPC), 1st district Board Member Teofilo Humilde Jr of the Centrist Democratic Party of the Philippines, and Vice Mayor Cesar Manzano of the United Nationalist Alliance — brought their running mates and their 23 candidates for city councilor to raise the governor's hand.
Espino, who is running for a last term under NPC-Biskeg, is being challenged by outgoing Alaminos Mayor Hernani Braganza of the Liberal Party.
Five candidates are seeking to replace Braganza as mayor: his son Lean (also of LP), John Natividad (independent), and the 3 who declared support for Espino.
The bets' endorsement of Espino came 6 days after no less than President Benigno Aquino III came here and strongly endorsed Braganza, who is his good friend from their time as congressmen.
The President repeatedly said before a cheering crowd in Alaminos that he "completely trusts Mayor Braganza" adding he needs people like him to push his advocacy for good governance.
"He will not gamble your future. So if we want a clean government and progress, one that is fast moving towards growth, let's vote Nani Braganza," he said in Filipino.
'We will raise gov's hand'
Celeste, Humilde, and Manzano said it doesn't matter who among them will be endorsed by Espino as his mayoralty bet since "we will be the ones to raise the governor's hand instead to ensure his victory."
"I bet you all, here in Alaminos, Governor Espino would win," Celeste told some 400 people in Ilocano.
The candidates had gathered at the Vistas Delas Islas for a forum called "Nagkakaisang Samahan Laban sa Panlilinlang at Kasinungalingan (United Group Against Deception and Dishonesty).
Humilde said he had consistently supported the governor and would continue to do so since the governor is performing well.
The 3 also assailed Braganza for allegedly peddling lies about the situation in Pangasinan. They said the outgoing mayor had cited a "litany of sins" allegedly commited by the governor and had claimed in a rally attended by the President that the province is lagging behind economically.
Espino is facing plunder charges for allegedly receiving about P900 million from jueteng operations, and a murder case for allegedly plotting the killing of Infanta Mayor Ruperto Martinez last year.
Espino thanked the 3 mayoralty bets who are endorsing his bid, even as he castigated Braganza and called him "boastful" and "a card-bearing communist."
"I've seen politicians who pictured their rivals as evil but this (Braganza spreading lies) is the worst," Espino said.
Sought for his comments, Braganza said: "Birds of the same feather flock together. I was not surprised that they bonded together in again spreading lies and deceit."
He added: "What I am sure of is that they were describing themselves and their brand of politics and not my leadership and the Liberal Party when they mentioned dayaan, pananakot, at pangungurakot (cheating, intimidation, and corruption). If I were them, I would be afraid of my myself, too." – Rappler.com