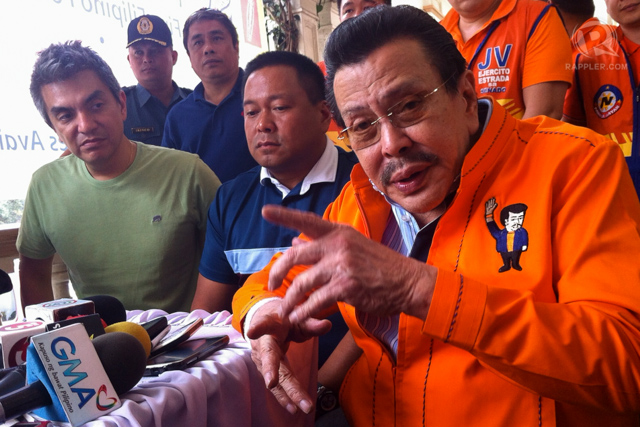 'EASTERADA SUNDAY.' Vice President Jejomar Binay, Senate President Juan Ponce Enrile and UNA's senatorial candidates will all be present to support Estrada's bid for Manila mayor in his Sunday proclamation. File photo by Rappler/Ayee Macaraig
MANILA, Philippines – Start where you're strong.
The opposition United Nationalist Alliance (UNA) is kicking off the campaign period for local candidates through week-long sorties in the bailiwicks of its leaders.
The opening salvo will be in the city of Manila, where UNA chairman former President Joseph Estrada will be holding his proclamation rally. He is capping off his political career by vying to be mayor of the country's capital.
Yet besides the so-called "Easterada Sunday" in Manila on March 31, UNA's senatorial bets will also hit the campaign trail in other localities identified with its top brass: Laguna, San Juan, Makati, Navotas, and Valenzuela cities.
UNA's senatorial bets will return to Laguna on April 1, Monday, head to San Juan the next day, then to Makati on Wednesday, and end the week in Navotas and Valenzuela on Sunday.
The sorties will coincide with the proclamation rally of the coalition's local bets.
The alliance's leaders call Laguna "Ejercito country," with Estrada's nephew, Gov Emilio Ramon "ER" Ejercito running for re-election.
San Juan is a city where the Ejercito-Estradas have long held power. Mayor Guia Gomez, mother of Estrada's son and senatorial bet San Juan Rep JV Ejercito, is also running for another term. Estrada's first political stint was as San Juan mayor.
Makati is Binay country, where Vice President Jejomar Binay was mayor for over two decades. His children, Makati Mayor Junjun Binay and Makati 2nd District Rep Mar-Len Abigail Binay, are both se-eking reelection. Binay's eldest daughter, Nancy, is an UNA senatorial candidate.
Navotas and Valenzuela are the turfs of UNA's campaign manager Rep Toby Tiangco and deputy campaign manager Mayor Sherwin Gatchalian, respectively. Tiangco is vying for another term along with his brother Mayor John Reynald Tiangco.
Gatchalian is running for congressman of Valenzuela's 1st district, seeking to swap places with his brother, Rep Rex Gatchalian. Sherwin is active with UNA even if the Gatchalians are with the Nationalist People's Coalition (NPC).
Besides the bailiwicks, UNA will also visit Tarlac, Quezon, Parañaque, Las Piñas, and Malabon this week.
This tack is different from how UNA began the campaign period for national candidates, choosing Cebu as the site of its proclamation rally. Estrada and Binay both lost in Cebu in their 2010 bids, but for 2013 they are allied with the Garcias who head Cebu's biggest local party, One Cebu.
Tiangco told Rappler that while the choice of UNA bailiwicks for the first week of the local campaign was not necessarily strategic, the decision was made ahead of time.
"Our local chairmen and leaders have long requested those dates, that if possible, we will visit them at the start of the local campaign. So both the local candidates and our senatorial candidates will be able to deliver speeches for UNA," Tiangco said in a phone interview on Saturday, March 30.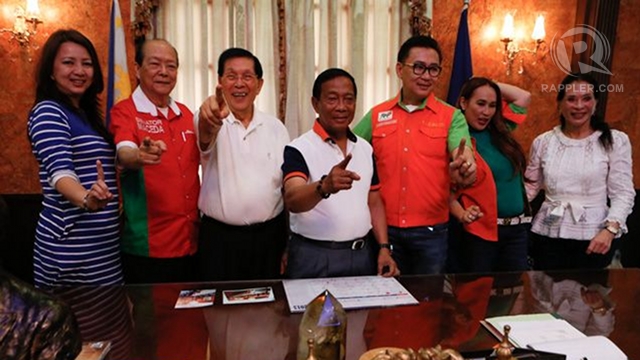 LOCAL BAILIWICKS. On the first week of the local campaign period, UNA will revisit the bailiwicks of its top leaders like Laguna for proclamation rallies of relatives and local allies. In Laguna, Estrada nephew Gov ER Ejercito (5th from left) is seeking reelection. File photo by Rappler/John Javellana
Three kings reunite in Manila
Of all sorties this week, UNA's grandest rally is expected to take place in Manila. Binay and Senate President Juan Ponce Enrile will both speak in Liwasang Bonifacio to endorse Estrada for Manila mayor.
This is the first time UNA's so-called 3 kings will be together on the campaign stage since the Cebu proclamation. Enrile laid low in the campaign because of problems with his vision and upon the advice of his son, senatorial candidate Cagayan Rep Jack Enrile.
"Of course, this is Manila and that's Erap," Tiangco said of the two's support. "The former President will speak about his plans to bring back Manila to its old glory."
Aside from Enrile and Binay, UNA's senatorial candidates are guests in Estrada's proclamation, sharing the platform with Estrada's running mate Vice Mayor Isko Moreno and UNA candidates for Manila's 6 districts. Out of 38 Manila councilors, 29 are allied with the Estrada-Moreno tandem.
Manila is one of the most watched local races because of the heated rivalry between Estrada and his ally-turned-rival Manila Mayor Alfredo Lim.
Even before the start of the local campaign, the two political heavyweights have been slugging it out since last year, taking a swipe at each other's leadership and reviving old animosities and personal problems.
The arrest of Moreno and allied councilors for hosting a bingo game, and his accusation that Lim threatened his life also added fuel to the fiery race in recent months.
Estrada's mayoral bid will impact on the UNA senatorial bets. Now that the local campaign is on, the former President is no longer expected to be active in their sorties even if he has said it will just be a matter of scheduling.
"Hindi na siya makakasama. It will not be practical for the simple reason na hindi kakayanin ng schedule," Tiangco said. (He will not be able to join because the schedule will not permit it.)
Tiangco pointed out that before the local campaign started, Estrada already missed UNA's Southern Mindanao leg even if he initially wanted to join the Senate bets in his bailiwick.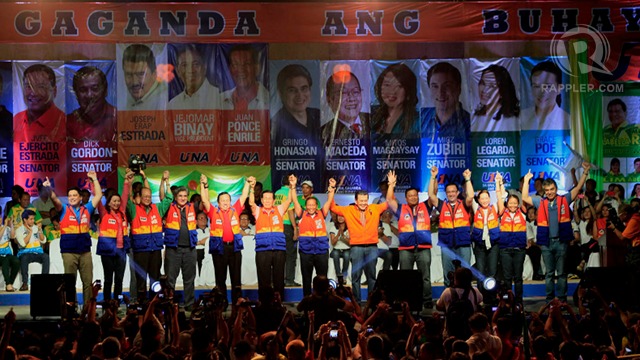 ONE SLATE. UNA campaign manager Toby Tiangco tells Rappler UNA will no longer break its senatorial slate into 3 teams. File photo by Charlie Saceda
No more 3 teams for UNA
Tiangco said that the campaign of UNA's senatorial candidates will not change even now that local candidates focus on their own races.
The UNA campaign manager told Rappler that the plan to break the slate into 3 teams of 3 candidates will no longer push through.
The alliance initially said it was considering splitting the ticket to 3 groups to cover more ground, and be more mobile and efficient in campaigning.
"The agreement is if JV will campaign on his own, maybe he can bring some candidates but we decided that splitting up will just depend on the situation because the big problem is how the media will cover 3 different teams."
Instead, Tiangco said UNA decided that it might just split up into two groups for some motorcades or whistlestop tours similar to what it did during its Cebu sortie.
"But as a policy, breaking the group into teams will not push through. I will just leave it up to the sortie manager if in a province, they can break up for the motorcades and come together for the big rally."
He said the plan was set aside also because Cagayan Rep Enrile said he will no longer campaign on his own and will just go with UNA's schedule.
Enrile, Ejercito, and Nancy Binay were initially eyed as the leaders of the 3 teams. – Rappler.com