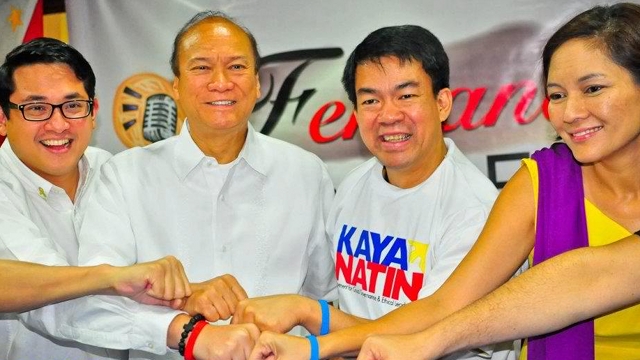 VOTE-BUYING? UNA accuses Kaya Natin of vote-buying for its 4 chosen Team PNoy candidates in the distribution of gift cheques to public high school students. Photo from Kaya Natin's Facebook page
MANILA, Philippines (UPDATED) – To a non-government organization, it was a way of helping public school students. To the opposition, it was vote-buying.
The opposition United Nationalist Alliance (UNA) accused the Kaya Natin! Movement for Good Governance and Ethical Leadership of vote-buying in the distribution of gift certificates to public high school students.
Kaya Natin is an advocacy group for good governance and was allied with President Benigno Aquino III in the 2010 presidential race.
In a statement on Thursday, April 4, UNA campaign manager Navotas Rep Tobias "Toby" Tiangco asked the Commission on Elections to investigate possible vote-buying in Kaya Natin's distribution of Mercury Drug and National Bookstore gift cheques in Quezon City worth P500 and P1000.
Tiangco said Kaya Natin was "influencing voters' choice" as it is endorsing 4 senatorial candidates of the administration slate Team PNoy: former Sen Ramon Magsaysay Jr, Risa Hontiveros, Bam Aquino, and Sen Aquilino "Koko" Pimentel III.
"This is a serious issue of vote-buying because they timed it with the start of the local campaign and there is clearly money involved," Tiangco said in the statement.
The campaign period for local candidates began on March 29. The campaign period for national bets started on February 12.
The UNA campaign manager said Comelec should investigate the distribution of the gift cheques, pointing out that the people behind Kaya Natin are either former or current members of the ruling Liberal Party (LP): Comelec Commissioner Grace Padaca, Sen Francis Pangilinan, Father Ed Panilio, and Bam Aquino.
In an interview with Rappler, Tiangco refused to give details about the supposed vote-buying but stressed that he has proof.
"I won't speak. I don't want to expound. I have proof. I have the gift certificates. I just want to let people know," Tiangco said.
Asked if UNA plans to report the issue to the Comelec, Tiangco said, "It depends."
In an interview with reporters, Brillantes said the distribution of gift cheques may be classified as vote-buying. "Kung ganoon, talagang puwedeng vote-buying 'yon. Puwede. Imbestigahan natin," he said. (If that's the case, then that may be vote-buying. Maybe. Let's investigate it.)
Under the Omnibus Election Code, vote-buying is done by "any person who gives, offers, or promises money or anything of value... in order to induce anyone or the public in general to vote for or against any candidate or withhold his vote in the election."
Keh: What's wrong with that?
Kaya Natin Lead Convenor Harvey Keh denied that his group is engaged in vote-buying.
In a phone interview, Keh told Rappler that Kaya Natin has been giving out gift certificates in public schools in Quezon City as part of its education program in cooperation with Quezon City 3rd District Rep Jorge "Bolet" Banal, who is seeking re-election, and the Quezon City government.
Banal is a member of the LP and a Kaya Natin champion.
Keh said the gift cheques do not bear the names of any senatorial candidates but only the logo of Kaya Natin, Banal, and National Book Store.
"My question is: can public high school students already vote? Every year, we always do this. We always give out [GCs]. Why are they bringing up this issue just now? We always give school supplies, educational assistance to public high school students.
The Kaya Natin leader said the program was consistent with his advocacy of education reform. He cited his record in Pathways to Higher Education, and Acts of Hope for the Nation Foundation.
Keh also said the timeline disproves Tiangco's allegation.
"We started distributing the GCs March 7. We only endorsed the 4 senators on March 20. So how can we even campaign for senators when we haven't even created our list? If this was really meant to buy votes, we should have waited until we chose our 4 senatoriables."
Asked about the inclusion of Banal's name on the gift cheques, Keh said, "Granted, Cong Banal's name was there. What's wrong with that? That's his project. If you look at the GC, the logo of LP, Team PNoy is not there, and it was distributed way before the local campaign period began."
"Clearly, it's a big, malicious lie," Keh added.
Who will resign?
Keh challenged Tiangco to show proof or else resign as UNA campaign manager.
"Show us proof that the candidates' names are there. Show us video that our staff or the staff of Cong Banal was telling people to vote for Bam. If he cannot show proof, he should resign. Is that the kind of leader we have? People who concoct lies?"
"If he can show proof, I will resign as lead convenor of Kaya Natin," Keh added.
Keh said he has nothing against UNA but it should not focus on attacking his group. UNA earlier said Kaya Natin's endorsement of the 4 candidates "confirmed the LP's plan of junking candidates in favor of Bam Aquino."
"I hope Cong Tiangco will just focus on propping up his candidates instead of attacking non-candidates. We are not running. He is wasting his time instead of using it to help his candidates so they won't lag behind in surveys."
Tiangco though dismissed Keh's challenge.
"No one can put conditions on my position as campaign manager, except the executive committee of UNA, especially not a person held in contempt by the impeachment court," Tiangco told Rappler.
Tiangco was referring to Keh's participation in the impeachment trial of former Chief Justice Renato Corona last year. The Senate threatened to cite him in contempt for submitting unverified bank records to the office of Senate President Juan Ponce Enrile.
The senators then scolded Keh but decided not to sanction him. – with reports from Paterno Esmaquel II/Rappler.com