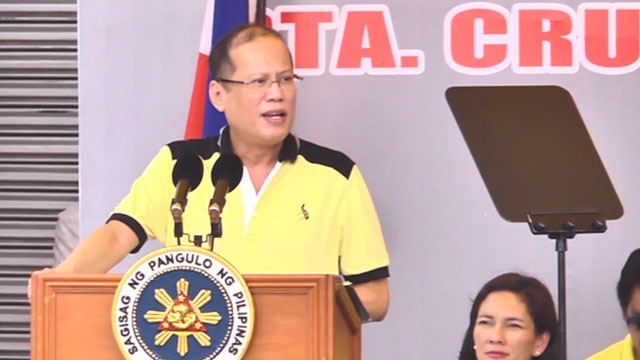 HEAT IS ON. President Benigno Aquino III in a campaign sortie in Laguna. Photo by Rappler/Franz Lopez
LAGUNA, Philippines - It is the second time President Benigno Aquino III paid this province a visit since the start of the campaign season, but this one was markedly different from his first.
Now that the local campaign season has begun, Aquino revs up his attacks on local opponents -- a shift from his last visit here where he and his bets focused mostly on slamming the senatorial slate and leaders of the opposition, United Nationalist Alliance (UNA).
This time around, Aquino didn't hold back in criticizing UNA gubernatorial bet and incumbent ER Ejercito, nephew of former president and UNA head Joseph Estrada.
Without mentioning his name, Aquino narrated how "a certain governor" arrived over two hours late to a meeting he called in Malacañang. By the time the governor arrived, he and other leaders had already come up with a decision together on how to best deal with the rehabilitation of Laguna de Bay. The community around the lake often suffers flooding during the rainy season.
Aquino has consistently questioned and eventually halted the "paglalaro ng putik (playing with mud)" or what he calls the "senseless" transferring of mud from one side of the lake to the other of the Laguna Lake Dredging Project, which cost the government P18.7-B and was started unde the Arroyo administration.
He alleged this governor was not just late, but also disagreed with the new plan.
"Ano bang interes mo na pagpatuloy ang prokeyto na yan (What is your interest to continue that project)?," Aquino questioned.
He said the politician was constantly going up against his decision to stop the dredging project back in 2010, but stopped when elections were nearing.
Ejercito, a politican-actor, has openly pushed for the dredging of the lake, but welcomed the planned construction of an underground spillway by the government to pump out excess water late last year. He is also notorious for coming late to meetings.
Aquino aggressively endorsed the Liberal Party gubernatorial bet Egay San Luis. He is the incumbent 4th district representative of the province.
"You can choose to complete these new projects or go to those who only promise sand," he told voters. "The future of Laguna depends on the names you will pick on your ballots. If we're talking about about the one who will truly serve the country -- in real life and not just in movies -- then I fully trust your next Governor: Egay San Luis."
Slate support
Along with LP's local candidates, Aquino pushed hard for his national slate, reminding voters he needed them in the Senate to "approve the budget."
With Aquino were senatorial candidates Risa Hontiveros and Jamby Madrigal, both of whom are still lagging in surveys and have yet to make the Magic 12. They were joined by top-ranking candidate Loren Legarda and Timi, the wife of presidential cousin Bam Aquino.
Madrigal too, who slammed UNA during her first visit to Laguna, also sang a different tune, making a dig at Ejercito as well.
"You need a governor who wakes up early," she said.
Team PNoy campaign manager Franklin Drilon also expressed confidence in the administration slate's chances. Aquino won Laguna in his 2010 presidential bid.
Aquino himself was unperturbed about the lack of attendance of his candidates in sorties, defending them at a press conference after the rally.
"The needs of every candidate are different. Some candidates are strong in some places, weak in others. As candidates, you want to maximize your presence," he said.
"We've given them freedom to decide. Those who come with me, they probably need or want to come to these places either to maintain or increase their popularity," he said.
Laguna is the fifth vote-richest province in the country with 1.5 million voters. - Rappler.com