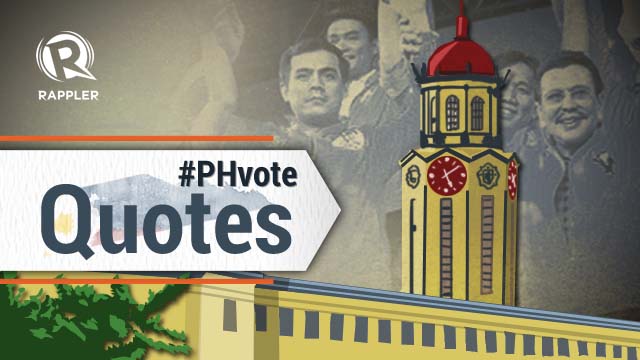 MANILA, Philippines - Last week marked the start of the official campaign period for candidates at the local level. Alongside candidates for senators and the party list, those aspiring to governors, district representatives, mayors are now allowed to woo the electorate.
The campaign trail -- including the remarks that political animals make -- has just become all the more colorful.
Here are #PHvote's quotes of the week:
From the conclave to the campaign trail?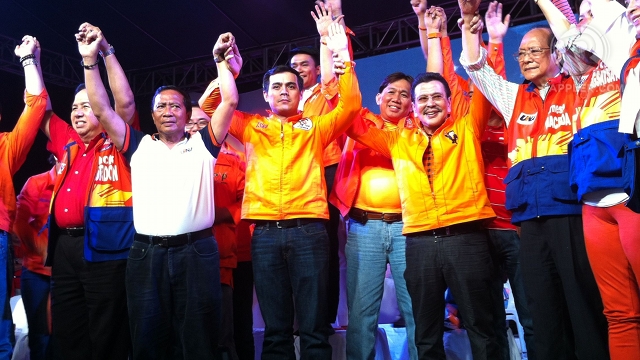 'HABEMUS MAYOR.' Vice Mayor Isko Moreno says it is about time Manila has a new mayor: former President Joseph Estrada. Photo by Rappler/Ayee Macaraig
"Ano ang meron 21 years after ang siyudad ng Maynila? Meron ba tayong makukwento? Anyare, Mayor? Nganga!"
(What does Manila have after 21 years? Do we have something to be proud of? What happened mayor? Nothing!)
"Umuusok, may puting usok ang city hall. Habemus mayor! May bago nang alkalde. Si Erap!"
(It's smoking, there's white smoke over the city hall. Habemus mayor! There's a new mayor. It's Erap!)
- Re-electionist Vice Mayor Isko Moreno during "Easterada Sunday," the launch of his campaign with Joseph Estrada on March 31
Asiong Aksaya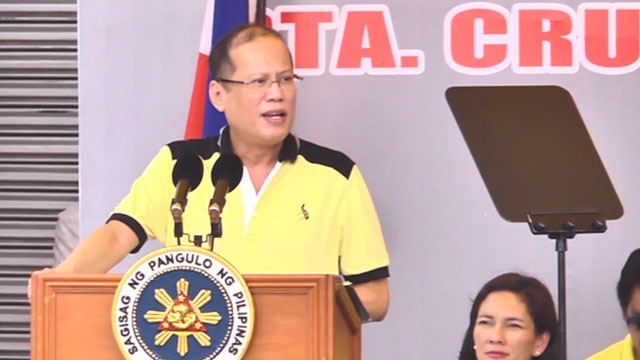 HEAT IS ON. President Benigno Aquino III in a campaign sortie in Laguna. Photo by Rappler/Franz Lopez
"Sayang naman kung mababalewala ang lahat ng ating pinagsumikapan, 'di po ba? Ang tanong ko po sa mga taga-Laguna: Itataya 'nyo ba ang inyong kinabukasan sa isang Asiong Aksaya?"
(It will be such a waste of all our efforts, right? My question to the people of Laguna: Are you going to entrust your future in the hands of one Asiong Aksaya?)
-- President Benigno Aquino III during the Liberal Party's campaign kickoff in Laguna, taking a swipe at a "certain governor" -- obviously re-electionist ER Ejercito
Achiever
- @TeamPNoy did not reply to Miriam Grace Go, Rappler's #PHvote editor
(Magsaysay graduated from De La Salle's engineering school in 1961, when other engineering schools in the country had been established 36-51 years earlier.)
Lost in translation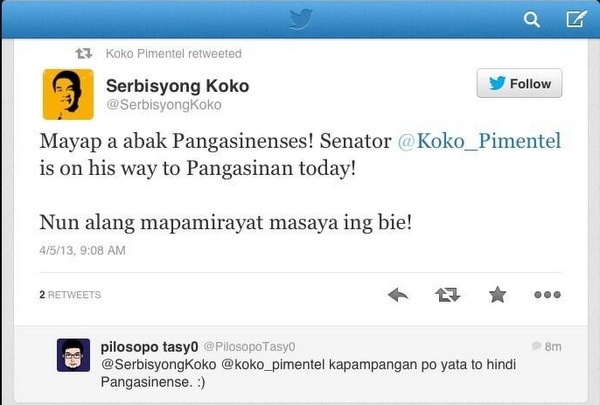 The tweet was corrected afterwards:
It's war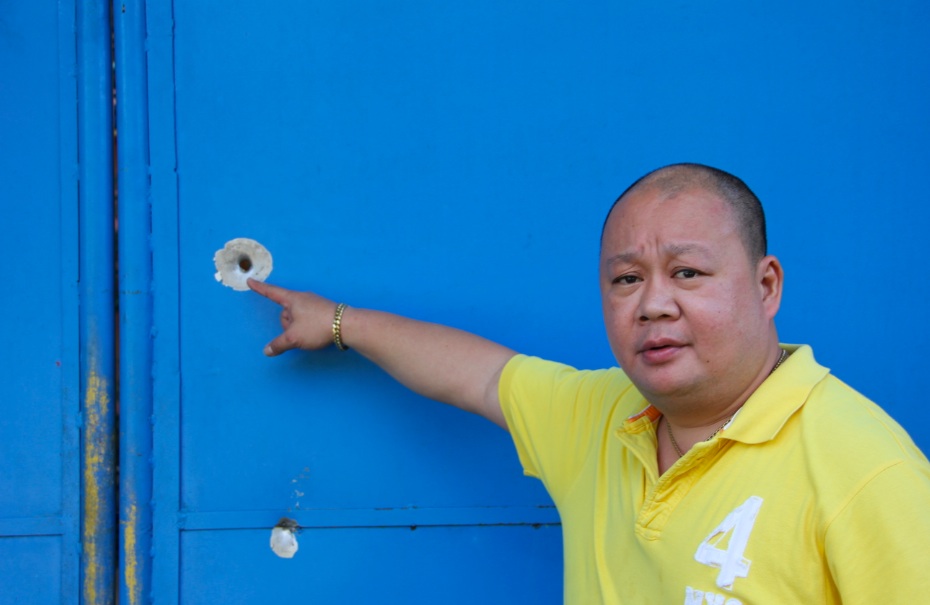 STRAFED. Comelec official Wilfred Jay Balisado shows the bullet holes on his gate in Dipolog City. Photo by Gualberto Laput
"There is an old Chinese saying that goes, Sha Ji Xia Hou, or kill the chicken to scare the monkey. Make an example of someone as a way to warn the others. We (the victims) were just the chicken being pounded at to scare the monkeys."
- a Comelec lawyer from Zamboanga del Norte whose house was strafed in connection with intense political rivalries in the province
- Compiled by Angela Casauay/Rappler.com