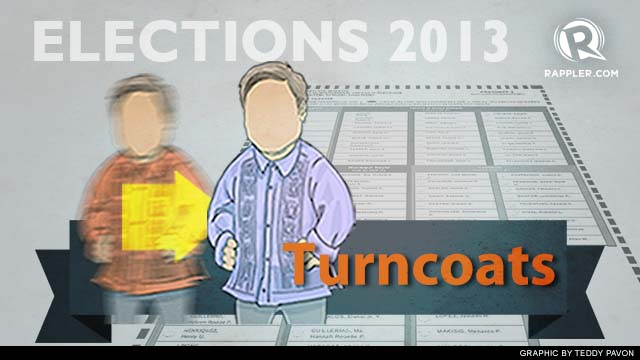 MANILA, Phillippines – Majority of re-electionists for governor, congressman, and city mayor in 2013 are turncoats, mostly running under the banner of the ruling Liberal Party.
Based on data from the Commission on Elections (Comelec), Rappler counted 301 governors, congressmen, and city mayors seeking fresh mandates for the same posts: 51 for governor, 164 for district representative, and 86 for city mayor.
Of these, more than half – or a total of 190 bets – are running under parties different from what carried them to victory in 2010. The include 33 gubernatorial, 98 congressional, and 59 city mayoral candidates.
Unsurprisingly, a big majority of these turncoats ran and won under Lakas-Kampi, the ruling party in 2010, and are now with the LP.
See the turncoats here, grouped according to the parties they have abandoned since winning in 2010: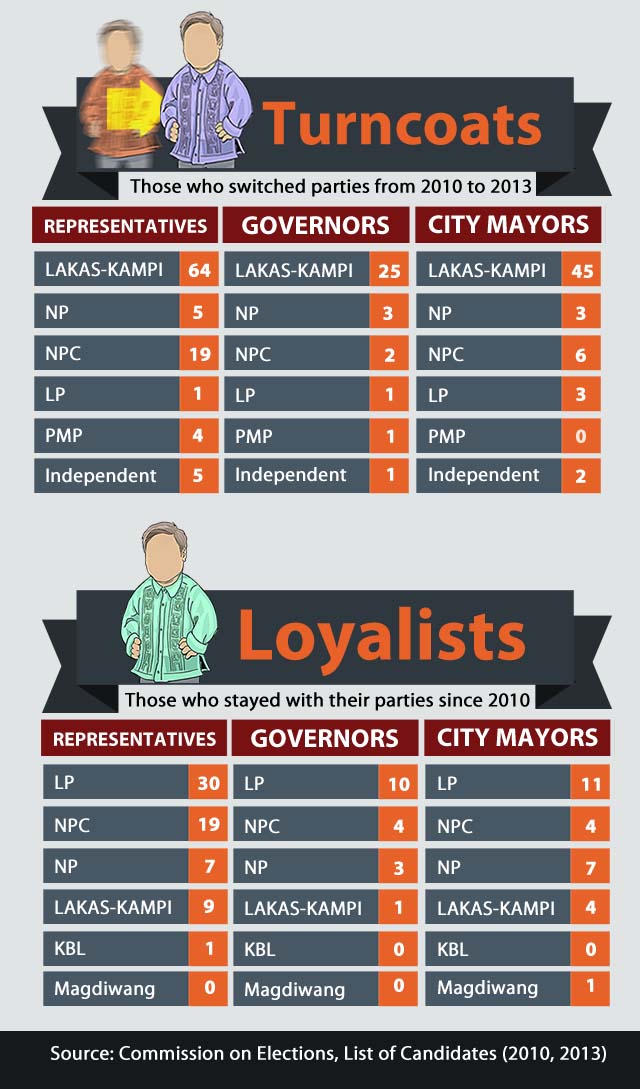 LP has the most number of loyalists among the re-electionists. Ten of its winning gubernatorial bets in 2010 are still with LP in seeking their re-election this year, and so do 30 congressional and 11 city mayoral re-electionists.
The Comelec has named the LP as the dominant majority party for the 2013 polls. It leads the national coalition Team PNoy that includes the Nacionalista Party (NP), the Nationalist People's Coalition (NPC), the Laban ng Demokratikong Pilipino, and Akbayan.
At the local level, however, LP has fielded bets against the candidates of its national coalition partners, particularly NP and NPC. – with Reynaldo Santos Jr./Rappler.com