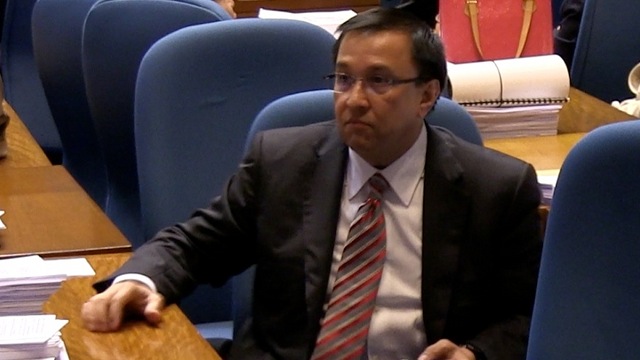 MANILA, Philippines – Thirty-seven years since the death of Ernest Lucas, his ghost continues to haunt Cagayan Rep Jack Enrile. Lucas's intriguing death in 1975 is revived with the discovery of a cable sent from Manila – from 1.7 million 1973-1976 US diplomatic records that Wikileaks recently released – narrating what appeared to be a coverup in the investigation of his death to protect Jack.
In an October 1, 1975, cable that then US Ambassador to Manila William Sullivan sent to his government, he said: "Some NBI (National Bureau of Investigation) sources have told us unequivocally, and contrary to [Defense] Secretary [Juan Ponce] Enrile's assurances to Ambassador, that Enrile's son did the shooting."
It's about an incident that happened when Jack was 17. He was in a Makati party exclusive to Ateneo students. When he spotted outsider Ernest Lucas Jr of De La Salle University, he confronted him and asked him to leave. Ernest did leave, but he returned later in the night and it ended badly. Ernest died of a bullet shot in the forehead.
(Read and watch Jack's narration of what happened here: Can Jack Enrile bury the past?)
Responding to the revived controversy, Jack – now a senatorial candidate – said the 1975 cable and its "resurrection and circulation at this time when I am running for senator" are "higly suspect."
It's a demolition job, Jack said, meant to stop him from his supposed exposé. "There are also reports that this demolition job is being done in order to derail my plan to look into and expose a government project that is highly questionable and grossly disadvantageous to the public," he added.
Wikileaks is a non-profit group that started releasing secret documents in 2006. The new batch of Kissinger cables were released only this month.
'US envoy was anti-Marcos'
Jack reiterated in his statement that he did not kill Ernest Lucas. "I'd like to state categorically that I had nothing to do with the incident in 1975 wherein Ernest Lucas Jr was killed. This matter was investigated by police authorities. Charges were filed, the case was properly heard in courts, and the suspect was tried and later sentenced to 12 years in prison which he served," Jack said in a statement.
Jack said the 1975 cable was meant to demonize the Marcos government. The Wikileaks stories recently published, he said, are also meant to sabotage his senatorial bid.
In a move to discredit Sullivan's cable, Jack said in his statement that the US ambassador then was "against the administration," and the investigation "provided him (Sullivan) an opportunity to embarrass the Marcos administration."
"The statements of the late former US Ambassador to the Philippines linking me to the
killing were based on mere speculation and hearsay as the Wikileaks report itself will bear
this out. He was, at that time, known to be against the administration, and that incident
provided him an opportunity to embarrass the Marcos administration and cast a high
government official and his son in a negative light with Washington," Jack said.
"That
this is being resurrected and circulated at this time when I am running for Senator is
highly suspect," he added.
"My conscience is clear and my mind is set on pursuing my advocacies for food security
and fair prices for the consuming public to help our people and our country," he added.
JPE's most painful experience
Sullivan sent the cable to his government before the Department of Justice (DOJ) eventually cleared Jack Enrile.
It's an investigation that the US embassy watched very closely because, as Sullivan pointed out in the cable, "there have been a number of rumors suggesting that Enrile's career as defense secretary may be over." But Sullivan would report in an October 7, 1975 cable – after Jack was cleared by the DOJ – that "Enrile's stock now seems to be on rebound."
Senator Enrile would write in his recently published controversial memoir that it was "one of the most jolting and painful experiences of my life." He took a leave of absence in an attempt to dispel talks that he was influencing the investigation on Jack.
Jack added that his father is suffering from the attacks hurled against him. He said Senator Enrile is suffering from "severe hypertension" and "serious vision impairment." He is 89.
"I feel for my ailing father who has been agonizing in silence, seeing me suffer all these unfair attacks as a result of old and deep-seated grudges against him. My old man does not deserve all these. He has served this country well," he said. – Rappler.com