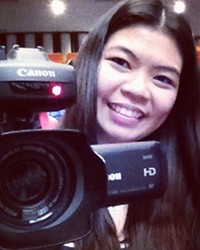 MANILA, Philippines - Splashed on the frontpage of a Negros newspaper last week is a photo of the chairman of the Liberal Party in Negros Occidental, Rep Alfredo "Albee" Benitez, fist-bumping with United Nationalist Alliance (UNA) senatorial candidate San Juan Rep JV Ejercito and 2 other local UNA officials.
The Visayan Daily Star reported talks that Benitez is supporting 3 UNA bets -- Estrada, Cagayan Rep Jack Enrile, and Nancy Binay.
In spite of the photo op, the LP solon denied it. He said he met with Estrada in Bacolod City to have lunch because "JV has been a friend for a long time."
Although Benitez is LP, he is a close ally of Nationalist People's Coalition (NPC) founder Eduardo "Danding" Cojuangco Jr, the known political kingmaker in the province. NPC in Negros listed 7 names of senatorial bets that the party will push in the province.
Majority are Team PNoy bets: Sen Loren Legarda because she is an NPC member, Sen Chiz Escudero, Aurora Rep Sonny Angara, former censors chief Grace Poe, and the President's cousin Bam Aquino. But the list includes UNA bet Enrile, because he is also an NPC member, and Ejercito.
Benitez and Ejercito are colleagues in the House of Representatives, where the San Juan solon has many friends among LP members.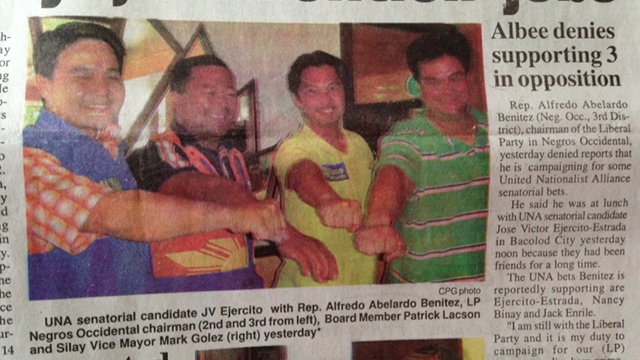 Photo of the Visayan Daily Star April 16 issue
Benitez is not the first to show support for Ejercito. In February, Quezon City Rep Jorge "Bolet" Banal, also of LP, was the first to go under fire when he unequivocally admitted in a press conference that he would support Ejercito.
"Ako, personal na pakiramdam ko, for example si JV Ejercito, hindi kasama doon sa amin pero kaibi­gan ko 'yun. So personal ko 'yun, tutulungan ko," Banal told House of Representatives reporters before the campaign period began.
Chided by colleagues in the party, Banal would later backtrack.
Most House members are candid. Being that is both their folly and their redeeming factor. What you see is what you get for many of them, especially those who do not aspire for the Senate. They are more concerned about what their constituents think about them than their national image.
We asked other LP members about the reliability of the 12-0 committment for the administration ticket Team PNoy. While there are those who committed to fully support the administration slate, we got responses like "You know, I can't answer that question honestly."
Politics is personal. The House members are really closer to their colleagues in the legislative chamber than their party mates or the candidates from the other chamber, the Senate.
Politicians' Twitter conversations give us a good glimpse into which candidates are close friends.
It is also not uncommon to meet local officials who do not know the political parties or the slates the senatorial candidates belong to.
Asked why no other Nacionalista Party candidate was included in NPC's list in Negros, gubernatorial candidate Genaro "Lim-Ao" Alvarez - also a former member of the House of Representatives - said he will support NP member former Las Piñas Rep Cynthia Villar "because Manny Villar was my Speaker."
He was not aware that re-electionist Senators Alan Peter Cayetano and Antonio Trillanes IV are also NP members.
Junking always happens in Philippine elections. It may be a secret now, but it will all show in the sample ballots these candidates will distribute before election day. It will also show in the result of the elections. - Rappler.com