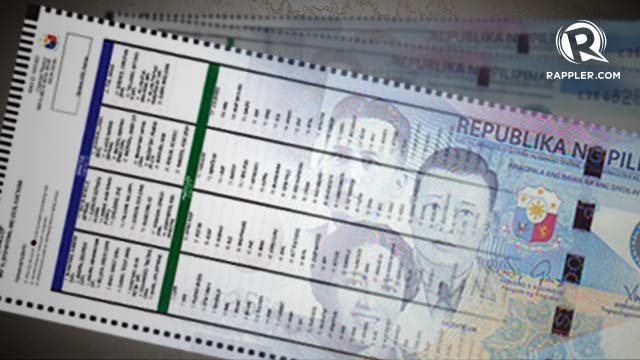 MANILA, Philippines – It is debatable. It involves constitutional issues. And wait, a commissioner said in jest, it might get another temporary restraining order from the Supreme Court (SC).
Dropping these clues, poll chief Sixto Brillantes Jr on Monday, April 22, said the Commission on Elections (Comelec) will implement an unprecedented measure against vote buying. But Brillantes – who spearheaded the Comelec's party-list purge and its war against illegal posters – chose to seal his lips on the upcoming rule.
"Huwag na muna nating pag-usapan dahil 'pag nabalitaan, eh baka maunahan pa tayo. Hayaan mo nang magkabiglaan. Relax muna tayo. Anyway malapit na naman," Brillantes told reporters on Monday. (Let's not talk about it first because if they learn about it, they might prepare well for it. Just let it surprise them. Let's relax. Anyway we're close to election day.)
(Watch more in the video below.)
"Baka ma-SQA agad eh," remarked Comelec commissioner Christian Lim, eliciting laughter from the audience. Lim was referring to status quo ante (SQA) orders issued by the SC to stop the Comelec from implementing some of its key reforms.
Brillantes said the Comelec will discuss this new measure at length. "It's something new, but let's see whether we can implement it," said the Comelec chair, who earlier told Rappler he will use his background, as an election lawyer for over two decades, to curb poll-related dirty tricks.
Early vote buying
During the press conference, Comelec commissioner Grace Padaca reported potentially early forms of vote buying, which include the distribution of rice and groceries to voters.
Brillantes admitted "it is really very difficult to monitor" vote buying. "Can you imagine if we monitor everybody going home?" Brillantes said, noting that authorities should begin to monitor vote buying as early as 3 weeks before elections.
In December 2012, Padaca suggested the arrest of vote buyers to curb this election offense.
"It should not be difficult. If we just arrest two to three people in barangays and get the message across that this is a violaton of the law and for this you will be accountable, I think that will have some great effect on the need to eliminate or reduce vote buying," said Padaca, a former Isabela governor who lost by a slim margin in 2010, and protested the election results then.
The Omnibus Election Code, under Article XXII, defines vote buying as giving, offering, or promising money, favors, or jobs in exchange for getting a person's vote for the principal or causing the person to vote against somebody else.
Under the law, both the vote buyer and vote seller become criminally liable. Persons found guilty will suffer imprisonment from one year to 6 years, as well as a permanent ban on holding any public office. Those caught will also lose their right to vote. – Rappler.com