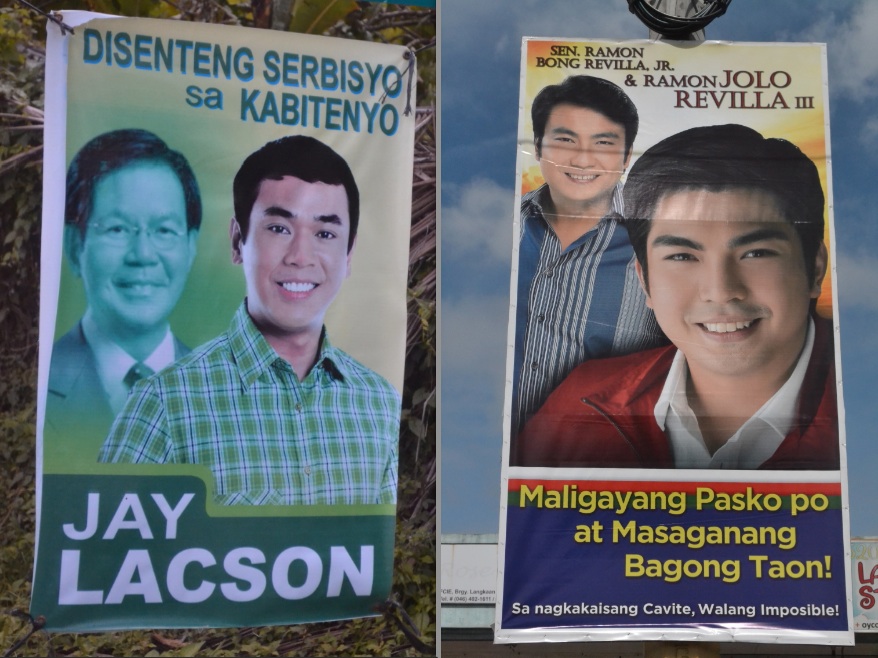 HOT RACE. Cavite, an election hotspot in the upcoming May 2013 elections, is expected to have one of the country's hottest local race. Photo by RAPPLER.
MANILA, Philippines - An ambush in Bacoor City, Cavite, killed two and wounded a local official on Thursday night, April 25.
Two suspects riding in two separate motorcycles opened fire on barangay chairwoman Catherine Palabrica, a supporter of the Revilla political clan, and her two companions who were on their way to a campaign rally.
The armed men, who were said to be wearing police jackets, surrounded their vehicle on both sides. Once it overtook the car, they started shooting with M-16 rifles, then left the scene immediately.
The 44-year-old Palabrica, chairwoman of Barangay Queensrow West, was wounded in the attack after she was shot in the back. Robert Palabrica, her brother-in-law who was driving the car, was rushed to the South Asian Medical Center also in Bacoor. He died from gunshot wounds. Reynaldo Primero, a government employee and a member of Palabrica's group, was also killed.
Palabrica is a supporter of the Revilla clan headed by Senator Ramon "Bong" Revilla Jr. Four members of the family are running: his son Jolo, for Cavite vice governor; wife Lani, for Bacoor congresswoman (re-election); brother Strike, for Bacoor mayor (re-election); and sister Rowena, for Bacoor councilor.
Jolo Revilla is the running mate of re-electionist Governor Juanito Victor "Jonvic" Remulla. They are being challenged by 3rd district Rep Erineo "Ayong" Maliksi, the gubernatorial bet of the Liberal Party, and his running mate Jay Lacson, son of Sen Panfilo "Ping" Lacson.
Just a few days ago on April 21, former barangay captain Ranel "Meng" Miranda also died when he was ambushed. Miranda was also a supporter of the Lakas-CMD-Partido Magdalo coalition of the Remullas and the Revillas.
Cavite police siding with LP?
Rep Lani Mercado-Revilla, the mother of Jolo and wife of Sen Revilla, pointed to their political opponents as responsible for the killings, saying they are now "desperate" since Revilla's coalition's candidates are far ahead of them in recent surveys.
"We condemn the consecutve killings of our supporters. We are fighting for a clean and honest campaign, but they are raining bullets on us. They have not tired of black propaganda against us, and now they are scaring our supporters. This is too much," she said.
Sen Revilla also put blame on the police for their lack of action, saying local police in Region 4 and in Cavite "prioritize politicking" over peace and order. He wondered why the suspects in this crime and in past killings are still on the loose.
Remulla echoed Revilla, and asked the Commission on Elections (Comelec) to replace the police officials in the province.
"Because of the police's obvious and inexcusable incompetence, all of them should resign if they still have any modicum of respect for themselves. If they have no shame, they must be removed," he said.
Bacoor Mayor Strike Revilla also vowed to ask the National Bureau of Investigation (NBI) to probe police irregularities in their province.
Early this month, the Lakas coalition filed charges against the police for allegedly harrassing their allies. "Obviously, the rogues in uniform are in cahoots with certain political groupings or personalities in implementing a political program designed to destroy the chances of the Lakas-Magdalo political party candidates from winning the elections," Salvador Panelo, the party's lawyer said.
Cavite is expected to have one of the hottest gubernatorial races come May.
Excluding the National Capital Region (NCR), Cavite is the second vote-richest province in the country, just behind Cebu. Cavite has over 1.6 million voters.
Cavite is also on the list of the Commission on Elections' list of election hotspots as identified by the Department of the Interior and Local Government. - Rappler.com