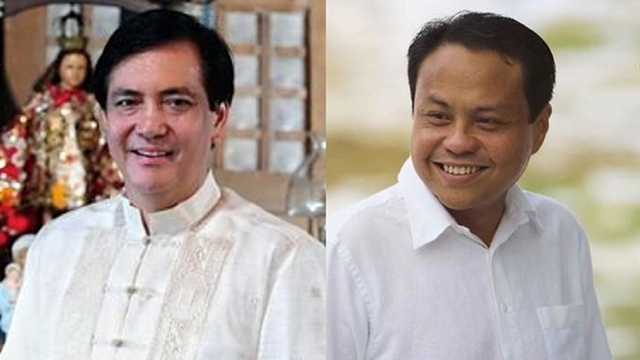 'STRONG ALLIES.' A Catholic lay group in Cebu endorses Cebu City Mayor Michael Rama (left) for re-election and Cebu 3rd District Rep Pablo John Garcia (right) for governor for their anti-RH stance. File photos from their Facebook pages
CEBU CITY, Philippines – It's not just senatorial and congressional candidates who are part of the controversial "Team Buhay" list.
In Cebu, a group of lay Catholics is taking its anti-reproductive health (RH) law campaign to the gubernatorial and mayoral races.
The Cebu-based Lay Initiatives for Election (LIFE) 2013 said it is endorsing the candidacies of so-called pro-life politicians: gubernatorial bet Cebu 3rd District Rep Pablo John Garcia of One Cebu, and re-electionist Cebu City Mayor Michael Rama of Team Rama and the opposition United Nationalist Alliance (UNA).
LIFE 2013 convenor Dr Rene Bullecer told Rappler his group will officially endorse the local candidates along with its senatorial, congressional and partylist bets in a grand rally in Cebu on May 5.
"The gubernatorial candidate and the mayoral candidate were all pro-life awardees. For the last 6 years, they stood up for us and were with us so this coming May 5 is also a way of saying thank you and an endorsement," Bullecer said in an interview here.
While other city and provincial Church-affiliated groups also endorsed candidates, Bullecer said it is only in Cebu where local bets are included in the Team Buhay list so far. The list includes candidates they identify to be pro-life primarily because of their stand against the RH law.
"We need allies not only in the Senate and Congress but also local allies because when you have strong allies like here in Cebu, you have a strong governor who is anti-RH, they will have a hard time implementing what they want to, especially in big cities like in Metro Cebu," he said.
Garcia is the brother of suspended Gov Gwen Garcia and son of Deputy Speaker Pablo Garcia. Bullecer said compared to Garcia's rival, Hilario "Junjun" Davide III of the Liberal Party (LP), the congressman was more vocal about his position against the RH law.
The Garcia family is a staunch critic of the measure. Davide though is also against the law, saying it is like taking away parents' right to choose the number of their children.
"The reason for that is really track record. PJ Garcia being a congressman in the 15th Congress, he was one of our strong allies there," Bullecer said.
As for Rama, Bullecer said he has supported the anti-RH campaign "100%" and was always in the group's rallies. Rama's rival, Cebu City 2nd District Rep Tomas Osmeña, supports the law but abstained from voting because of his friendship with RH critic former Cebu City Rep Raul del Mar.
On Friday, April 26, LIFE 2013 launched a 3-day "Caravan for Life" in Cebu to campaign for its Team Buhay candidates. The group is hopping from town to town to tell voters to choose its bets. It is even preparing sample ballots listing its candidates.
Besides the local bets, LIFE 2013 is endorsing the following candidates, as listed in the leaflets it is distributing:
Senatorial bets
Zambales Rep Mitos Magsaysay (UNA)
Sen Gregorio Honasan II (UNA)
Sen Antonio Trillanes IV (Team PNoy)
Sen Aquilino "Koko" Pimentel III (Team PNoy)
San Juan Rep JV Ejercito (UNA)
Former Las Piñas Rep Cynthia Villar (Team PNoy)
Nancy Binay (UNA)
Resigned Sen Juan Miguel Zubiri (UNA)
Former Sen Richard Gordon (UNA)

JC delos Reyes (Ang Kapatiran)

Marwil Llasos (Ang Kapatiran)

Former Buhay Partylist Rep Christian Señeres
Cebu Congressional bets
1st District – Samsam Gullas
2nd District – Re-electionist Rep Pablo Garcia
3rd District – Suspended Gov Gwen Garcia
4th District – Benhur Salimbangon
5th District – Ace Durano
6th District – Luigi Quisumbing
Cebu City 1st District (north) – Raul del Mar
Lapu-Lapu City – Aileen Radaza
Partylist bets
Endorsing candidates opposed to the RH law began with the Diocese of Bacolod, which came out with its list of "Team Buhay" and "Team Patay" in February.
Other religious groups have followed suit but some Catholic leaders frowned on the practice.
The Catholic Church strongly opposed the RH law but it was passed last year in a close vote. Tagged as a population control law, the measure aims to provide access to RH services and devices like contraceptives. The Supreme Court temporarily stopped its implementation for 120 days pending oral arguments on cases filed against it.
Aside from the RH law, the "Team Buhay" candidates were chosen for their stand against gay marriage, abortion, divorce and the return of the death penalty.
Bullecer said the candidates have signed covenants vowing not to support these "anti-life bills" if elected.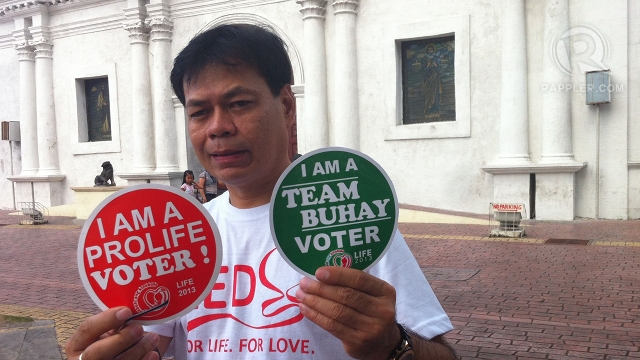 LIFE CARAVAN. A group of lay Catholics led by Dr Rene Bullecer launches "Caravan for Life" to campaign for anti-RH senatorial, congressional, partylist and local candidates. Photo by Rappler/Aye Macaraig
'Pro-life capital of the Philippines'
In an interview with Rappler, Rep Pablo John Garcia said the endorsement will have a "positive impact" on his campaign.
"These lay groups of the Catholic Church, I can't talk about the rest of the country but I can talk about Cebu, I think they have been taunted long enough about the absence of a Catholic vote that they have been fired up and are now raring to prove that there is a Catholic vote so we'll see whether they can mobilize enough of the laity to show there is such a vote."
With 2.5 million voters, Cebu is the most vote-rich province in the Philippines. Bullecer said it is a key battleground.
"We will do our best here in Cebu for us to deliver the swing vote to show that we have at least the Catholic voice, especially we have a knockout vote, meaning those candidates voting for RH are automatically excluded from our list."
Unlike the Diocese of Bacolod, Bullecer said LIFE 2013 did not come up with a "Team Patay" because this was "too negative."
Bullecer said his group is out to show that Cebu is the "pro-life capital of the Philippines."
He said that of the 9 congressmen of Cebu, 7 voted against the RH law last year. Osmeña and 6th District Rep Luigi Quisumbing abstained.
For the past 7 years, the Archdiocese of Cebu has been considered the largest archdiocese in the country for having the most baptized Catholics, seminaries and clergymen.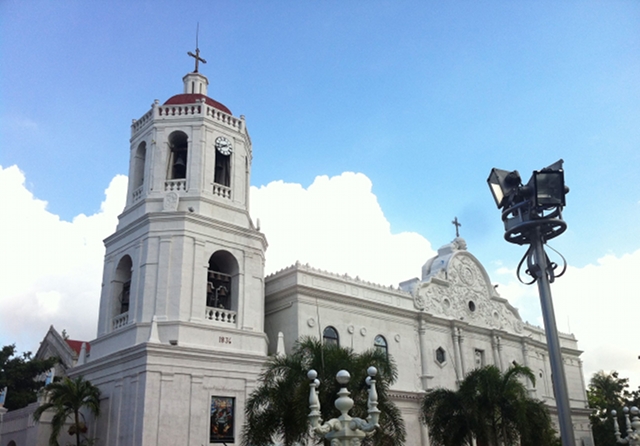 'PRO-LIFE CAPITAL.' Anti-RH Catholics in Cebu label the province as the "pro-life capital of the Philippines." Photo of the Cebu Cathedral by Rappler/Ayee Macaraig
'Archbishops are coaches'
Beyond Cebu, Bullecer said similar campaigns are ongoing in Bacolod, Roxas City in Capiz, Iloilo, Bohol, Bicol and some areas in Mindanao.
He said the Church leadership is supporting the efforts of ordinary Catholics to campaign for pro-life candidates.
"We're so happy the good Archbishop of Cebu and at the same time the CBCP president are really with us in these efforts. The only difference is just like basketball, the archbishop is the coach, the priests are assistant coaches, we are the players."
"They can guide us, give us their criteria, encourage us but the only thing they can't do is really to openly endorse names of candidates which we lay people can do," Bullecer said.
Bullecer said Cebu Archbishop Jose Palma came out with a pastoral letter mentioning LIFE 2013 and asking for support for the group.
Palma though has said that the effort of Bullecer's group does not necessarily reflect the sentiment of the entire Catholic Church because Church officials are discouraged from participating in political affairs.
Bullecer said he told bishops they must take a more active role in the campaign after the passage of the RH law because of the "command vote by Malacañang."
His group fears that with the Liberal Party in power, more "anti-life bills" will soon be passed.
"More than half of the bishops today are still not that active, not that aggressive that's why I'm challenging each one of them. Come out, tell your people to go out and campaign for pro-life candidates." – Rappler.com