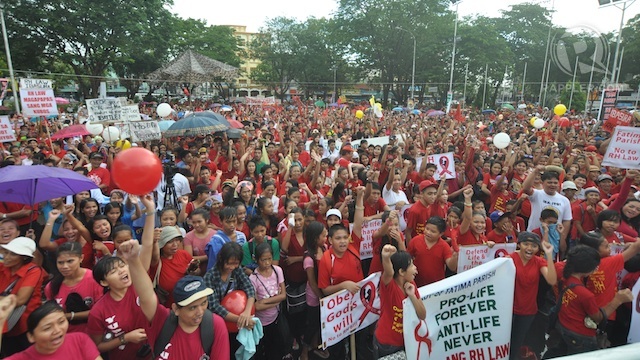 STILL NO TO RH LAW. Anti-RH rally participants chant "Junk the RH Law" at the Bacolod City public plaza Saturday, April 27. Rappler/Gilbert Bayoran
BACOLOD CITY, Philippines - Bacolod Bishop Vicente Navarra admitted that their campaign against the Reproductive Health law, which is now on its third year, is an uphill battle.
But the huge turnout of anti-RH rally Saturday, April 27, at the Bacolod City plaza, which was estimated by its organizers at 6,000, and joined by 3 senatorial aspirants, made him more "inspired," Navarra said.
"It is an uphill battle but let us encourage one another to continue this fight because we are doing what Christ would have done in obedience to His Father's commandment," Navarra said in a statement.
The Diocese of Bacolod reiterated its stand that the RH Law was anti-life, anti-morals, anti-family, anti-marriage and contrary to the teachings of the Catholic Church.
Describing the RH law as the "most evil law," Navarra stressed that it should be repealed.
United Nationalist Alliance (UNA) senatorial candidates Gregorio Honasan and Mitos Magsaysay, and Ang Kapatiran bet John Carlos de los Reyes attended the rally, and assured Navarra of their support to repeal the law once they get elected into the Senate.
Honasan, in a press conference before the start of the anti-RH rally, said he is praying and encouraging the laity to continue the battle against the RH Law because the right to life is primary in the Constitution.
"It has to be continuing advocacy to preserve and repair our damage institutions beyond the 2013 polls for national survival," he said.
Magsaysay said she opposed the RH law because it was not necessary, as its provisions were already in the Magna Carta for Women.
Honasan and Magsaysay are included in the "Team Buhay" list of the Diocese of Bacolod for their stand against the RH law.
De Los Reyes, a presidential candidate in the 2010 elections, said he had relentlessly campaigned against the RH bill. His presidential bid 3 years ago was endorsed by Navarra.
The RH law must be repealed because "it will destroy the family and the morals of the Filipino people," de los Reyes said.
A huge tarpaulin calling for "Team Buhay Forever, Team Patay Never, Ibasura ang RH Law" was displayed at the Bacolod City plaza, minus the names of candidates.
However, the "Team Patay, Team Buhay" tarpaulin displayed in front of the Bacolod San Sebastian Cathedral still have the names of candidates, including party-list groups.
Majority of the anti-RH rally participants wore red T-shirts. - Rappler.com