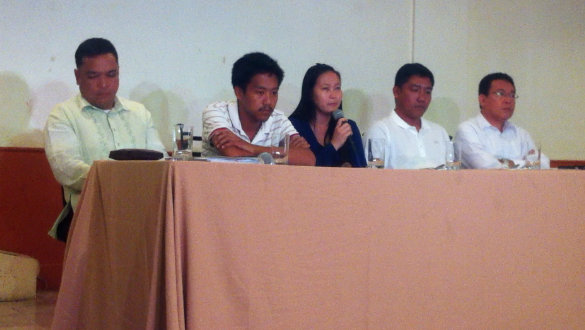 NOT ESPINO. The Martinez family wants DOJ to clear the Pangasinan governor of murder charges. Photo by Rappler.com/Purple Romero
MANILA, Philippines - The family of slain Infanta Mayor Ruperto Martinez said on Tuesday, April 30 that authorities erred in pinning down Pangasinan Gov Amado Espino Jr. and 1st District Rep. Jesus "Boyong" Celeste for his murder, saying it was Espino's rival Hernani Braganza who was behind the "black propaganda."
Martinez's wife, Crisanta, filed her sworn statement at the Department of Justice clearing Espino and Celestino of the allegations that the two plotted her husband's killing.
Martinez was shot dead on Dec 15, 2012.
Jennifer Martinez, daughter-in-law of the late mayor, said that the National Bureau of Investigation should not have filed a complaint against Espino and Celeste without consulting them. The NBI charged the two with murder for the death of Martinez.
The NBI based their complaint on the affidavit of a 16-year-old witness who claimed he was present in a November 2011 meeting where Espino, Celeste, Zambales Gov. Hermogenes Ebdane and newsman Jaime Aquino allegedly talked about killing Martinez because of his knowledge of the "black rock" or the quarrying of nickel.
The witness allegedly recounted his knowledge of the crime to Akap-Bata, party list that claims to advocate the protection of children's rights.
Braganza's supporters?
Jennifer said this makes the case politically-motivated because Akap-Bata is allegedly affiliated with Braganza, Espino's rival for the gubernatorial post and incumbent mayor of Alaminos City. She showed the media a photocopy of a campaign material urging the public to vote for Braganza and Akap-Bata on May 13.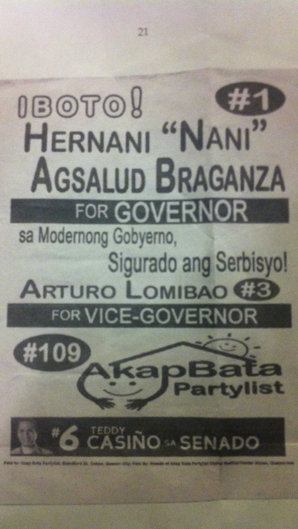 BRAGANZA and AKAP-BATA? Akap-Bata says they just worked with him on a project.
Akap-Bata nominee Arlene Brosas told Rappler however that they are not affiliated with Braganza, a member of the ruling Liberal Party. (Read: Ramos endorses nephew for Pangasinan governor)
"We are independent but lahat kinakauasap namin. We also have a project with Espino and we have initiatives with them," she said.
She added that it was not the Akap-Bata partylist group which took in the witness but the Akap-Bata nongovernment organization. Some members of the Akap-Bata nongovernment organization are members of the party list.
Braganza said he is not affiliated with Akap-Bata and knows them only because they have a chapter in the 3rd district of Pangasinan. He added he was aware that they gave assistance to the 16-year-old witness.
"I checked with the Department of Social Welfare and Development which handles our day care centers. We have no joint projects with Akap-Bata," Braganza added.
He denied he was behind the "black propaganda" against Espino, saying Espino has always blamed him for all the accusations leveled against the governor.
Not Espino, but father's foe
"We knew in our hearts and minds that Espino didn't have our father killed," Richard Martinez, the youngest son of the late mayor, said.
He added that Celeste could not have also ordered it because he was the one who had asked the NBI in Pangasinan to probe his father's killing.
That's why it came as a big surprise when they were informed by the main office of NBI that they were charging Espino and Celeste for his father's death.
"Lumabas ang ginagawa nilang suspek ay ang matalik naming mga kaibigan na si Espino at Celeste (It turned out they held our close family friends Espino and Celeste as suspects)," he said.
Celeste, Espino and the Martinezes are political allies. They all belong to the Nationalist People's Coalition. Marvin Martinez is running for councilor under NPC, while his older brother Richard is gunning for the post of vice mayor also under NPC.
Espino, in a counter-affidavit he submitted at the DOJ on April 30, also described Martinez as a "personal friend and an ally."
The two believe it was their father's longtime foe, lawyer Florante Miano who masterminded the former's death. Miano, who is running under the Liberal party, previously lost to Martinez. He will now face Richard Martinez in the 2013 elections.
The Martinez family has filed a case against him before the Office of the Provincial Prosecutor in Lingayen, Pangasinan.
They said their father has been receiving threats from Miano and told them that if anything bad happened to him, there would be no one to blame but Miano. But Miano has denied he had a hand in the death of Martinez.
The sons of Martinez have asked the DOJ to consolidate the NBI complaint with the one they filed in Lingayen, but the DOJ prosecution panel said they have no authority to do that since they can only act on the complaint filed before them. - Rappler.com