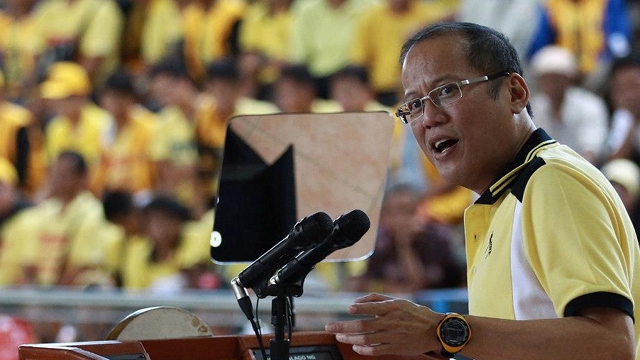 'EXTRA HOSPITABLE.' Albay Gov Joey Salceda explains to President Benigno Aquino III that he was just being "extra hospitable" to UNA candidates who visited Albay over the weekend. File photo by Malacañang Photo Bureau
MANILA, Philippines – President Benigno Aquino III believes his senatorial slate still has the full support of Albay Gov Joey Salceda even after the governor welcomed opposition candidates over the weekend.
In a press briefing in Malacañang on Tuesday, April 30, Aquino said Salceda sent him a message explaining that he was just being "extra hospitable" to United Nationalist Alliance (UNA) leaders and bets who visited Albay last Sunday, April 28.
The President quoted Salceda as saying that he is still firm in his commitment to deliver a 10-2 victory for Team PNoy in Albay.
Salceda also told Aquino that while Team PNoy campaigned for 18 hours in his province in March, he joined the UNA bets for just 15 minutes in a lunch press conference.
Aquino read Salceda's message, "Then I was asked to raise hands. I courteously held the hands of Nancy [Binay] and Jack [Enrile] but did not raise [these]. Then that made me stand up and go."
"Extra hospitable lang kami kasi climax ng festival, 'yung massive street dance," Salceda told the President, reiterating an earlier statement he made in reference to the Daragang Magayon Festival.
(We were just extra hospitable because it was the climax of the festival, the massive street dance.)
Salceda told the President that UNA campaign manager Navotas Rep Toby Tiangco already "dived" into his actions.
Asked if he is confident that Salceda is still backing his ticket, Aquino said, "Yes."
Some Team PNoy candidates had questioned Salceda's appearance with the UNA bets, including his statement that he will vote for Vice President Jejomar Binay's daughter Nancy.
"He is a mature leader and a mature man. He does not need to be sanctioned but he should explain himself. That's his conscience," said former Sen Ramon "Jun" Magsaysay on Monday.
Salceda had committed a 10-2 win for Team PNoy, with the two UNA bets being San Juan Rep JV Ejercito and resigned Sen Juan Miguel Zubiri. Salceda said though that he will personally vote for Binay.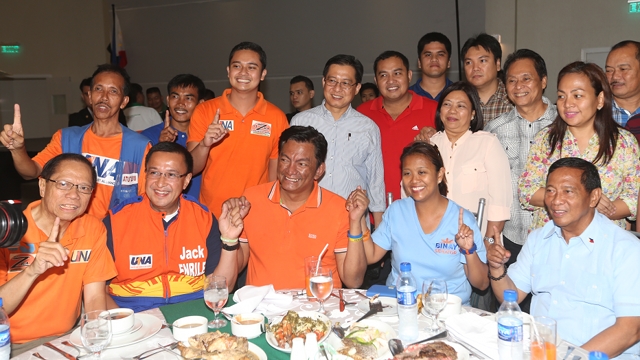 JUST HOSPITABLE. Albay Gov Joey Salceda of the Liberal Party says he was just being hospitable in meeting and dining with Vice President Jejomar Binay and UNA senatorial bets. Photo from OVP Media
'Nobody should relax'
With two weeks left before the May 13 polls, Aquino said he is continuing to push for all of his candidates to make it to the top 12. He said the surveys have been consistently in favor of his ticket.
In the Pulse Asia survey released Tuesday, Team PNoy candidates who have been trailing in the polls – former Akbayan Rep Risa Hontiveros and Magsaysay – made it to the list of bets with a statistical chance of winning. Former Sen Jamby Madrigal though is still out of the winning list.
"We will do everything we can to push for the candidacies of our bets," Aquino said.
"I tell all of the candidates nobody should relax at this point in time. If it's possible to even increase your efforts, please do so," he added.
Aquino said he is leading by example.
"We believe we are espousing a certain ideology. Regardless of my physical condition, I will endeavor to maximize delivering the message to our people," Aquino said.
The President has been actively campaigning for his candidates both in sorties and also in ads.
He has appeared in various political ads endorsing his individual bets and the Team PNoy slate.
The April Pulse Asia survey showed an 11-5 combination in favor of Team PNoy in the list of candidates with a statistical chance of winning. – Rappler.com