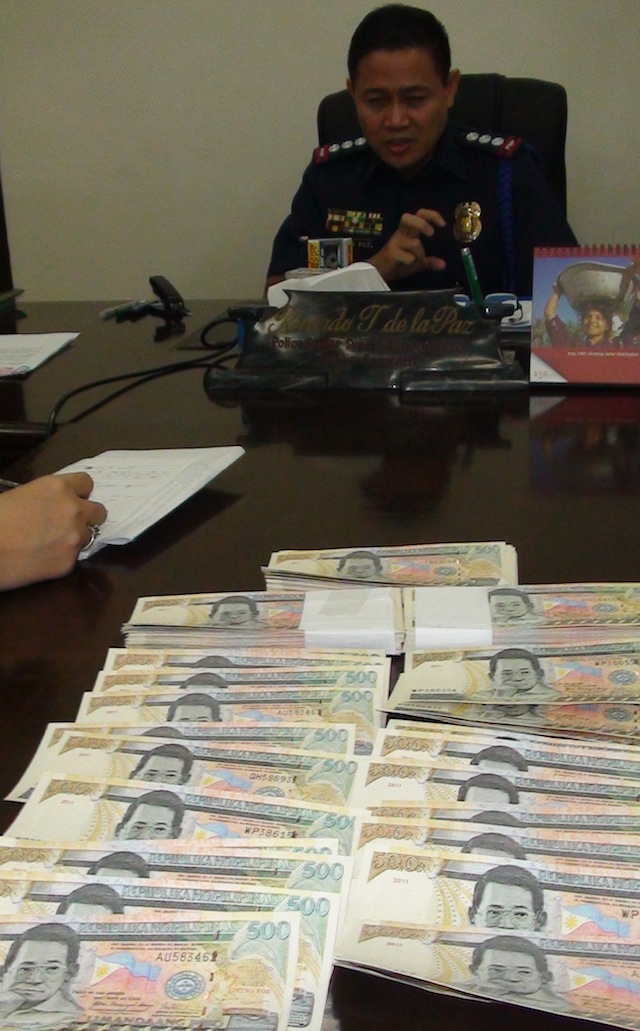 FAKE MONEY. Senior Supt. Ricardo de la Paz, Negros Occidental police officer-in-charge, presents the P150,000 worth of fake P500 bills. Rappler/Gilbert BayoranBACOLOD CITY, Philippines - Negrenses are warned about the proliferation of fake P500 bills, which may possibly be distributed during the May 13 elections to buy votes.
The warning was made by Sr. Supt. Ricardo de la Paz, officer-in-charge of the Negros Occidental Police Provincial Office, following the surrender Monday, April 29, of P150,000 worth of fake P500 bills to their office, by a concerned citizen.
De la Paz said Bangko Sentral ng Pilipinas (BSP) representatives Job Nepomuceno and Sharon Agustin have confirmed that the bills were fake.
He added that they are now verifying the extent of the distribution of fake P500 bills and other Philippine currency, after they received reports that about P3 million in fake P500 bills is now circulating in Negros Occidental, especially in Bacolod City.
De la Paz encouraged the public to immediately report cases of discovery of fake bills.
The BSP urged the public to be cautious in their money dealings, saying the best way to distinguish fake money is to know the features of genuine notes.
"The best way to detect if the currency note is counterfeit is to feel the main prints of the notes such as Republika ng Pilipinas, [the] amount in words, numerical figures at the lower right hand of the note, and signatures," they said.
It will also help to feel the embossed part of the strands of the hair in the portrait to determine whether the money has been forged or not.
Under the Revised Penal Code, persons behind the circulation of fake money bills facing a penalty of reclusion temporal or 12 years and one day to 20 years of imprisonment and a fine not to exceed P10,000. - Rappler.com