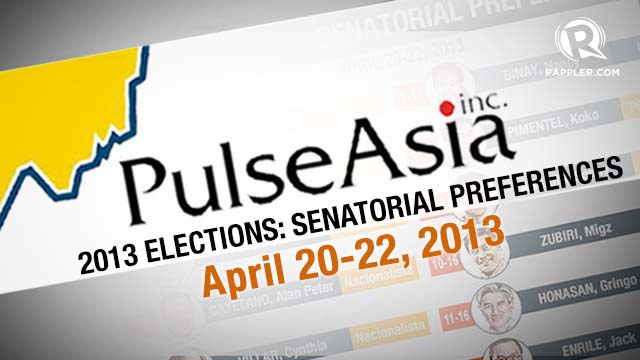 MANILA, Philippines - Don't have your list of 12 senatorial bets yet? You're not alone.
Three weeks before election day, most Filipinos had still not decided on their complete senatorial slate. Most named only a mean of 7 preferred senatorial candidates out of 12 possible bets, according to the April 2013 Pulse Asia survey -- leaving them with 5 more to vote for.
The number of bets voters said they will elect in May 2013, decreased as the elections drew near.
In February and March, most Filipinos named an average of 8 preferred bets. Pollster Ana Tabunda said the survey did not immediately reveal a reason why Filipinos went from having 8 to 7 bets, since "the level of interest in the elections remains the same." She said the only difference was this month's survey had more rural voters.
Tabunda said the slight drop, especially when partnered with the high number of probable winners, is further proof of how tight this year's elections are.
President Benigno Aquino III's coalition has 11 probable winners, while the opposition, United Nationalist Alliance, has 5.
"This is telling me now that I should be prepared to expect anything. It used to be, if you were in the top 6, you would stay in the top 6," she said. "Now, it's not that those in the top 6 can still lose, but it's not assured they can stay in the top 6."
She said those in the lower half of the bottom 6, risk losing because surveys in recent months have consistently shown a "very tight race." She said the wide range of ranking like 4-10 -- wherein a bet can go as high as rank 4 and go as low as rank 10 -- indicates "we have to be prepared to see some shock names."
These numbers, matched with the fact few Filipinos have already decided on a complete slate, could yield unexpected results.
Many unsure
The survey, released on Tuesday, April 30, and conducted between April 20-22, revealed only 27% of Filipinos have already decided on their Magic 12 with the elections less than a month away.
Out of all the regions of the country, it is only in the Cordillera Administrative Region where 56% -- or more than half of the voters -- have named a complete slate, while in ARMM, Bicol and Region 13, as well as among Muslim voters, only about one of ten voters named 12 candidates.
NCR voters named an average of 7 preferred bets.
Of the age groups that could vote, the 18-24 year old age range named an average of 8 candidates they would elect, while those aged 45 and above appeared to be the least sure with an average of 6 bets. - Rappler.com