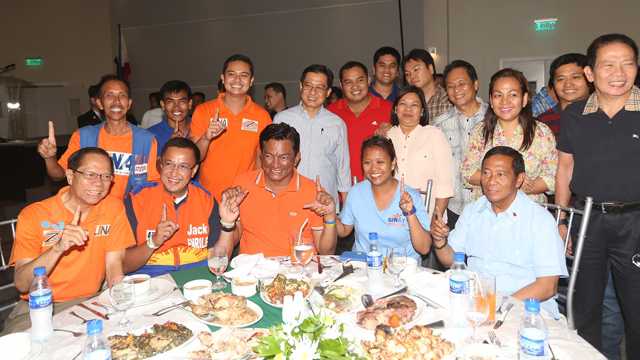 SALCEDA'S STANCE? LP's Albay Gov Joey Salceda flashes the LP sign while UNA leaders and candidates with him pose with their own sign. Photo from OVP Media
MANILA, Philippines - The hold of administration coalition Team PNoy on the Bicol Region will serve to tell whether Albay Governor Joey Salceda will remain a loyal member of the ruling Liberal Party (LP), the party's secretary general said Wednesday.
Salceda's loyalty was questioned after he publicly declared support for United Nationalist Alliance (UNA) candidate Nancy Binay, daughter of Vice President Jejomar Binay. Salceda also said that he can only deliver a realistic 10-2 win for Team PNoy, with two slots for UNA candidates JV Ejercito and Migz Zubiri.
The reelectionist governor's presence in the UNA sortie held in his province was also questioned by some Team PNoy candidates. Albay alone has at least 700,000 voters.
LP Secretary General and Western Samar Representative Mel Sarmiento said, however, that the LP will not rush holding an investigation on Salceda, their regional chair in Albay.
"There is a right time and right place for this investigation. This issue should not divert our focus in our bid to dominate the 2013 elections, not just the senatorial race but in all levels. Any probe against Governor Salceda will have to wait until the election is over," Sarmiento said.
"Our focus now is to ensure that we will win big in all levels. President Aquino needs all the help he can get to ensure that the tremendous economic gains that our country has achieved in past three years will start to trickle down to our poor people," he added.
Salceda jumped to the LP in the 2010 elections and left his close ally, former President-turned-Pampanga Representative Gloria Macapagal-Arroyo. - Rappler.com