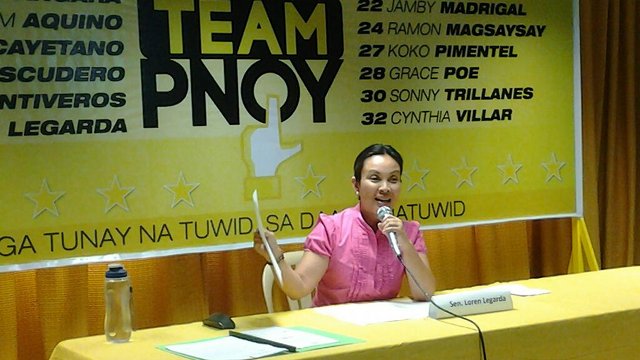 BLACK PROPAGANDA. Sen Loren Legarda shows documents proving she declared her NYC condo unit in her statements of assets, liabilities and net-worth. Photo from Team PNoy's Twitter account
(UPDATED) MANILA, Philippines - Sen Loren Legarda slammed allegations she did not include a posh New York City condo unit in her statements of assets, liabilities and net worth (SALNs), but questions remain after contradictions surfaced between her SALNs and official documents.
In a statement released Tuesday, April 30, self-proclaimed interest advocate Louis "Barok" Biraogo accused Legarda of failing to include her unit at 77 Park Ave, purchased in 2006, in her SALNs.
Legarda has since shown it was listed in her SALNs since 2007. Copies of her SALNs which Rappler obtained confirm the listings.
Yet while the condo unit was included in Legarda's SALNs, some information appear to contradict records at the New York City Registry of Property Deeds -- specifically the cost of the unit, and who exactly owns it.
The re-electionist, who is running under President Benigno Aquino III's Team PNoy slate, said she declared the condo unit in her SALNs from 2007 to 2010 as "Equity in Real Property" and said she declared the same condo unit as "Real Property-USA" in 2011 and 2012.
Legarda's listing of "Equity in Real Property" from 2007 to 2010 was followed with a parentheses, "co-owned with brothers, etc." It said the property was acquired in 2006, and that her share was about P7.2 million, "equal to one-fourth of the total investment in the acquisition of apartment" amounting to P28.7 million.
The NYC registry of sale however said the cost of the property was $700,000, or P36.5-M using the dollar-peso exchange rate at that time. The deed said the property was acquired in May 2006. According to the National Statistical Coordination Board, the exchange rate in May 2006 was $1 = P52.1.
When asked about the difference of over P7 million, Legarda's camp emailed Rappler to say, "The amount declared in relation to the property was computed using the exchange rate of $1 = Php 41.00 prevalent at the time of its acquisition."
Government records show however that the exchange rate was never at P41 in 2006. The average exchange rate that year was $1=P51, with the lowest having been P49.5 in December.
Additionally, the deed of sale contradicts the ownership stated in Legarda's SALNs. The official document lists Loren B. Legarda as the sole grantee/buyer of the single residential condo unit.
Sudden change
In her 2011 and 2012 SALNs, the listing "Equity in Real Property" disappeared, and was replaced with "Real Property - USA." The acquisition cost stated was P28.7 million. The column on "year acquired" was left blank.
When asked if Legarda acquired the property from her brothers that year hence the change in SALN listing, her staff's email to Rappler said, "It remained co-owned, the equity of co-owners was declared under the section on liabilities." It added, "essentially, the declaration in terms of net worth remained the same as in 2007 and the years following."
The email did not explain the decision to change the way it was listed from years prior.
Additionally, a blog by journalist Raissa Robles claims Legarda filed two different SALNs in 2011. Robles said the 2011 SALN copy she acquired from the Office of the Senate was different from the one recently obtained by media and referred to by Legarda in her press conference to address the allegations on Thursday, May 2.
In the old SALN, Robles said the NYC condo was still listed as "Equity in Real Property." She also pointed out changes in amount of her assets so her net worth went from P45.7 million in her old SALN to P47 million in her new SALN.
'Black propaganda'
Biraogo offered his own explanation for the change in Legarda's SALNs.
In his statement, he said Legarda finally declared her US property in 2011 "at about the time when the impeachment trial of Corona was already at fever pitch," because "she became very, very afraid that she would be in the same boat as Corona." He was referring to former Chief Justice Renato Corona, who was impeached in 2011 for failure to fully disclose his assets, liabilities, and net worth. (READ: New SALN form 'fills gaps' spotted in Corona trial)
Biraogo also accused Legarda of undervaluing her property, and of "using the peso-exchange rate in 2011 instead of the prevailing rate in 2006," as a means to conceal her true wealth.
Legarda has dismissed the allegations as black propaganda.
"I am not hiding any anomalies because I have served the country honestly. This is black propaganda because I have maintained my number one spot [in the surveys]," she said.
Vice President Jejomar Binay expressed his support for Legarda, saying she is "a person of integrity."
"The allegations against her are obviously politically motivated, and I'm confident she would get through these unscathed. The Filipino people trust her and in her commitment to be their voice in the Senate," Binay said.
Opposition senatorial candidates Richard Gordon and Nancy Binay, as well as United Nationalist Alliance secretary general Toby Tiangco, also dismissed as a dirty trick this issue about Legarda. Gordon said this was the handiwork of an administration candidate who wanted to dislodge Legarda from the top spot in the surveys.
Legarda has consistently topped surveys in the senatorial race. Biraogo meanwhile has filed a number of cases with the Supreme Court regarding a wide range of issues for several decades now, most of which have been dismissed. - Rappler.com
---
More from Rappler's 2013 Philippine elections coverage: