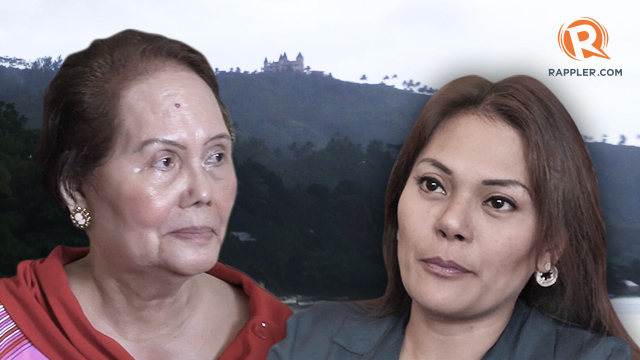 ECLEO VS ECLEO. Dinagat's gubernatorial race will test a mother's resilience, a daughter's defiance, and the new province's survival caught in between.
DINAGAT ISLANDS, Philippines - New province Dinagat Islands is among the provinces in the country with the lowest income. The politics is dominated by the Ecleo clan, regarded as royalty by the locals because of the family's alleged healing powers.
Voltaire Tupaz reports.
A pregnant 23-year-old Julieta Javeliano walks into this clinic in Dinagat Islands in the dead of night. Her left breast is swollen and red. She fears she has cancer.
ANACLETO VELEZ, PBMA MISSIONARY: Tunaw na talaga ang cyst. Nana na, so binuksan [ko] through prayer. Wala kaming instrument na gamit. (There was already pus, so I opened [the breast] through prayer. We didn't use any instrument.)
The Philippine Benevolent Missionaries Association is founded by the late Ruben Ecleo Sr, known as the "Divine Master."
Ecleo Sr's healing powers enticed not just believers but also voters. This and mining operations that scarred the mountains of Dinagat built this palace called the "White Castle."
GLENDA ECLEO, DINAGAT ISLANDS GOVERNOR: Noong nag-boom yung chromite. I had 3 MPSAs. Doon ko yun…para bang katas ng Dinagat Island. (During the chromite mining boom, I had 3 Mineral Production Sharing Agreements. It's a fruit of mining in Dinagat Island.)
At least 12 members of the Ecleo clan hold elective positions.
Under the Nacionalista Party, Glenda is running again for governor; her son Benglen, for vice governor; her twins – Allan 1 and Allan 2 for re-election as mayors; and daughter Gwen for congresswoman.
But for the first time in 4 decades, the Ecleos' grip on power is challenged by one of their own. Vice governor Jade Ecleo is running against her mother Glenda for governor on a platform of hope and reform. She's backed by the Liberal Party and a line-up that includes activist congresswoman Kaka Bag-ao.
JADE ECLEO, DINAGAT ISLANDS VICE GOVERNOR: Hindi pa ako tapos, eh. Ang mga kapatid ko, pabalik-balik na lang sila. Naka 9 years na sila as mayor. Balik na naman. Ako one term lang ako as governor. Hindi pa ako tapos sa mga visions ko. (I'm not yet done. My siblings have entered politics again and again. They have been mayors for 9 years and then they return. But I have only served one term as governor. I have unfinished visions.)
Jade says her fight with her family is a "clash of principles."
Looking up from their shanties to the Ecleo castle, some residents call the structure a monument to inequality.
LARRY COYNO, DINAGATNON: Mayroon kang mataas na palasyo pero yung mga tao sa baba, eh, parang hulmigas lang yon eh…Very unfair. (Houses there are small. You have a palace above but the people below, they are like ants. It's unfair.)
There's an emerging clamor for change in Dinagat with 73% of people living below the poverty level.
Still, the ruling Ecleos remain a formidable political force.
The 2013 elections in Dinagat will test a mother's resilience, a daughter's defiance, and the new province's survival caught in between.
Voltaire Tupaz, Rappler, Dinagat Islands. - Rappler.com