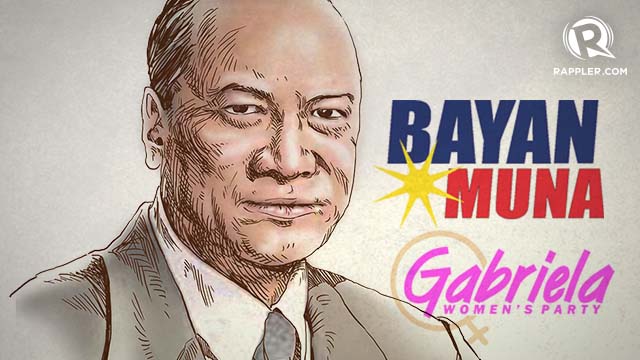 MANILA, Philippines - Could this make the difference for Jun Magsaysay?
With less than two weeks left before the elections, progressive party lists Bayan Muna and Gabriela on Saturday, May 4, endorsed Team PNoy senatorial candidate Ramon "Jun" Magsaysay Jr (Read: Jun Magsaysay's profile)
Bayan Muna president Satur Ocampo made the announcement through a text message sent by his staff to reporters.
He said they decided to endorse Magsaysay due to "his firm determination to uncover, document and recommend the prosecution of accountable public officials in the nefarious P750M fertilizer scam under the Arroyo government."
Bayan Muna and Gabriela are two of the 12 progressive party lists under the Makabayan coalition, which is fielding Bayan Muna Rep Teddy Casiño as the coalition's lone senatorial bet in the upcoming elections.
In November, Makabayan endorsed 5 senatorial candidates -- Loren Legarda, Francis "Chiz" Escudero, Grace Poe, Cynthia Villar and Koko Pimentel. On April 28, they decided to add two more to the list -- Alan Cayetano and Jamby Madrigal.
However, Ocampo said Magsaysay will only get the full support of Bayan Muna and Gabriela, and not the entire Makabayan coalition. Ocampo claimed Bayan Muna and Gabriela each have 1 million votes between them.
Magsaysay, for his part, said he "extremely appreciates" the group's support.
"Kaisa nila ako sa paniniwalang ang ating bayan ay sa Pilipino. Kasama ko sila sa mga simulaing dapat labanan ang kahirapan, ang magkaroon ng malinis na pamahalan at pagyamananin ang ating karapatan," Magsaysay said. (I am one with them in the belief that our land is for the Filipinos. I am with them in the initiative to fight poverty, have a clean government and enrich our rights.)
Why just now?
Asked why the party lists decided to announce their support for Magsaysay just now, Ocampo told Rappler that it was Magsaysay who approached the group two weeks ago.
Ocampo said the Makabayan coalition already considered endorsing Magsasay even before they announced the group's endorsement of 5 senatorial bets in November. However, Magsaysay failed to submit his comments for the Makabayan coalition's platform -- one of the main requirements for candidates seeking Makabayan's support.
"Maybe he waited for a time to improve his survey ranking. He was hopeful. But when his numbers [stayed the same], he revisited our former talks," Ocampo said.
When Magsaysay got in touch with the coalition again, Ocampo said they decided to endorse him only under Bayan Muna and Gabriela.
During the talks, Magsaysay committed to support some of party list's agenda to push for an increase in minimum wage, assistance to workers, a platform of genuine agrarian reform and rural industrialization.
Magsaysay has been at the tailend of recent surveys. In the latest Pulse Asia survey, he was at the 12th to 17th place.
Of the 12 Team PNoy candidates, Magsaysay, along with former Akbayan Rep Risa Hontiveros and former Sen Jamby Madrigal have failed to clinch a firm position in the surveys.
Hontiveros, for the first time, made it to the list of candidates with a statistical chance of winning in the last Pulse Asia survey. She was in a statistical tie with Magsaysay.
Asked whether this had anything to do with their decision to endorse Magsaysay, Ocampo said the circumstances are just incidental.
"It is purely incidental. She has been with the Liberal Party and we did not enter into any alliance with the Liberal Party. Our selection of the candidates are based on previous relationships with them," he said.
Bayan Muna and Akbayan are linked with rival groups in the Philippine left. Akbayan is associated with the moderate Left, composed of activists linked to socialists and social democrats, while Bayan Muna is associated with the radical Left.
What about Teddy Casiño?
As candidates scamble to break into the Magic 12, Makabayan's own candidate has consistently hovered around the 23rd to 24th place.
In the latest Pulse Asia survey, Casiño was ranked at 23rd to 24th place among 33 candidates.
Despite adopting other bets, Ocampo said they have "a way of ensuring that any endorsement of other candidates doesn't necessarily affect" Casiño's chances.
Casiño earlier told Rappler he does not factor in survey results in his campaign anymore due to alleged anomalies.
But Ocampo said they are aware of the risks that come with adopting candidates.
"Generally, when the votes accumulate among the leading or the winnables, of course, the chance that Teddy could catch up declines but that's a risk that we have to pay instead of being selfish or denying endorsements to deserving candidates," he said.
"We are still doing the best for Teddy while we assist those who may help, who will work with us with our contingent in the House. That's how politics works," Ocampo said.
Ocampo, then Bayan Muna representative in the House, ran for the Senate under the Makabayan coalition in the 2010 elections along with Gabriela party list Rep Liza Maza but lost. - Rappler.com