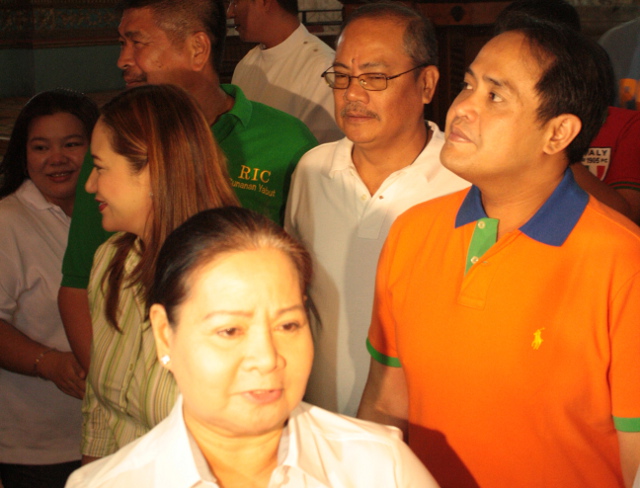 PINEDA CLAN. Pampanga Gov. Lilia Pineda, her son and daughter join this year's elections in Pampanga.
SAN FERNANDO CITY, Philippines - Political families that joined this year's elections in Pampanga have grown more active as compared to the previous local race.

The same political figures in the province are eyeing either re-election or other posts, and will be accompanied by their relatives.

There's the Pineda clan, headed by Gov. Lilia Pineda, who's seeking a second term. His son Dennis will be her running mate, while daughter Mylyn Pineda-Cayabyab will run for re-election as Lubao mayor. Both Lilia and Dennis were former mayors of the town.

Former Rep. Francis Nepomuceno is eyeing a return to Congress, while his nephew, lawyer Bryan Matthew, is seeking a second term as Angeles City councilor.

First District Rep. Carmelo Lazatin steps down to join the mayoral race in Angeles City, where his son and namesake is also running for councilor.

The older Lazatin is pitted against re-electionist Mayor Edgardo Pamintuan, who's aiming for a second term. His son and namesake is also a re-electionist councilor in the city.

Candaba Mayor Jerry Pelayo is also aiming a seat in Congress, while his son Patrick will try to replace him in the mayoral race.

Other faces to grace the provincial elections are:
In San Fernando City, Pampanga Councilor League chair Raul Macalino is running for vice mayor, while daughter Ayzel is eyeing a seat in the city council.
In Bacolor, Mayor Jomar Hizon will run for re-election, with her mother Lolita as her running mate.
In Mexico, Mayor Teddy Tumang aims for provincial board seat, handing the mayoral contest to his brother Alex.
In Sto. Tomas town, former mayor Romeo Ronquillo is making a comeback, while his wife Gloria is seeking re-election bid as vice mayor.
In Magalang, brothers Daniel and Norman Lacson are running for mayor and vice mayor, respectively, but under different parties.
In Mabalacat, Mayor Marino Morales is gunning for another term, while his daughter and former opponent, Marjorie Sambo, opted to run for vice mayor.
Crisostomo Garbo is running for another term in the provincial board, while daughter Krizzanel is running for Mabalacat councilor.

It was only in the last decade when elected officials in the province fielded their relatives as replacements when they have already completed 3 terms in office. For instance, former Pampanga governor Mark Lapid replaced in 2004 his father, Sen. Manuel "Lito" Lapid, who ran for Senate.

According to Luther Parker documents with the Center for Kapampangan Studies, the Flores family of Masantol showed to be the longest running political family in Pampanga since 18th century. - Rappler.com