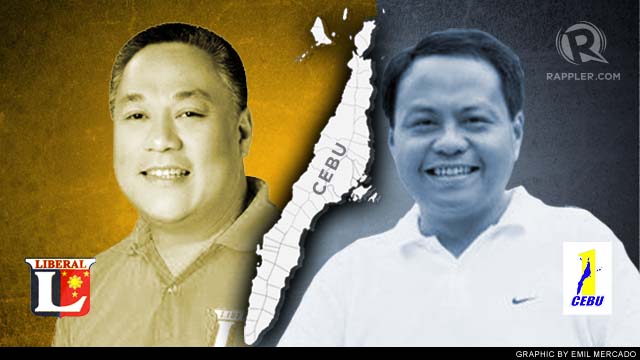 (Last of two parts. First part here: Will PNoy or Gwen prevail in Cebu?)
CEBU, Philippines – President Benigno Aquino III reportedly has a list of 5 provinces where he does not want his candidates to lose. First on his list is Cebu.
Asked about the report, Aquino's gubernatorial candidate in the province Hilario "Junjun" Davide III laughed. The President reportedly told Davide about his list during a visit to Cebu last year.
Davide tells Rappler, "The fact that this year alone, he visited Cebu thrice then Cebu must really mean something to him."
The Liberal Party (LP) faces a key test in the gubernatorial race in Cebu. Home to over 2.5 million voters, it is the country's most vote-rich province. The outcome of the election will be a benchmark of the ruling party's clout and organization.
Davide is up against a formidable rival: 3rd District Rep Pablo John "PJ" Garcia, whose sister, suspended Gov Gwen Garcia, defeated LP's provincial chairman in 2010. The Garcias' local party, One Cebu, is allied with the opposition United Nationalist Alliance (UNA).
By all indications, it will not be an easy contest.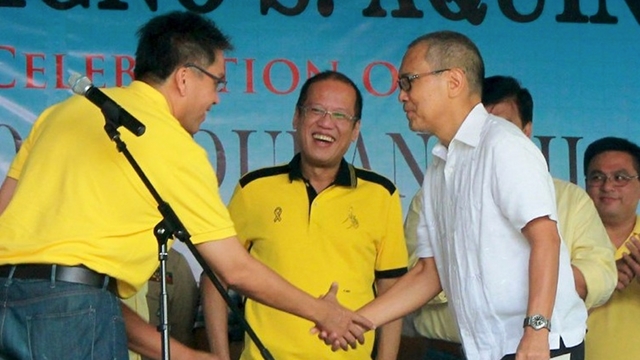 SWING VOTE. The LP signs a coalition agreement with Cebu's local Bakud Party of Danao City Vice Mayor Ramon "Nito" Durano III, a partnership that boosts the candidacy of LP gubernatorial bet Junjun Davide. File photo from LP website
The Bakud 'game changer'
All too aware of the odds of beating a family that ruled the capitol for 18 years, Aquino's party worked to score an early coup.
Last year, the LP forged a coalition with the local Bakud (Barug Alang sa Kauswagan ug Demokrasya) Party of the influential Durano clan of the 5th district. It is Cebu's second biggest district.
The Duranos were long-time allies of the Garcia family but switched sides because of what they call "practical politics."
Davide sees the partnership with Bakud as a game changer.
In 2010, the 5th district gave Gwen a margin of 83,849 votes, the bulk of her 96,341-vote lead over the LP candidate.
Yet the Garcias were also able to secure an alliance with one wing of the feuding Durano family. PJ's running mate is Ramon "Boboy" Durano IV who is competing with another Durano, his cousin, Acting Gov Agnes Magpale, Davide's vice gubernatorial bet.
The Garcias chose Boboy Durano over Gwen's 2010 running mate, Glenn Soco who is now running as an independent. Some observers saw the choice as a move to offset the LP-Bakud coalition and to split the Durano vote in the 5th district.
LP is aligned with the family line of Danao City Vice Mayor Ramon "Nito" Durano III while One Cebu is linked with Nito's brother and rival for Danao mayor, incumbent Mayor Ramon "Boy" Durano. Boy is Boboy's father.
Nito is with Bakud while Boy and Boboy joined One Cebu.
Which Durano alliance matters?
"It's not so much the Durano [family]. It is the party. It is Bakud," former Tourism Secretary Ace Durano tells Rappler. Ace, Nito's son, is again running for congressman of the 5th district.
"I keep on saying that Bakud is more than the Duranos. It may have been started by us but it's bigger than us now. It encompasses the entire district. The party has committed leaders from barangay to municipal levels and that's the organization here in the 5th district that delivers."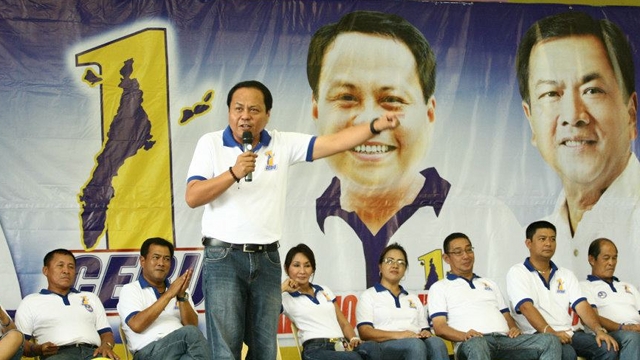 NO MASS EXODUS. One Cebu gubernatorial bet Pablo John "PJ" Garcia says contrary to the statements of the LP, there has been no mass exodus of members of the Garcias' party. File photo from PJ Garcia's Facebook page
'Knock on Davide leadership'
Despite losing the so-called Durano swing vote, the Garcias have their own aces up their sleeves.
PJ says One Cebu continues to have the most number of incumbents in the province, and fielded the most number of complete slates.
While there have been defections, PJ says these did not happen in the scale LP wanted.
"This talk of mass exodus is really wishful thinking on their part because their problem is they're the administration party but we have the tightest organization in the province of Cebu."
PJ was also able to clinch the endorsement of 1st District Rep Eduardo Gullas, who holds sway in his district's vote. It was ironic for a man who helped broker the alliance between the LP and the Nacionalista Party at the national level. Gullas though is endorsing Davide's running mate, Magpale.
Lawyer and political commentator Frank Malilong says this reflects on Davide.
"That's a knock on Junjun's leadership. If he wanted a rematch with the Garcias, not exactly a rematch but well it's almost a rematch since it's a member of the same family, he should have organized immediately after the elections."
Malilong says Davide could have further strengthened LP's political muscle.
"There was a time when some mayors switched camps but he was not able to exploit that. He should have been more aggressive. There could have been more mayors. The impression I got was he was just waiting for those mayors to apply with him, 'Can I join you?' But that is not how it works."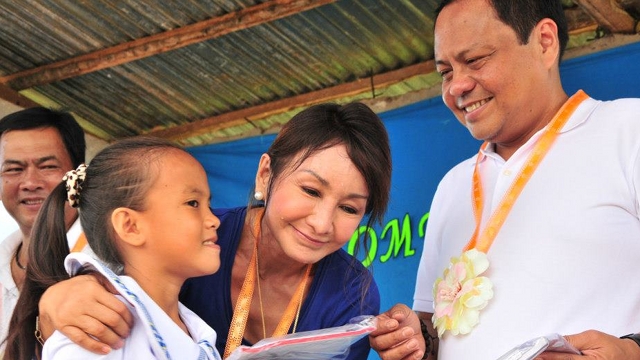 'TOUCH, FEEL.' Political observers say the Garcias, especially Gov Gwen Garcia, were effective in "touch and feel politics," and pampered barangays with various projects and perks. File photo from PJ Garcia's Facebook Page
Perks and 'touch and feel politics'
How elections work in Cebu is similar to other provinces: it's a numbers game. With 6 districts, a candidate needs to win in at least 4 districts to become governor.
Both Davide and Garcia claim to have the numbers, banking on their party's incumbent officials and allies to deliver. Yet they also attract different types of constituencies.
Davide expects to win in the 1st and 6th districts again, both close to Cebu City. He says the people there are more exposed to media and know the issues against Gwen.
PJ says he is solid in the 2nd and 3rd districts, where he and his father are congressmen. He is also relying on "sympathetic voters" from areas like Camotes Island of the 5th district, where his sister poured infrastructure projects to boost tourism.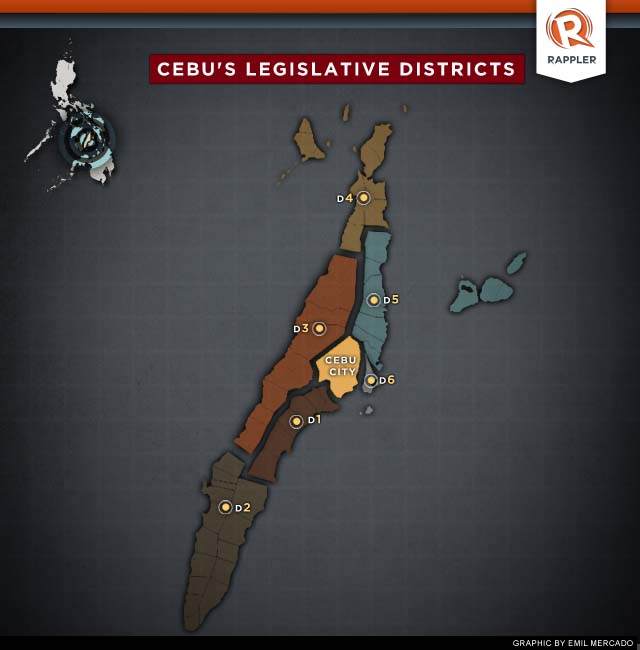 University of the Philippines Cebu political sociology professor Phoebe Sanchez says courting Cebu's populated coastal barangays is crucial.
"Among the intellectuals, the issues about Gwen are something they will consider but the population is not that big. She has a problem because of her cases but has this affected the small communities, the barangay levels? Hindi naman tumatagos sa kanila kasi top level ang nag-aaway at 'di sila apektado," says Sanchez, a former community development worker.
(They are not affected because only those in the top level are fighting.)
Sanchez says in the 18 years Gwen and her father Pabling were governor, they gave a lot of perks to the barangays in the form of projects.
Gwen was also superb in what Sanchez calls "touch and feel politics," meeting with barangay captains and interacting with communities.
"Iba kasi 'pag ikaw ay malapit sa tao, maaamoy-amoy, mapipisil-pisil. May impact iyon. May impression silang mahirap lapitan 'yung 'pag nasa ibabaw ka ng stage at nagsasalita. Maganda nga ang sinasabi mo pero 'di mo pinapakita sa baba. Wala kang touch, wala kang feel."
(It's different when you are close to the people, they smell you, they press your flesh. That has an impact. If you are just talking on stage, there is an impression that you are not approachable. You say good things but they do not see that on the ground. You don't have touch. You don't have feel.)
Sanchez says PJ has a built-in advantage in running for a post his father and sister held.
"Labing-walong taon silang umiikot sa buong probinsya at 'di lang nila minsan iniikot. Halos linggo-linggong iniikot iyan ng tatay at ng kapatid niya so siyempre, kahit matulog na lang si PJ, pwede na 'yun."
(For 18 years, the Garcias have been going around the province and not just every once in a while. Every week, the father and the sister go around so of course, even if PJ just sleeps, he can win.)
Malilong says PJ is trying to replicate Gwen's "touch and feel" style by drinking with people in communities and campaigning tirelessly.
Still, observers are not writing off Davide. After all, he is the ruling party's candidate. Malilong says Aquino's endorsement helps Davide but educated voters in the so-called Cebu Republic are fiercely independent.
"The herd mentality is not very common in Cebu. We vote on our own," he says.
Sanchez says even in many coastal communities, it will take more than Aquino's endorsement to win.
"What matters still is how much is attached to the ballot. The gatekeepers are the barangay captains, councilors. The usual practice is there are many who approach them, they get everything, divide the house and distribute to communities. No matter how good your platform is, if you don't give money, you won't sway them."
"On election day, the highest bidder wins. It's still there and it's common knowledge," she adds.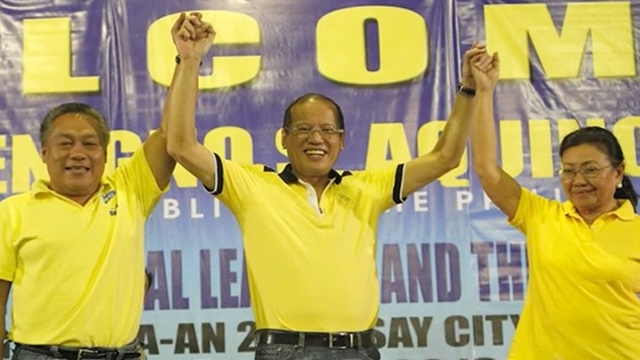 'NOT ENOUGH.' Political analysts say President Aquino's endorsement is not enough to secure a victory for LP gubernatorial bet Junjun Davide. Alliances, party strength, and perks for barangays will be key. Screenshot from Davide's TV ad
Tables turned
While the Garcias have long been giving out perks, Malilong says Gwen's suspension changed the game.
"It is now an acting governor, Agnes Magpale, who is doing all the things that Gwen used to do. If the people have long memory, they will think of Gwen. Otherwise, they will just forget what she did," Malilong says.
In December, Aquino suspended Gwen for grave abuse of authority in bypassing her late vice governor and the provincial council in hiring contractual employees. Magpale took over running the capitol.
PJ says Aquino's decision to suspend his sister for 6 months was meant to cripple his campaign but backfired on the LP. He calls it a Malacañang project to install its candidate.
"All this negative campaigning against my sister and especially the suspension of my sister has turned off -- not only turned off but scandalized -- a lot of those in between who were neither here nor there before the suspension."
To Davide, the suspension showed that under the Aquino administration, no one is above the law. "Even the high and mighty, the Garcias must answer for any offense committed."
Where do Cebuanos stand?
Malilong says, "I think Cebu was evenly divided by her suspension. There were those who said it was a power grab and there were those who welcomed it, that it was about time that she got her comeuppance."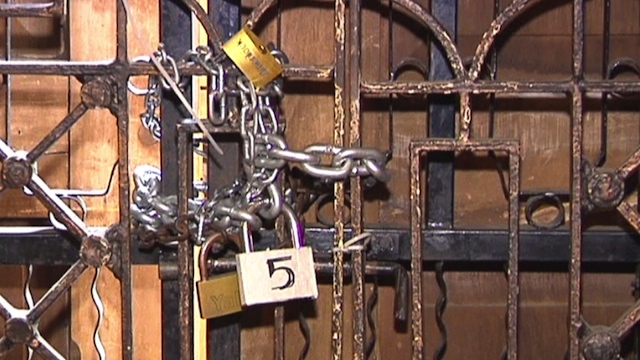 EVENLY DIVIDED. Lawyer and political commentator Frank Malilong says Cebu was evenly divided by the suspension of Gov Gwen Garcia, who remains a factor in the gubernatorial race. File photo by Danilo Castro Jr, News 5 Cebu
Beyond parochial wars
In painting contrasting pictures of the province, Davide and Garcia view the elections differently.
PJ says there is more to it than his vision of continuity of policies.
"Clearly, the other side has displayed that what is at stake here is 2016. They suspended the governor. They had done everything they can to wrest control of Cebu, for what?
"Before Mar Roxas took over as secretary of DILG, Secretary [Jesse] Robredo never had any problems with the governor but when Mar took over, the governor was suspended so isn't it clear that this election for them is about 2016?"
To Davide, the polls are about ending the Garcias' reign and holding them accountable.
"If we allow another Garcia to sit there, kawawa ang Cebu (poor Cebu) because what's going to happen is that this Garcia who sits there if he wins, he's going to cover up all the sins of the sister. Ang mga Cebuano, 'di na malalaman anong nangyayari sa kapitolyo." (Cebuanos will not know what is happening in the capitol.)
Having witnessed political battles play out over the years, Sanchez hopes candidates and voters will see that much more is on the line.
"Even if Cebu is progressing, there are still many farmers with no land. Who is really the leader who can realize asset reforms and asset redistribution?"
She adds, "Although candidates say they will disperse economic development to the province, it's not been dispersed. It's still focused on central areas so it's still in the cities."
Without these reforms, Sanchez says poor voters will continue depending on politicians for perks and resources, and patronage politics goes on.
Malilong wants Cebu's next leader to think nationally and even globally. He recalls the time Cebu produced a president, Sergio Osmeña, senators, and 3 chief justices.
He talks of the pride that came with the tourism slogan "Cebu, An Island in the Pacific" of the 1980s.
Malilong laments, "We cannot seem to agree with each other. We are always enslaved by our own parochial wars." – Rappler.com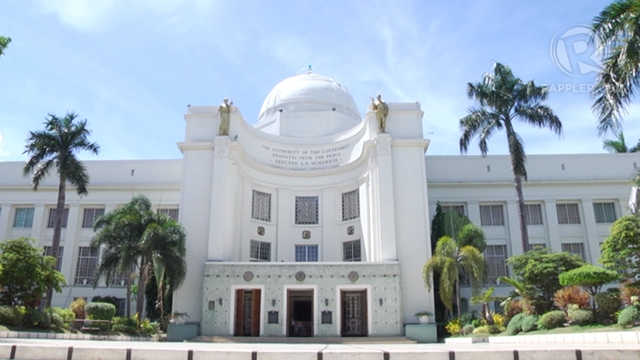 PREMIERE PROVINCE. As the country's most vote-rich province and de facto second capital, a lot is at stake in Cebu's gubernatorial polls. Photo by Rappler/Franz Lopez