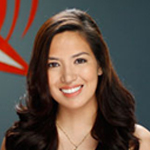 Natashya GutierrezIn the wake of the brouhaha over Sen Loren Legarda's alleged misrepresentation of her wealth, seemingly everyone and their grandmother came forward to defend her.
The re-electionist, who has been a consistent topnotcher in surveys, has found support not just from her fellow bets in the administration slate, but also from the opposition United Nationalist Alliance (UNA).
The most impressive backer by far? No less than President Benigno Aquino III.
In a statement released Monday, May 6, Aquino praised Legarda's "long and credible record of advocacies," which he called the "foundation for her public support." He defended his bet and expressed confidence his "fellow citizens…can separate the facts from mere rumors or opinions."
But how will the public be able to separate facts from rumors if questions remain unanswered?
On Tuesday, April 30, self-proclaimed interest advocate Louis "Barok" Biraogo accused Legarda of failing to include her posh New York City apartment at 77 Park Ave, purchased in 2006, in her statements of assets, liabilities and net worth (SALN). He said it wasn't listed in her SALNs until 2011, filed in 2012, the same year former chief justice Renato Corona was impeached for being dishonest in his SALNs.
Legarda did not waste time debunking the allegations.
Armed with a letter from her lawyers, Legarda called for a press conference on Thursday, May 2, and faced the media, because, she said, "the number one senator does not run away."
She presented the letter to the media from Sycip, Gorres, Velayo & Co lawyer Cirilo Noel, ACCRA Law's Avelino Cruz, and her own lawyer Joel Wanagen -- certifying that her New York property and other properties are listed in her SALN.
In the same press conference, she expressed frustration and sadness over what she called black propaganda. She challenged media to scrutinize her documents. And she pointed to a certain "Willie F" as the publicist behind a senatorial candidate who she nicknamed "Boy Kuryente," who is allegedly responsible for the smear campaign against her.
She said this candidate wants to be number one, and has launched black propaganda against two other candidates.
And so it seemed the issue was over, because indeed the property was in her SALNs -- listed since 2007. It was over, until the media took Legarda's challenge to scrutinize her SALNs, copies of which she did not have in her press conference and could not give inquiring reporters.
Blind item
The scrutiny gave way to more questions.
Why did she list her property as shared in her SALNs when the deed of sale in the New York City Registry of Property Deeds showed her as the sole owner? Why did she use a much lower dollar-peso exchange rate than the time of purchase when listing the cost of her apartment on her SALN, making it come out like it was undervalued? Why did she appear to file two SALNs in 2011? And why did she change the way she listed her property in 2011, different from her declaration of the apartment in the years prior?
Yet instead of another press conference, or a statement from the senator, what followed was a slew of statements of support from political personalities.
Vice President and UNA stalwart Jejomar Binay called Legarda a "person of integrity," and said the allegations are "politically motivated." Senate Majority floor leader Tito Sotto said Legarda would be "the last person who will do something to deceive government and the people." Nationalist People's Coalition (NPC) speaker Rex Gatchalian, the party Legarda belongs to, called the attacks "unfair" saying she is "the subject of a purported demolition job." Even opposition senatorial candidates Richard Gordon and Nancy Binay, and UNA secretary general Toby Tiangco, dismissed as a dirty trick this issue against Legarda.
They all have a point. Indeed, it may just simply be the ill-intentioned workings of a bet who is desperately clawing his way to the top.
But who? With all the statements of support from politicians, if this is all but a smear campaign, why has no one outright named who the candidate behind the black propaganda is, when Legarda herself said she knows his identity? For all these high profile personalities to come forward and voice their support for Legarda, they must at least have an idea who is behind it?
Reports link Willie F to fellow Team PNoy bet Sen Alan Peter Cayetano -- who is right behind Legarda in surveys at number 2 -- and curiously has yet to release a statement of support for Legarda. But not one person has mustered the guts, or perhaps the evidence, to name him specifically.
Just answer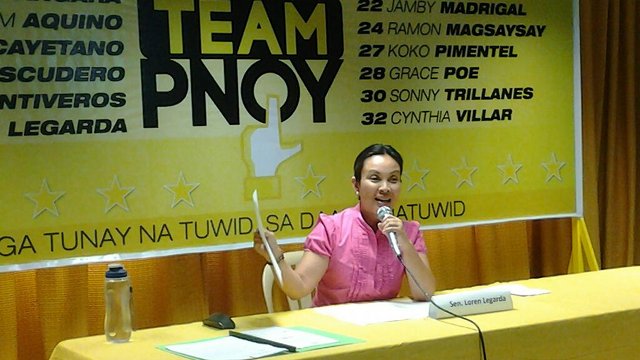 BLACK PROPAGANDA. Sen Loren Legarda shows documents proving she declared her NYC condo unit in her statements of assets, liabilities and net-worth. Photo from Team PNoy's Twitter account
With the overwhelming backing not just from politicians but from the public for Legarda, it is unlikely she will be dislodged from the top spot by election day. When Legarda is on the campaign trail, her charm and connection to the public is unmatched, evident, palpable. People from all walks of life, in every corner of the country, are drawn to her like bees to honey. For a reason. Legarda is passionate, a diligent worker, and has a track record that puts most to shame. She is loved.
It has never been a question of winning, because Legarda is a shoo-in for a senatorial seat. There was never any doubt about that. The question is, regardless of the intention behind it, regardless of the timing, is there some semblance of truth to the accusations?
In his statement supporting Legarda, Aquino said, "I am confident that she is not only prepared, but will do her utmost best, to answer any and all allegations raised against her."
At the end of the day, the cries of black propaganda and the politicians who have come to Legarda's defense still do not answer questions on her SALNs that may or may not have any truth in them. But a response to the public before election day will show not only Legarda's character, it will also serve as a resounding punctuation to why she deserves to be number one. It is something the public, which has poured its full hearts to support Legarda, deserves to hear.
And if she is as admirable as her fellow lawmakers trumpet her to be, there should be no doubt she will come forward and answer the questions point by point, patiently, to every single one who wants to understand. Even the President trusts that she will.
Aside from her courage to face the critics, Legarda's explanation may also give voters all the more reason to shade the oval by her name on their ballots. Or not.
Her backers could all be right. It may be nothing but a smear campaign. The timing is certainly suspect. There may be perfectly legitimate explanations to the questions surrounding her SALNs. Biraogo himself is dubious, having filed a wide range of cases with the Supreme Court, most of which have been dismissed. Heck, all the SALN questions could even just be borne of honest mistakes. Or not.
The point is, people are waiting to hear from their number one senator.
Because while the support of policians for Legarda is impressive and to Legarda's followers, comforting, there's one crucial statement missing: her own. - Rappler.com
---
More from Rappler's 2013 Philippine elections coverage: