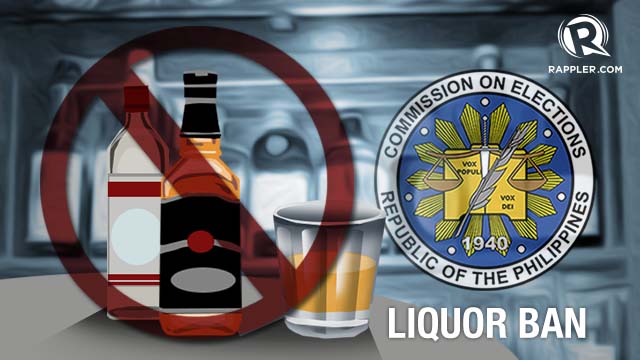 MANILA, Philippines (2nd UPDATE) - The Supreme Court (SC) on Wednesday, May 8, issued a Temporary Restraining Order (TRO) stopping the implementation of the liquor ban from May 9 to 11, limiting it only to two days.
SC spokesperson Theodore Te announced the ruling in a press conference, citing a petition filed by liquor companies Food and Beverage Inc., and International Wines and Spirit Association Inc.
The liquor companies said Comelec acted in excess jurisdiction when it issued the resolution ordering the liquor ban.
The petitioners said there is "without question" that Comelec has the authority to promulgate rules and regulations.
"However...Comelec's rule-making power should be exercised in accordance with the prevailing law," the petitioners said.
They added that Comelec violated their right to due process, as did not conduct any hearing before issuing the resolution.
They stressed that the poll body only acted upon the recommendation of Metropolitan Manila Development Authority chairman Francis Tolentino.
The liquor ban was originally scheduled from May 12 to 13 only, but the Comelec extended it at Tolentino's request. - with reports from Purple Romero/Rappler.com
Visit #PHvote, Rappler's coverage of the 2013 Philippine elections. Get to know the candidates through our comprehensive profile pages.
Share this page and pledge to #votesmart by clicking on the button below.
---
More from Rappler's 2013 Philippine elections coverage:
---
Is your bet leading in the 2013 elections?

Mirrored from Comelec 2013 election results data, we bring you latest numbers fresh from the server!

Check out these links to see results from:

See how fast the Comelec election results data is transmitted through the PCOS Transmission Status Map!
---
Feeling nostalgic? Watch how the May 13 elections unfold through Rappler's hourly #PHvote livestreams:

For overall live updates on the aftermath of May 13 and stories leading up to Decision Day, check out our extensive 2013 Philippine elections coverage!