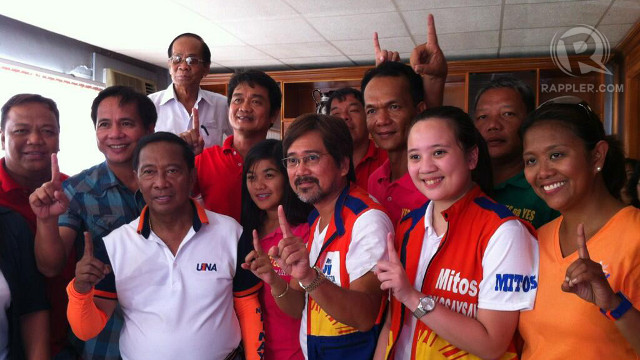 NOT EFFECTIVE. Vice President Jejomar Binay and UNA bets question the feasibility of Comelec's so-called money ban. Photo by Rappler/Ayee Macaraig
NUEVA ECIJA, Philippines – The intention is good but not good enough.
Vice President Jejomar Binay and his opposition United Nationalist Alliance (UNA) questioned the effectiveness and feasibility of the Commission on Election's so-called money ban.
Binay and many UNA senatorial candidates hailed the Comelec for seeking to curb vote-buying but said limiting cash withdrawals to P100,000 from May 8 to election day, May 13, poses many problems.
UNA has reservations about the Comelec resolution that also prohibits the "transportation and/or carrying of cash exceeding P500,000." Comelec released the resolution on Tuesday, May 7.
"[Paano malalaman kung] ang wi-withdrawhin ay talagang mapupunta sa pulitika pero kung kasama sa negosyo iyon? Biro mo, iha-hamper mo ang flow ng cash. Paano ang pasuswelduhin (How will they know if what is withdrawn will really go to politics or it's for business? Imagine, you will hamper the flow of cash. How about money for payroll?)," Binay said while campaigning for UNA in Cabanatuan City on Wednesday, May 8.
"Let us also consider the sentiments of businessmen but the idea is good," Binay added.
Binay said he shared the concerns of the business community, especially companies giving out weekly salaries.
A human rights lawyer, Binay also said there are legal questions that the Comelec must address.
"In trying to implement it, they'll be forced to go over the business activities of the depositors and the businessmen. Those are not savings but current accounts…. I hope they will make distinctions but definitely it will affect the business sector."
Instead, Binay said the police should arrest those buying votes. He said vote-buying has been rampant in areas like Puerto Princesa and Capiz but no action was taken.
Binay's daughter, Nancy, echoed her father and said the best way to curb vote-buying is for the police to be more vigilant.
"My concern is how they will enforce that because it seems there is no provision on what will happen to the money a person caught violating the ban is carrying. Where do they put the money? That's not in the resolution," Nancy Binay said.
'Why penalize whole country?'
Only Cagayan Rep Juan Ponce "Jack" Enrile was optimistic about the enforcement of the money ban.
Asked if it will be effective, Enrile said, "I think so, if people are a little bit more cautious with the transfer of amounts of cash, there will be fewer individuals who can buy votes. For 6 days, to ensure clean, honest and credible elections, I think we can make that sacrifice."
Enrile said the success of the ban will depend on the "will and infrastructure" of Comelec, "but the spirit is very, very good."
For Sen. Gregorio Honasan II, the money ban came too late.
"Can they enforce it? These are things that should have been done proactively before the start of the official campaign period. That's hard to monitor in the tail-end of the campaign. Those who want to buy votes will for sure look for excuses or take advantage in the last few days of the campaign."
Zambales Rep Milagros "Mitos" Magsaysay agreed, saying those who want to buy votes have long gotten money from banks or never deposited the money to banks.
"The people who are not related to the elections, they are the ones who will suffer: private individuals or corporations. It's the whole world that will stop," Magsaysay told Rappler.
"You're penalizing the whole country for the election where we have many individuals who have nothing to do with the elections. There are a lot of companies. They need the money everyday for payroll or logistics, their own expenses so why will you penalize them? May 8 to 13 is a very long period," she added.
Aside from politicians, the Bangko Sentral ng Pilipinas, business groups and several lawyers have also questioned the money ban's legal basis, effectiveness and impact on the business community.
Comelec Chairman Sixto Brillantes Jr has defended the proposal though, saying it will not affect trade and industry because "no one buys votes using checks."
Brillantes also said, "We're not looking into the bank accounts of people. We will just control their withdrawals of cash." – Rappler.com
Visit #PHvote, Rappler's coverage of the 2013 Philippine elections. Get to know the candidates through our comprehensive profile pages.