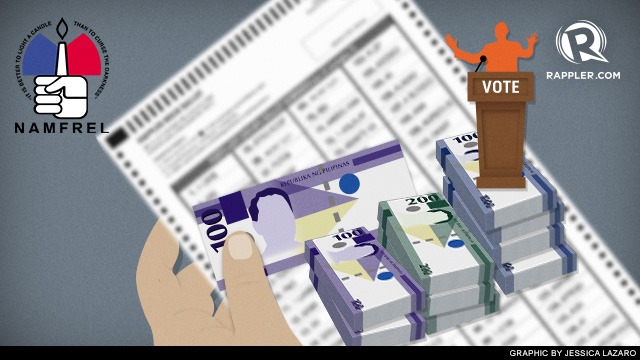 MANILA, Philippines (UPDATED) - The National Movement for Free Elections (NAMFREL) urged the Commission on Elections (Comelec) to "take the lead" against vote buying in the days leading to the May 13 elections.
In a letter dated May 9 addressed to Comelec Chair Sixto Brillantes, NAMFREL National Chairperson Corazon de la Paz-Bernardo challenged the Commission to create conditions "where vote buying and selling" is discouraged. The act of buying and selling votes is prohibited under Section 261(a) of the Omnibus Election Code.
De la Paz-Bernardo did, however, acknowledge that Comelec alone is not responsible for curbing the illegal practice. "As vote buying is really a general concern, perhaps no entity could singly address it," said De la Paz-Bernardo. (Read the full text of NAMFREL's letter to Comelec at the end.)
Reported cases
In the same letter, Namfrel submitted over 20 cases of reported vote buying and selling in different provinces across the country.
In the municipality of Daraga, Albay, vote buyers are giving up to P500 per voter. As is common with numerous other vote buying cases, the cash is stapled to a sample ballot.
In Aurora, operators are paying up to P1,200 per voter to vote for a set of candidates who are members of a local political dynasty. Aside from cash, promises of jobs are being used to entice voters in the area.
In Sta. Maria, Ilocos Sur, Namfrel obtained a video of a political gathering that purportedly shows audience members receiving P1,000 in cash. Namfrel said that barangay captains are usually tasked to distribute money, but that some members of the Sangguniang Kabataan also assist them, in clear violation of the law that barangay council members should be non-partisan. (Watch the video of the reported incident below.)
In the nation's capital, where two famous politicians are battling to control the city, local candidates have reportedly given away tricycle sidecars, rice and canned goods to their supporters.
A unique case of vote buying is in Pangasinan where a local candidate for Mayor of Dagupan City who owns a grocery store gives away food and other groceries. Vote buying there is colloquially known as "paubusan ng groceries." (emptying the grocery store)
And in Zamboanga Sibugay, barangay officials and operators are being required to recruit 10 voters with promises of P1,500 to P2,000 per voter. The voters are asked to sign a piece of paper as proof before being paid.
Other areas include: Agusan del Norte, Agusan del Sur, Abra, Albay, Antique, Eastern Samar, Mountain Province, Ilocos Norte, Cagayan, Rizal, Surigao del Sur, Negros Oriental, Guimaras, Malabaon, Manila, Misamis Oriental, Palawan, Pangasinan, Romblon, Siargao, Tawi-Tawi, Zamboanga del Sur, and Zamboanga Sibugay.
Recommendations
Namfrel called on the Comelec to immediately act on reports of vote buying to send a clear message to voters and political operators that it will not tolerate these acts.
Namfrel also recommended that Comelec encourage various organizations to prevent, confront or gather evidence against vote buying; and increase airing of public advertisements that discourage vote buying.
Comelec response
On May 7, the Comelec issued Resolution No. 9688 aimed at curbing the buying and selling of votes. Among the acts allowed by the law is the warrantless citizens arrest of persons engaged in vote buying or selling.
"To facilitate the apprehension and prosecution of vote buyers and sellers, any law enforcement officer or private person may, without a warrant, arrest a person when, in his presence, the person to be arrested has committed, is actually committing, or is attempting to commit the election offense of vote buying and selling," the resolution states.
But the Commission has received strong criticism for another provision that limits cash withdrawals to P100,000. The Supreme Court has since issued a status quo ante order, which prevents Comelec from implementing the rule. - Rappler.com
Namfrel Letter to Chairman Brillantes Re Vote Buying
Visit #PHvote, Rappler's coverage of the 2013 Philippine elections.
Get to know the candidates through our comprehensive profile pages nd help spread the word about these candidates by answering our poll.
Check out our fun timeline to find interesting trivia on the candidates.
Help us monitor violence & vote buying! Report them through #VoteWatch and our tool will automatically map your report.
Share this page and pledge to #votesmart by clicking on the button below.