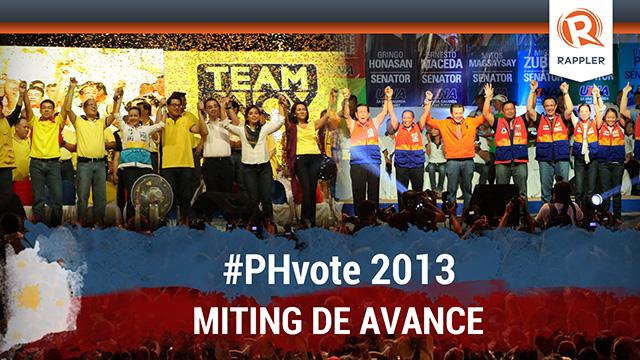 MANILA, Philippines - The senatorial and local candidates of UNA and Team PNoy vie for your votes one last time in their individual Miting de Avance events across Manila.
Watch Rappler's special coverage here:
You can also watch them individually, at the links below:
- Rappler.com
---
Is your bet leading in the 2013 elections?

Mirrored from Comelec 2013 election results data, we bring you latest numbers fresh from the server!

Check out these links to see results from:

See how fast the Comelec election results data is transmitted through the PCOS Transmission Status Map!
---
Feeling nostalgic? Watch how the May 13 elections unfold through Rappler's hourly #PHvote livestreams:

For overall live updates on the aftermath of May 13 and stories leading up to Decision Day, check out our extensive 2013 Philippine elections coverage!