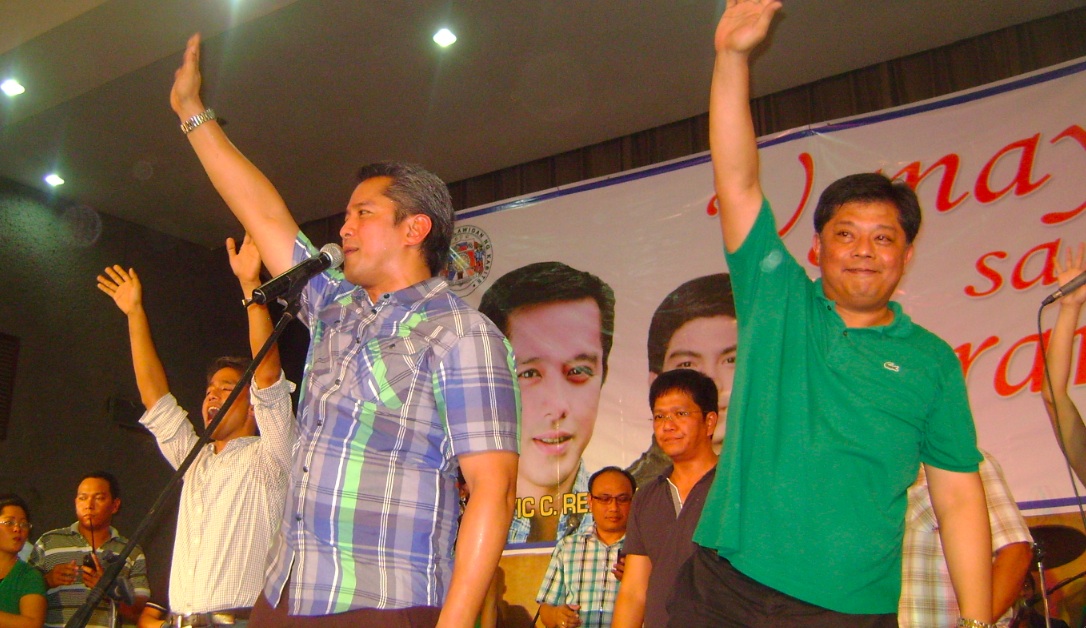 SEEKING RE-ELECTION. Cavite incumbent governor Jonvic Remulla is seeking his second term and is running against 3rd district Rep Ayong Maliksi. Photo by RAPPLER
CAVITE, Philippines – Two days before the 2013 midterm elections, both gubernatorial bets of vote-rich Cavite did their final push to woo voters to cast their ballots in their favor.
Incumbent Gov Juanito Victor "Jonvic" Remulla of Lakas-NUCD wrapped up his last day of the campaign on Saturday, May 11, with rallies in General Trias and Imus, while Liberal Party's gubernatorial candidate and 3rd district Cavite Rep Erineo "Ayong" Maliksi punctuated his campaign in General Mariano Alvarez and Imus. Their visits ended at about 10pm.
The effort to make the rounds from both camps until the last possible minute is expected.
Cavite's 1.8 million voters make it the second vote-richest province tailing only Cebu, excluding NCR. With its booming local economy, it is a crucial province situated so close to Manila. Cavite has also traditionally been a hot spot in elections – 2013 being no exception.
Read: Cavite: Huge, rich province makes a choice
This year's elections isn't only a feud of parties, it is also a clash of the province's prominent families.
Remulla's running mate is Cavite Liga ng mga Barangay President Jolo Revilla, of the influential Revilla clan in the province, the son of Sen Bong Revilla. He will challenge Jay Lacson, the chief of staff and son of another senator, former Philippine National Police (PNP) chief Ping Lacson.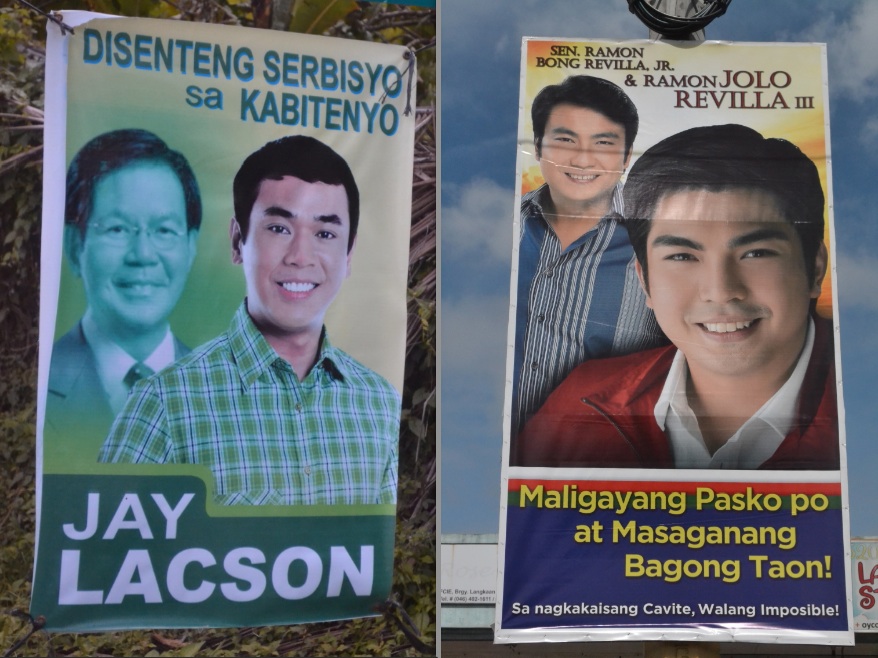 BATTLE OF FAMILIES. The 2013 gubernatorial race is also a clash between Cavite's political families. Photo by RAPPLER
Former allies, Remulla was Maliksi's vice governor from 2001-2007. Maliksi sat as Cavite's top honcho from 2001-2010, after which he ran for Congress. He is now seeking to return as governor. The two are now bitter rivals in a campaign filled with potshots and the backing of the country's most powerful government officials.
Remulla is running under Lakas which is locally allied with Partido Magdalo, but is also supported by the Nacionalista Party (NP) of which he is a member. Maliksi, as an LP member, enjoys the support of President Benigno Aquino III.
National interest
Cavite is considered one of the battleground provinces of the ruling LP, or places where the LP is aiming to unseat the incumbent official of a different party.
Aquino's investment is evident. He stopped at Cavite 3 times to campaign for his local allies, one of the highest number of visits he made in one province.
During his visits, Aquino was accompanied by LP stalwarts Manuel "Mar" Roxas and Emilio "Jun" Abaya. Sen Ping Lacson, a key ally, was also present. Abaya and Lacson are from Cavite.

In a February visit, Aquino himself did not hold back from slamming Remulla's camp, poking fun at Sen Revilla's amulet or charm which he says brings him good luck. Aquino asked the crowd not to put their trust in amulets, and to instead vote for his candidates, banking on his popularity here. In the 2010 presidential elections, Aquino topped the polls in Cavite, garnering about half a million votes in a 10-way race.
But Maliksi is not the only who enjoys huge endorsements. In a town gathering in Silang in 2012, former president Joseph Estrada endorsed Remulla before a crowd of thousands, saying Cavite will always be in good hands as long as the Remullas are at the helm. Remulla is supported by Estrada and Vice President Jejomar Binay, both of whom are stalwarts of Aquino's senatorial slate opposition, United National Alliance (UNA). While Aquino won here for president, Binay was Cavite's choice for vice president in 2010.
Remulla is also backed by NP personalities like the party's head Sen Manny Villar, as well as NP's senators Antonio Trillanes and Alan Peter Cayetano who are running for re-election, and Villar's wife, former Las Piñas Rep Cynthia, who is also seeking a senate seat.
This, despite the NP being allied with the LP on the national level in the administration's coalition, Team PNoy.
The province shows the different dynamics of UNA's rival, Team PNoy, in the local level.
The administration declared Cavite a "free zone" or a locality where parties coalesced at the national level do not observe the "equity of the incumbent" rule locally, and instead field candidates against each other.
While Liberal Party stalwarts say the race in Cavite is tight, Laylo Research surveys conducted in April show Remulla had a 14% lead over his rival.
Rampant violence
Declared by the Department of the Interior and Local Government and the Commission on Elections (Comelec) as one of the areas of concern or priority provinces, Cavite has seen its fair share of violence in this year's campaign season.
In April, the Lakas-Magdalo alliance in Cavite accused the head of the Regional Public Safety Batallion of the Calabarzon police, Sr Supt Glen Dumlao of harassing its members and supporters. On April 21, Lakas-Magdalo supporter and former barangay captain Ranel "Meng" Miranda also died when he was ambushed. Just 4 days later, an ambush in Bacoor City killed two and wounded a local official. They were also supporters of the Remulla clan.
But supporters of the Liberal Party have also not been spared. The cousin of Bacoor LP vice-mayoral candidate Edwin Malvar was hurt in a shooting just last week on Tuesday morning, May 7.
Both camps have accused the other of vote buying, with Cavite notoriously known as one of the provinces in the country where it is most rampant.
In Remulla's Imus rally on Saturday, May 11, he cited video on local television supposedly capturing Maliksi buying votes. Maliksi said it was just allowances for the barangay officials. But Remulla too faces accusations of vote-buying. Maliksi showed ABS-CBN News certificates for rice with the picture of Remulla, which he allegedly distributed in exchange for votes. Advocacy groups and Caviteño residents have filed a complaint with the Commission on Audit against Remulla but he denied the claims.
PNP spokesperson Generoso Cerbo said PNP Chief Alan Purisima has created a regional special operations task group that will focus on security and concerns in Cavite. But the Remullas complain the police force of the province is biased toward the Maliksis, citing the fact that those responsible for the killings of their supporters have yet been caught, and that the gunmen were allegedly in police uniform.
Will Aquino's bet defeat the well-entrenched Remulla-Revilla clan? Or have Caviteños been happy with Remulla's rule? In one of the hottest gubernatorial races in the country, it is up to the nearly 2 million voters of the province to decide. - Rappler.com