MANILA, Philippines - Rappler recently concluded tallying the YES votes of Internet users who viewed our information sheets on the various senatorial candidates and voted on Rappler's mock polls. With the election a day away, it's time we discussed the big question behind Rappler's mock polls: who won?
The short answer, if you were to take a look at the sheer number of votes cast for an individual, comes down to a figurative race between Jun Magsaysay and Loren Legarda.
The long answer is a little more complicated.
With one out of every three Filipinos having some form of temporary or permanent Internet connectivity, it becomes evident that acquiring the vote of an Internet user (and, by extension, one's Pinoy social network) is a noteworthy step to ensuring victory in Rappler's mock polls.
There are a number of ways to do this. A candidate can have an active social media team drumming up interest for that candidate in mock polls. A candidate can also simply have the best interests of Internet-using Filipinos in mind and garner attention online through his platform and plans rather than name recognition.
At the same time, a combination of those two factors combined with the spread of voter recommendations through social media can create a wave of positive sentiment that can drive a senatorial candidate to a spot in our mock top 12.
Rappler's mock polls saw all 3 of those strategies in play, and the results may end up surprising, or at least amusing, Rappler's readers.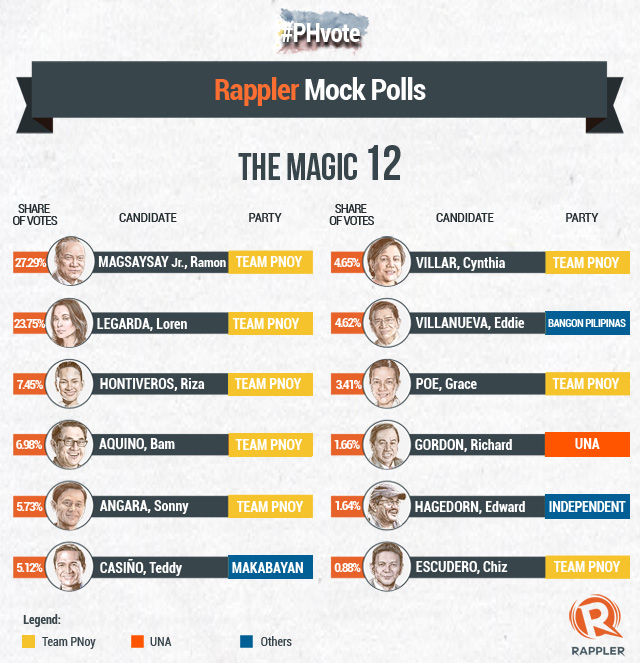 Jun Magsaysay and Loren Legarda took the top two spots in the polling with 27.29% and 23.75% respectively. Looking at the data we have available, it also becomes noticeable that there is a significant difference in the political machinery powering the two candidates when compared to others. In comparison, the next candidate in the list, Risa Hontiveros, carries a 7.45% YES vote.
Votes of Jun Magsaysay and Loren Legarda shot up in the final days of polling, with a few thousand YES votes propelling Legarda from the lower end of the listings to second place. The above-average vote percentages and the upward surge in votes for Legarda indicates the possibility of an online campaign bandwagon urging people to vote YES for Legarda on Rappler.
Outside of these two significant outliers, the remaining 10 showed a more subdued scale of attention from people. The possibility of social media mobilization and actual interest from prospective voters still exists, however, but was likely done on a smaller scale.
The 10 additional candidates who received a top 12 spot in our mock polls are:
Risa Hontiveros -7.45%
Bam Aquino -6.98%
Sonny Angara -5.73%
Teddy Casiño - 5.12%
Cynthia Villar - 4.65%
Eddie Villanueva - 4.62%
Grace Poe - 3.41%
Richard Gordon - 1.66%
Ed Hagedorn - 1.64%
Chiz Escudero - 0.88%
One added wrinkle to results of this poll is how it relates to social media users' perception of these candidates. Most of the candidates mentioned in the top 12 spots also ranked well in terms of recent social media sentiment analysis.
All the remaining candidates gained less than 0.70% of the YES votes of the Rappler-voting populace. These include Koko Pimentel (0.63%), JV Ejercito (0.50%), Nancy Binay (0.27%), and Jack Enrile (0.14%). - Rappler.com