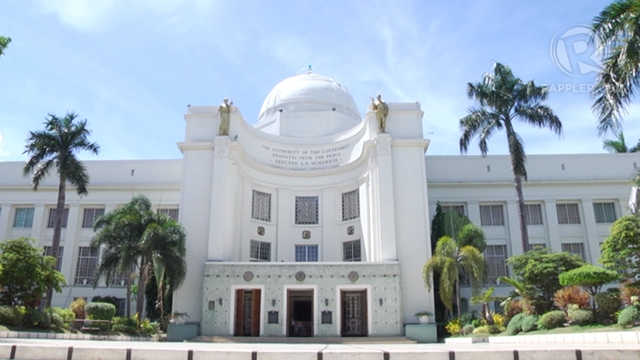 'POLITICAL SEASON.' One Cebu accuses regional police of harassing its candidates and supporters but the police and the Liberal Party deny the charge. File photo by Rappler/Franz Lopez
CEBU CITY, Philippines – Suspended Gov. Gwen Garcia's One Cebu party accused regional police of harassing its candidates and supporters on the eve of the elections.
One Cebu sent a letter-complaint on Sunday, May 12, to the Commission on Elections (Comelec) in Cebu province due to alleged "illegal and partisan acts" of the Regional Mobile Group (RMG) and Regional Public Safety Battalion (RPSB).
"We have received reports particularly from the municipalities of Alegria and Badian and city of Naga that the RMG and RPSB personnel have violated the constitutional rights of ONE CEBU leaders and supporters by forcibly entering their homes and searching their persons without valid court orders and probable cause to do so," said One Cebu counsel Ferdinand Pepito in the complaint.
He added, "If these incidents will continue unabated, it might escalate into violence and would definitely affect the peace and order situation of the entire province and alter the popular will of the people."
Candidates of One Cebu are going up against bets of the ruling Liberal Party (LP). In the gubernatorial race, LP's Hilario "Junjun" Davide III is running against One Cebu's 3rd district Rep. Pablo John "PJ" Garcia, the brother of the suspended governor.
One Cebu is allied with the opposition United Nationalist Alliance (UNA) of Vice President Jejomar Binay.
Lawyers of Rep. Garcia said that they are documenting the incidents of supposed harassment to prepare legal action.
On its Twitter account, UNA echoed One Cebu's statement, saying that its mayors in Alegria, Badian, Dumanjug and Naga City are subject of "political harassments."
UNA said that suspended Gov. Garcia confirmed reports that local LP candidates are with the RMG in "making house-to-house visits and harassing UNA supporters."
The party also accused the RMG of manning checkpoints with LP candidates.
"We will not allow any of these kinds of black propaganda and dirty tricks to succeed," UNA said.
'Police not favoring LP'
In a phone interview with Rappler, Supt. Clifford Gairanod of RPSB denied One Cebu's allegations.
Gairanod said he saw the complaint, which was devoid of details.
"It's all accusations. They should have indicated whose house, where. We did not enter any house. If we did, we should have already faced cases now. If there are police there, it is to neutralize everybody, not just One Cebu or LP but whoever we catch in the checkpoints violating the law," Gairanod said in Filipino.
Gairanod said the checkpoints are meant for apprehending goons and stopping vote-buying. "We arrest those with guns, those carrying money for vote-buying. We also act on calls for help."
"Bakit sila napaka-ano eh karamihan nga ng nahuli namin, goons nila?" (Why are they so accusatory when most of the goons we arrested are theirs.)
Asked about the accusation that LP bets are with police in the checkpoints, he said, "That's not true. We are policemen. What help will LP give us?"
Acting Gov. Agnes Magpale, the LP candidate for vice governor, also denied One Cebu's allegations.
"RMG is neutral and apolitical. This is really an insult to the professionalism of the police. They are following the Comelec directive against vote-buying."
Magpale added, "Why are they (One Cebu) questioning efforts of the police against vote-buying?"
The acting governor said that if One Cebu is receiving reports of harassment, LP also received reports about its candidates being victims of strafing in Cebu's North District.
"Talagang ganoon (It's really like that). This is the political season but I just want the police present to help preserve peace and order," she said.
Polling centers ready
Despite the reports of harassment, teachers who will serve in the Board of Election Inspectors (BEIs) in Cebu City have finished preparations for the polls.
In Guadalupe Elementary School, one of the city's biggest polling centers, teachers already received the election materials on Sunday.
Virginia Palapan, a BEI chairperson in Guadalupe, said the Comelec already replaced the precinct count optical scan (PCOS) machines that malfunctioned during the final testing and sealing phase.
She expects Monday's polls to have fewer glitches compared to 2010.
In the past election, the voting center encountered problems with long lines, transmission and lack of technicians on hand.
Palapan said that the BEIs improved communication with the Comelec to address such issues. Reserved classrooms will act as holding areas for voters waiting in line.
With 2.5 million voters, Cebu is the country's most vote-rich province.
In the Guadalupe school alone, 28,000 voters are expected to cast their vote. – Rappler.com