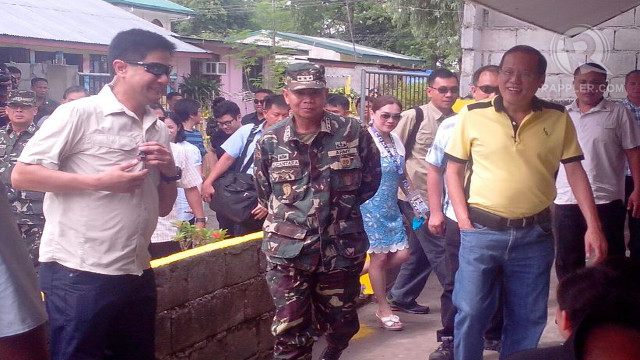 EARLY VOTER. President Aquino cast his vote early in Tarlac. Photo by Rappler
MANILA, Philippines (2nd UPDATE) - President Benigno Aquino III has cast his vote in Central Azucarera de Tarlac Elementary School for the May 13 polls despite minor glitches in the PCOS machines in the area earlier.
Aquino arrived at the polling precinct at around 9:40 am wearing his signature yellow shirt. He fell in line along with the regular voters in the area.
The President toook around 5 minutes to fill up his ballot, checking and rechecking his list before inserting it in the PCOS machine. His ballot was counted on the first try.
Aquino is pushing for a 12-0 victory in favor of his Team PNoy bets.
Binays in Makati
Minutes after President Aquino voted in Tarlac, Vice President Jejomar Binay, along with his children Jun Jun and Nancy, cast their vote in San Antonio National High School in Makati City.
Jun Jun is seeking reelection as Makati mayor while Nancy is running for senator.
The Binay patriarch, wearing an orange polo, took about 6 minutes to complete his ballot. Binay's first try on the PCOS machine was rejected but the second attempt went through.
All 3 Binays are under the United Nationalist Alliance (UNA).
Rappler Aya Lowe shares a picture from Makati City.
Mar Roxas in Capiz
Department of the Interior and Local Government (DILG) Secretary Mar Roxas has cast his vote in the one of the polling precincts in Capiz.
The former vice presidential candidate, Roxas was sporting the same yellow polo that Aquino wore when he cast his vote in Tarlac.
ABS-CBN shared Roxas' photo after he voted.
Lim, Erap in Manila
Incumbent Manila Mayor Alfredo Lim also cast his vote in Rosauro Almario Elementary School in Tondo, Manila at around 8:30 am.
Lim arrived at the polling precinct with his running mate, Lou Veloso, to vote ahead of his rival Erap Estrada.
Rappler Jerald Uy tweeted about Lim and Veloso's arrival.
Former president Joseph Estrada, on the other hand, cast his vote in P. Burgos Elementary School in Manila at around 9:40 am.
Estrada arrived at the polling precinct with running mate and incumbent Manila vice mayor Isko Moreno.
Mayor Lim is gunning for his 5th term as mayor of Manila against former President Erap Estrada, who finished second in the 2010 presidential polls.
Villars in Las Piñas
Senatorial candidate Cynthia Villar arrived in Las Piñas Science High School polling precinct with her family in tow, including Sen Manny Villar and their 3 children, at around 9:00 am.
Villar just took minutes to vote but her ballot got delayed due to a PCOS machine malfunction.
The Villars' casting of their votes was delayed by a paper jam, according to @YahooPH. The PCOS machine had to be reset, and Villar's vote was finally cast after 20 minutes.
Bongbong, Imelda in Ilocos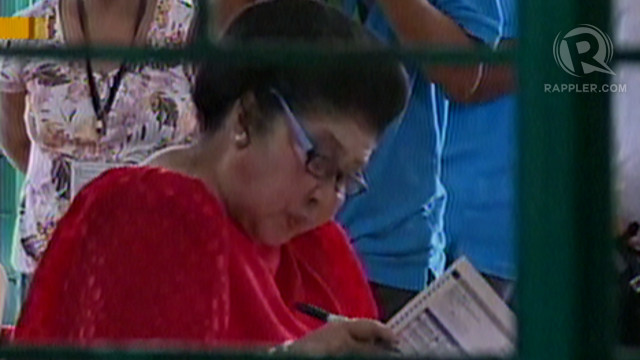 COUNTED. Former First Lady and incumbent congresswoman Imelda Marcos cast her vote in Ilocos. Photo by Rappler/Paul Michael Jaramillo
In Ilocos Norte, Sen Bongbong Marcos and Rep Imelda Marcos were some of the earliest voters at the Mariano Marcos Memorial Elementary School polling precinct in Batac City, Ilocos Norte.
The Marcos matriarch is seeking reelection against Ferdinand Ignacio and Arlene Jocelyn Butay.
Done voting
Other candidates who has cast their vote so far, include:
Senatorial candidate Risa Hontiveros
Senatorial candidate Chiz Escudero
Senatorial candidate Teddy Casino
Senatorial candidate Koko Pimentel
Senatorial candidate Loren Legarda, tweeted by GMA News
Senatorial candidate Sonny Angara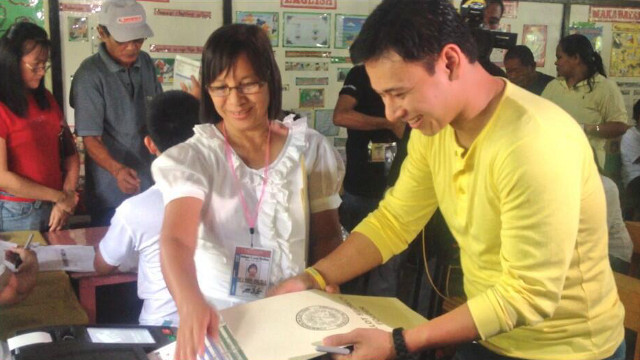 Photo from Sonny Angara's Facebook page.
Senatorial candidate JV Ejercito
Senatorial candidate Bro. Eddie Villanueva
Senatorial candidate Edward Hagedorn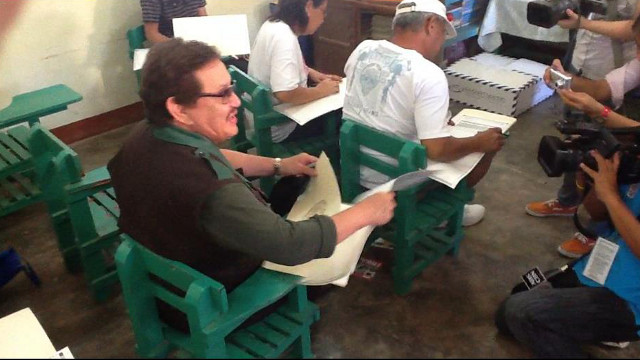 Photo from Edward Hagedorn's Facebook page.
Customs Commissioner Ruffy Biazon
Cebu gubernatorial candidate JunJun Davide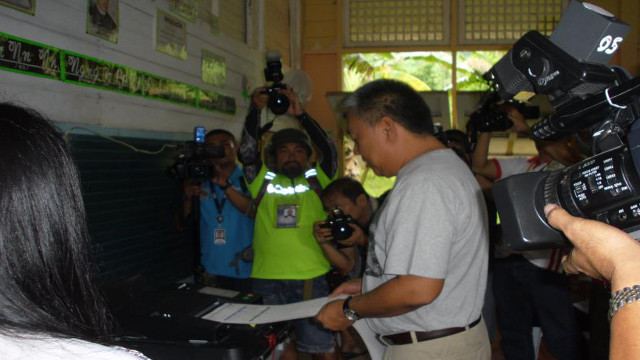 Photo from Junjun Davide's Facebook page.
Former Cebu governor and congressional candidate Gwen Garcia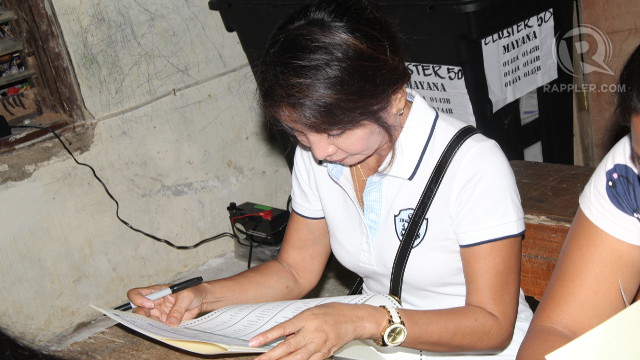 Photo by Rappler
There are 18,053 elective positions up for grabs this elections with 44,465 candidates vying for them.
A total of 52,014,648 registered voters will decide the fate of these candidates. - Rappler.com
---
Wonder what the headlines are for the past hour? Watch the replays here!
Visit #PHvote, Rappler's coverage of the 2013 Philippine elections.