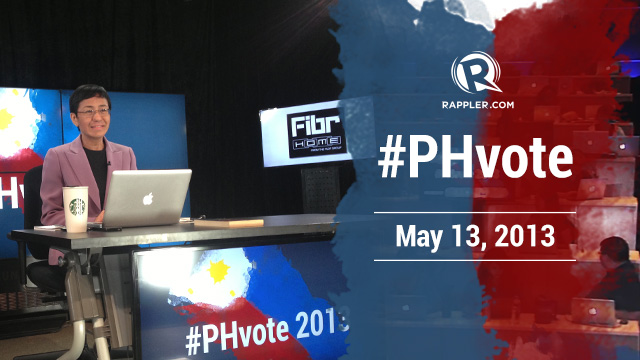 MANILA, Philippines - Welcome to #PHvote 2013, Rappler's coverage of the midterm elections anchored by Maria Ressa with Ayee Macaraig in Cebu, Natashya Gutierrez in Cavite, Carmela Fonbuena in Pangasinan, Katherine Visconti in Taguig City, Aya Lowe in Makati, Ace Tamayo in Quezon City, Patricia Evangelista and Jerald Uy in Manila and Angela Casauay in Cotabato City.
You're in our control center where professional journalists, civic society, citizen journalists, IT professionals, artists and many more trying to use technology for social change.

You'll see most of what we do on Rappler.com but we are also a hybrid of broadcast professionals adapting to the web - and that is the coverage you'll get from us.
Look back on our coverage:
Live updates on elections in Cavite.

Supporters of Sulu rival gubernatorial candidates Abdusakur Tan and Abdulwahid Sadihullah are locked in gunfight.

Police place 9 towns in Pampanga under its watch list.

Ballots meant for Compostela Valley wind up in several Baguio City precincts.
A live studio interview with Nicole Curata-Palacios.

Live updates on the Comelec, Cagayan de Oro, and Laguna.

Updates on elections in Pangasinan.

PCOS machines in Zamboanga City reportedly malfunction and election violence occurs.

The Comelec denies failure of elections in certain areas.

Vice President Jejomar Binay, Cynthia Villar, Risa Hontiveros, Fidel Ramos, and Leni Robredo encounter problems with the PCOS machines.

Up to 96 polling precincts have not received their ballot-counting machines, memory cards, and other election materials.
A live studio interview with Nicole Curata-Palacios.

Live updates on elections in Cavite.

Police arrest 6 alleged NBI agents in the compound of Sen Bong Revilla.

Smartmatic Asia expects to replace 200 to 300 of defective PCOS machines.

First-time voter receives his ballot with votes already blacked out.

James Jimenez on what happens after voting.
A live studio interview with Yoly Ong and Professor Edna Co.

Live updates on elections in Mindanao, Quezon City

The Catholic Church urges its followers to vote candidates who adhere to its value and teachings.
- Rappler.com
Visit #PHvote, Rappler's coverage of the 2013 Philippine elections.