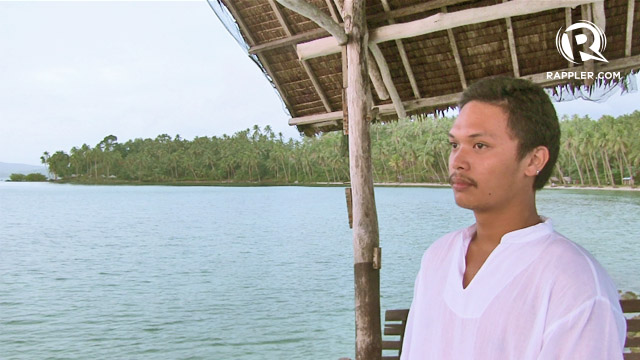 GRANDSON VS GRANDMA. Repeating his father's reported grand gesture of defiance against the ruling Ecleos in 2010, Hero voted for his aunt Jade, junking his own grandmother.
MANILA, Philippines – Precinct 20-A in Barangay Aurelio in the town of San Jose is considered a symbolic polling place in the new province of Dinagat Islands. It's where the "Supreme Master" of the Philippine Benevolent Missionaries Association (PBMA) is registered.
In the 2010 elections, former Dinagat Rep Ruben Ecleo reportedly showed his ballot to other voters in the precinct before casting his vote. He voted for his mother, incumbent Gov Glenda Ecleo, but dropped her running mate to support his sister Jade's vice gubernatorial bid.
Ruben Ecleo Jr – who had inherited his father's leadership in the influential group PBMA – could dictate a bloc vote. [READ: The hands that heal hold power]
On Monday, May 13, the fugitive Ruben Jr did not show up in the precinct to vote. His son, 21-year-old Hero, did, bearing in mind a message he recently got from his father.
Ruben Jr supposedly advised his son, "When you vote, follow your conscience and your heart."
Repeating his father's grand gesture of defiance against the ruling Ecleos, Hero voted for his aunt Jade, junking his own grandmother. He also voted against his aunt, DInagat town mayor Gwen Ecleo, to support the congressional bid of Rep Kaka Bag-ao.
Bag-ao replaced Ruben Jr after he was dropped from the congressional roster in 2012, following his conviction on parricide and corruption charges.
After showing his ballot, Hero believed that "Kung may halaga pa si Dad (sa mga Dinagatnons}, siguro naman very significant din (ang desisyon ko)." (If the Dinagatnons still value Dad, I think my decision still has some significance.)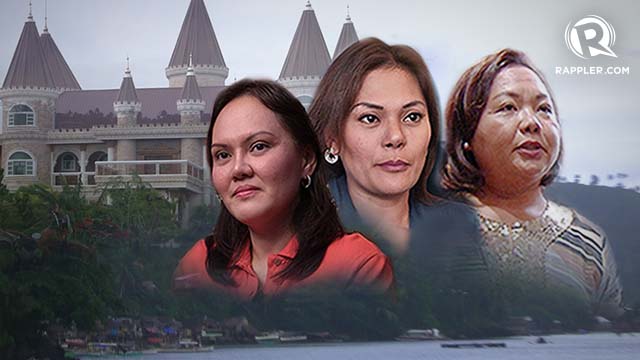 ECLEO VS ECLEO. In her battle to wrest control of the province from her family, Jade finds an ally in Akbayan representative Kaka Bag-ao (far right), who also acts as Dinagat caretaker representative.
No longer afraid
Assessing the historic race in Dinagat Islands, Hero said his bets are going to win.
"Sa tingin ko, at base na rin sa pinakita ng mga tao, nawala na yung kanilang takot." (I think based on what the people showed during the campaign, they are no longer afraid.)
For the first time in 4 decades, the ruling Ecleos' grip on power was challenged by one of their own. Jade ran against her mother for governor on a platform of hope and reform.
She's backed by the Liberal Party and a line-up that includes activist congresswoman Kaka Bag-ao. [READ: Family feud and political sisterhood in Dinagat]
In an earlier interview, Hero told Rappler that Bag-ao helped bring about change in Dinagat islands, one of the 5 provinces in the country with the lowest income.
"Nung last two years, wala namang nangyari. Nung siya yung naging caretaker, buhos nang buhos ang tulong galing ng national," Hero said. (In the last years, nothing happened. When she became caretaker, assistance from the national government poured in.)
About 73% of the people in Dinagat Islands live below the poverty level, according to the Department of the Interior and Local Government (DILG).
Iconic race
The ruling Liberal Party considers the elections in Dinagat Islands as iconic. [READ: The symbolic races in the 2013 elections]
"This must be the first time that there will be a real fight for the congressional seat in recent years. I think the governorship is a foregone conclusion since the current governor isn't even campaigning," said Liberal Party secretary-general Joseph Emilio Abaya.
Although a small province with a voter population of 65,345, the outcome of the elections in Dinagat Islands is crucial to the Aquino administration known for its efforts to curb corruption.
"We do believe that the Ecleos in the team of Gov Jade and Rep Kaka are the Ecleos who believe in 'Daang Matuwid'. LP's advantage is being identified as allies of the President and primarily believing that 'Daang Matuwid' is the way to govern the people," Abaya told Rappler.
– Rappler.com