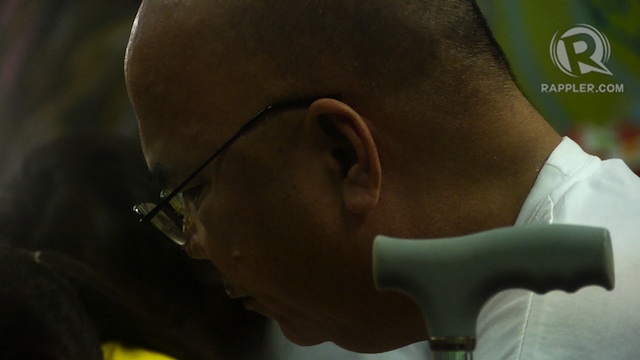 MANILA, Philippines - Alair Braulio attempts to vote at every election. It was a difficult proposition for a seaman, but he had a commitment to himself. For years, the 57-year-old filled out his ballot at every port he could find, filing a day's leave to "exercise his rights."

This year, the voting precinct is closer, just one tricycle ride from his home to the elementary school in Sta. Mesa, Manila. Yet the way is harder, because Braulio, now retired, cannot walk without a cane and his niece holding his arm.
It was a stroke in 2011 that forced the father of four into retirement. He spends his days at home, managing only a few steps outside his house every few days. His siblings finance the once brawny sailor. His children say he has been depressed, but the elections gave him a new purpose. He has spent months watching television, listening to the news, absorbing every commercial, building his list of senatorial choices, comparing reports from every news agencies.
Today, he weeps as he votes, partly out of pride, says his daughter, and partly because of his condition. He has exercised his rights, he has made it this far, and for a small moment, he is again part of the world he was forced to leave. The country may not change with his one vote, but he says he's willing to try.
(Video by Patricia Evangelista, Aiah Fernandez and Jospeh Suarez)
- Rappler.com