MANILA, Philippines - Administration coalition Team PNoy leads the 14 bets who have the statistical chance to take the 12 available spots in the Senate, according to the latest pre-election survey results of Pulse Asia.
A May 10 to 11 face-to-face survey showed that of the probable winners, 10 belong to the Team PNoy coalition while 4 are running under the opposition coalition United Nationalist Alliance (UNA).
The following are the voter preference rates for the senatorial bets: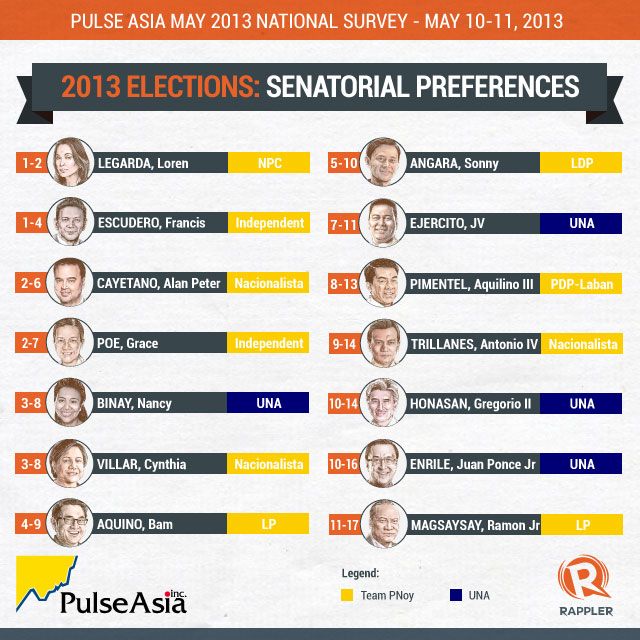 Nancy Binay, the daughter of Vice President Jejomar Binay of UNA, was the biggest gainer, jumping 12.3 points from the previous survey results in April.
Re-electionist Alan Cayetano (up 11.1 points), Angara (up 11.2), and presidential cousin Bam Aquino (up 10.2) also jumped double digits.
Legarda kept her top ranking despite the controversy on her reported failure to declare a New York property in her wealth statement.
During the survey period, the influential church group Iglesia ni Cristo endorsed the senatorial bids of 7 candidates from Team PNoy and 5 from UNA, and the national and local candidates conducted their own "miting de advance" as the official campaign period drew to a close. - Rappler.com