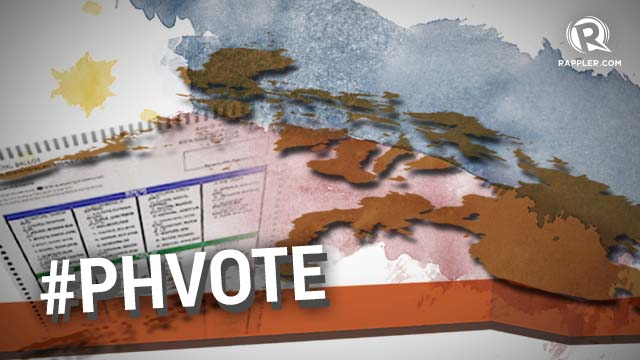 MANILA, Philippines - A day after May 2013 polls open, local races heat up with unofficial poll results showing overwhelming leads for certain candidates.
With 95.79% of votes already officially canvassed, former presidet Joseph "Erap" Estrada is ready to assume his role of Manila city mayor. According to the board of canvassers in Manila, Erap led the race by 33,409 votes against re-electionist Alfredo Lim of the Liberal Party.
LP blocked the proclamation of Estrada as mayor, demanding the canvassing of the remaining 4% of votes.
Erap's running mate, former actor Isko Moreno, could boast an overwhelming lead in the vice mayoral race with 388,349 votes compared to opponent Lou Veloso's 231,521 votes.
Cavite, the province with the second highest number of registered voters, seems to have made its choice. Re-electionist Governor Juanito Victor "Jonvic" Remulla outstrips his only rival, former governor Erineo Maliksi, by 50,299 votes as of 12:52 a.m. on May 14. Remulla's running mate, Ramon "Jolo" Revilla also leads by 155,687 votes against closest rival, Ronald Jay Lacson of the Liberal Party.
Jolo is the son of senator Ramon "Bong" Revilla while Lacson is the son of senator Panfilo "Ping" Lacson.
Senatorial race
In the senatorial race, independent candidate Grace Poe maintains her unexpected lead with 14,094,067 votes as of 5:05 a.m.
Nationalist People's Coalition bet Loren Legarda is 1,237,430 votes away from the top stop. Chiz Escudero is at 3rd place with 12,194,435 votes.
Completing the magic 12 are Nacionalista Party's Alan Peter Cayetano, Nancy Binay of United National Alliance, Sonny Angara (Laban ng Demokratikong Pilipino), Bam Aquino (Liberal Party), Koko Pimentel (PDP-LABAN), Antonio Trillanes IV (NP), Cynthia Villar (NP), JV Ejercito (UNA) and Gringo Honasan (UNA).
Staying at the 13th and 14th place are Dick Gordon (UNA) and Ramon "Jun" Magsaysay Jr (LP).
To stay updated, see the real-time results via Rappler's Mirror Server.
Celebrity candidates
Boxing champion and TV personality Manny Pacquiao received 120,302 votes as of 3 a.m. and will likely be re-elected as representative of the lone district of Sarangani. His wife Jinkee, a political neophyte, led the Sarangani vice-gubernatorial race by 80,891 votes.
Many celebrity candidates are overtaking their opponents in large margins such as Quezon City mayorial bet Herbert "Bistek" Bautista who had 430,962 more votes than his closest rival as of 3:36 a.m. on May 14.
Batangas gubernatorial candidate Vilma Santos-Recto led by a staggering 613,610 votes. Lucy Torres-Gomez, who is running for a congressman of the 4th District of Leyte, overtook her only opponent by 23,493 votes.
Final and official results of local races are expected on May 14. Comelec chief Sixto Brillantes Jr. says that by 7 p.m. on May 15, Wednesday, both national and local results will be in. - Rappler.com
Is your bet leading in the 2013 elections?
Mirrored from Comelec 2013 election results data, we bring you latest numbers fresh from the server!
Check out these links to see results from:
See how fast the Comelec election results data is transmitted through the PCOS Transmission Status Map!
Feeling nostalgic? Watch how the May 13 elections unfold through Rappler's hourly #PHvote livestreams: