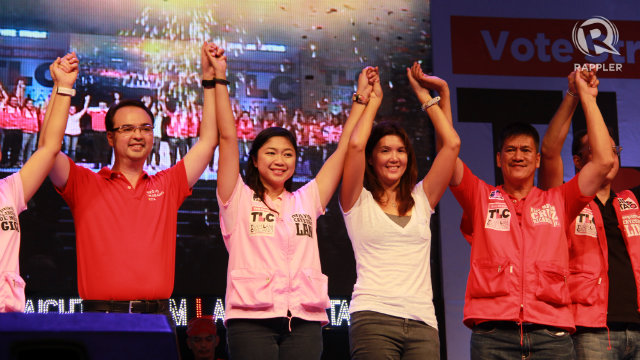 Confident Cayetanos. Alan Peter, his wife and sister triumphantly raise their hands at the end of a miting de avance in their home court of Taguig. Lani Cayetano calls their last political rally a "dry run for their victory party." Photo by Rappler/Katherine Visconti
TAGUIG, Philippines - The official results of the local electoral race in Taguig will be delayed slightly, due to nagging questions about some results that could not be transmitted wirelessly.
With just over half the results tallied, Laarni "Lani" Cayetano, the incumbent and the wife of Sen Alan Peter Cayetano, leads the race for mayor.

As of 2 am Tuesday, May 14, the Taguig Commission on Elections (Comelec) reported that 53.05% of the results had been transmitted.

Of those votes, Cayetano held about 62% or 68,216. Meanwhile, her rival Rica Tiñga, the daughter of retired Supreme Court justice Dante Tiñga, earned 38% or 42,495.
The results show Cayetano ahead in 22 of Taguig's 28 Barangays. The current mayor even leads in the Tiñga home base of Hagunoy, which Tiñga believed would solidly support her.

Transmission problem in 5 barangays

The transmission of results to the canvassing center in the Taguig City Hall was off to a good start, with about 30% of the results sent less than two hours after the canvassing opened at 7:30 pm.

At 10 pm, however, the transmission of results slowed down with 5 barangays—including Tuktukan, where the city hall is located—unable to send any results.

As of 2 am, not a single vote was counted in three barangays.

Calzada, Palingon and San Miguel all failed to transmit election results by the time the Board of Canvassers adjourned. The 3 barangays have a total of 16,260 registered voters — about 63 percent of the votes needed to close the gap between mayoral candidates Cayetano and Tinga.

Slight delay in declaring victor

While the local Comelec figured out how to manually log the results from the 5 barangays, several questions arose about oddities in the results that were transmitted that way. The Taguig Comelec decided to stop the count at 2am to give themselves time to question the Board of Elections Inspectors the next day.

The questions – largely raised by the Tiñga's lawyers - surround 4 compact flash (CF) cards.

Because of the transmission problems, results recorded on 22 compact flash (CF) cards were delivered in individually sealed envelopes to the city hall.

One card was scanned despite concerns raised that its envelope was sealed using scotch tape, instead of the official seal provided by Comelec.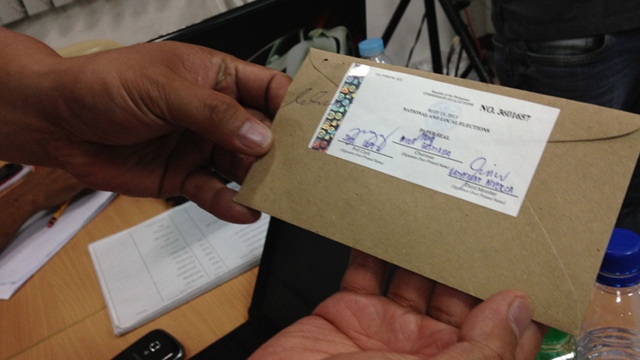 OFFICIAL SEAL. If the results of a CF card do not automatically transmit to the COMELEC, then the card must be enclosed in an envelope with an official seal. Photo by Katherine Visconti.

The manual scanning of two other cards was deferred when the Comelec officials discovered that the files containing the election results were missing.

The Comelec decided to set aside another card to inspect more closely after two cards for the same cluster were found in one envelope. Each envelope was only supposed to obtain a single card. The city prosecutor of Taguig and the vice chair of the canvassing board, Archimedes Manabat, said the second card could just be a back up CF card that was mistakenly included with the main card.

The Board of Elections Inspectors (BEI) will have to explain the missing file and seal on the CF cards from their respective clusters before the winning candidates can be proclaimed in Taguig.

They are due to appear at the Taguig canvassing center at 2pm, after which the counting of votes can resume. - Rappler.com