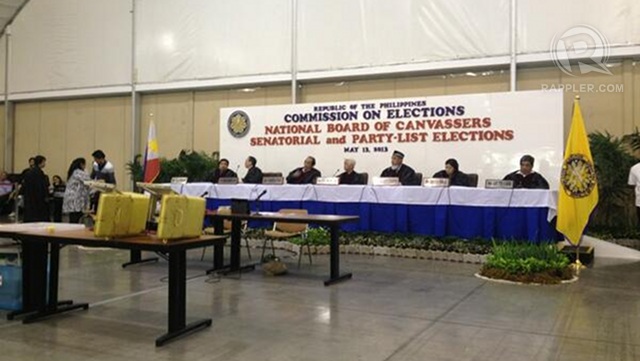 FINAL SAY. The Comelec, sitting as the national board of canvassers, will finalize the tally for senatorial and party-list results. Photo by Paterno Esmaquel II
MANILA, Philippines - The senatorial race will officially end on Wednesday evening, May 15, as the Commission on Elections (Comelec) expects to proclaim all 12 senators exactly 48 hours after precincts closed.
In a press conference, Comelec chair Sixto Brillantes Jr said the Comelec will likely proclaim all senatorial bets by 7 pm on Wednesday.
Sitting as the national board of canvassers, the Comelec on Tuesday, May 14, began to canvass votes for senatorial and party-list bets. The national board did this at the canvassing center located at the Philippine International Convention Center (PICC) in Pasay City.
The first canvassed votes, on the national level, came from Guimaras and Parañaque City. The national board will release hourly updates on the canvassing of votes.
Brillantes explained that election results published through two of three servers – the Comelec central server and the transparency server – remain unofficial. Initial results published by media groups, including Rappler, come from transparency mirror server. (Check the live results from the Rappler Mirror Server through this link.)
The only official results will come from the server of the municipal board of canvassers (MBOC), Brillantes explained. (Watch more in the video below.)
In the case of senatorial and party-list candidates, the results will flow from the MBOC server, then to the provincial board of canvassers server and the national board of canvassers server. "The official one goes into a ladderized system," he said.
Partial, unofficial results from the Rappler Mirror Server show the administration ticket, Team PNoy, leading the senatorial race. – Rappler.com