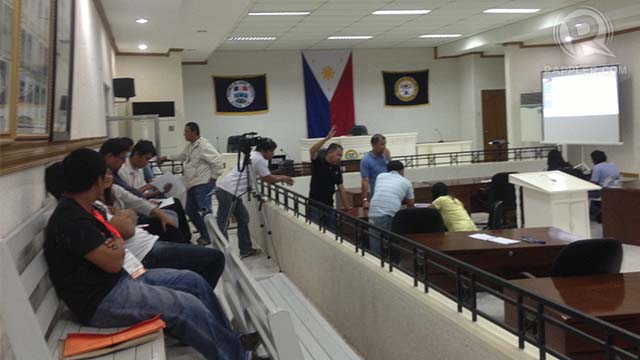 EMPTY PRECINCTS. Polling stations are almost empty except for a few election workers, poll watchers and journalists. Photo by Karlos Manlupig/RAPPLER
MATI CITY, Philippines - Defective CF cards and weak cellphone signal are causing significant delays in Davao Oriental's vote canvassing, an official said on Tuesday, May 14.
Out of 11 towns in the province, 5 had failed to transmit results as of posting time, according to provincial Commission on Elections assistant Neresa Liguez.
Liguez explained that PCOS machines in towns like Mati and Cateel -- severely affected a few months ago by typhoon Pablo -- bogged down after the CF cards malfunctioned. "The cards started to fail even before the voting closed. Nothing was saved on the backup cards," she said.
(Read: Voting in the eye of the storm)
The official noted that replacement cards are being transported already from other areas and should arrive in the evening. If they are delivered on time, canvassing may be finished by Wednesday.
Another problem is the poor cellphone signal in the province.
In the nearby town of Boston, all data must be transmitted using broadband global area network (BGAN) because no cellphone company has a network in the area.
Liguez recalled that they experienced the same problem in 2010, but no transmission is even more complicated due to the effects of typhoon Pablo, which toppled many communications towers and providers have not yet fixed all of them. - Rappler.com
Visit #PHvote, Rappler's coverage of the 2013 Philippine elections.

Get to know the candidates through our comprehensive profile pages and help spread the word about these candidates by answering our poll.
Share this page and pledge to #votesmart by clicking on the button below.