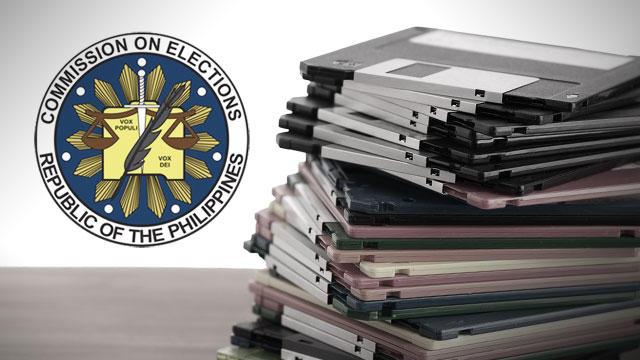 STORAGE SPACE. The Comelec is looking into an alternative means of transmitting results, such as storage devices.
MANILA, Philippines (UPDATED) - Faced with high-tech problems in the second automated polls, the Commission on Elections (Comelec) considers a crude solution: using "diskettes" to manually transmit provincial results.
While Comelec chair Sixto Brillantes Jr used the term "diskettes" twice in a press conference on Wednesday, May 15, his chief of staff Emil Marañon clarified that he meant it as a general term for alternative storage devices, such as the more modern flash drives.
The Comelec has canvassed only around 4% of 301 certificates of canvass (COCs) nationwide as of Wednesday morning.
Brillantes said another option is to use "actual manual COCs, which can be brought here."
He said this was not done in the 2010 presidential elections, which was the country's first automated national polls, but may ease transmission problems this year. But he said the Comelec wants to avoid resorting to this.
'Technical issues'
"Meron ring konting technical issues involved. Ayoko lang i-explain, kasi dini-discuss pa namin. We have certain options that we can actually apply, but we don't want to do it. Baka lalong lumaki," he explained.
(There are some technical issues involved. I just don't want to explain these, because we're still discussing it. We have certain options that we can actually apply, but we don't want to do it. It may blow the problem out of proportion.)
The server used by the national board of canvassers (NBOC), which is composed of the Comelec en banc, only receives results from provincial BOCs. On the other hand, other servers – like the Rappler Transparency Mirror Server – receive transmissions from each precinct count optical scan (PCOS) machine used in the elections.
The poll chief said in other cases, tight local races – not technical difficulties – were delaying the transmission of results.
The delay has forced the Comelec to bend its expectation to proclaim the winning senators by Wednesday night. Brillantes said they are hoping to proclaim senators by the evening of Thursday, May 16, instead. – Rappler.com