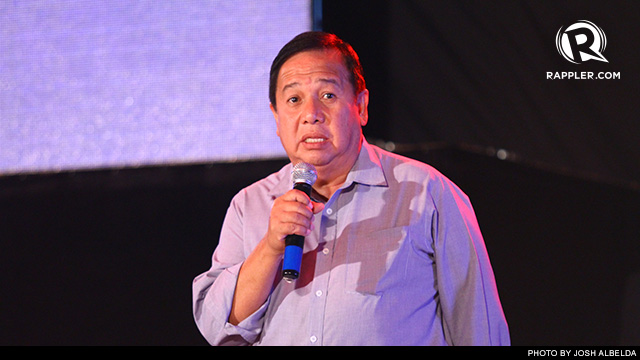 WINNING SLATE. Richard Gordon enters the list of leading senators as of May 15. File photo by Josh Albelda
MANILA, Philippines – Opposition bet Richard "Dick" Gordon entered the winning slate on Wednesday afternoon, May 15, after the national board of canvassers (NBOC) finalized the tally for over 3 million votes for senator.
The latest canvassing report also shows the administration ticket, Team PNoy, keeping its lead.
Gordon, who runs under the United Nationalist Alliance (UNA), has 1,081,080 votes from the 21 certificates of canvass (COC) processed so far by the NBOC. The former senator dislodged Gringo Honasan, who was part of the official tally earlier on Wednesday.
The canvassed COCs comprise around 7% of the total. The NBOC was supposed to proclaim winning senators on Wednesday evening, but poll chief Sixto Brillantes Jr postponed this due to transmission problems.
Based on the COCs so far, winning slate is composed of 9 candidates from Team PNoy and 3 from una:
POE, Grace – 1,520,880

LEGARDA, Loren – 1,420,068

ESCUDERO, Chiz – 1,367,597

BINAY, Nancy – 1,341,777

CAYETANO, Alan – 1,321,587

ANGARA, Sonny – 1,250,443

PIMENTEL, Koko – 1,193,232

AQUINO, Bam – 1,181,655

EJERCITO, JV – 1,131,921

GORDON, Dick – 1,081,080

TRILLANES, Sonny – 1,076,984

VILLAR, Cynthia – 1,066,122
The latest report is generally consistent with partial, unofficial results obtained through the Rappler Mirror Server so far. (Check the results from the Rappler Mirror Server through this link.)
Official vs unofficial results
Only the NBOC can finalize the tallies for senatorial and party-list positions.
In a press conference on Monday night, May 13, Brillantes explained that election results published through two of 3 servers – the Comelec central server and the transparency server – remain unofficial. Initial results published by media groups, including Rappler, come from the transparency mirror server. (Watch more in the video below.)
"The official one goes into a ladderized system," he said.
Comelec spokesman James Jimenez earlier said the public should wait for, and refer to, the official count to determine the 12 new members of the Philippine Senate. – with reports from Michael Bueza/Rappler.com