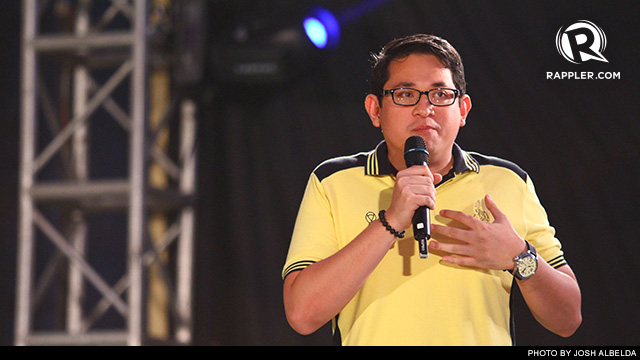 NEXT PLANS. Senatorial candidate Bam Aquino said he is looking forward to his honeymoon with his new wife Timi, who he married just 5 months before the official campaign season. Photo by Josh Albelda
MANILA, Philippines - Senatorial bet Benigno "Bam" Aquino said he is excited to enter the Senate, but there's another thing he's looking forward to as the elections come to a close: to go on a honeymoon with his wife.
Aquino, who is ranked eighth in the official election count, married his longtime girlfriend Timi just 5 months before the campaign season began. The two were forced to postpone their honeymoon to focus on campaign preparations.
"My agenda is to be on a vacation, be on a honeymoon with my wife. I'm actually not used to being with her every day because we have different schedules since the campaign started," Aquino told media on Wednesday, May 15.
Timi has served as proxy for Aquino in some Team PNoy sorties, or campaigned in other areas while her husband had other engagements.
Aquino said he is happy he is able to spend time with his new wife, now that the elections are over.
"I am glad that we are always together now. We are newlyweds so we want to do the things that newly-married people do because we had to postpone it (honeymoon) because of the campaign," he said.
Aquino won the campaign on his platform for the poor and the youth. He headed the National Youth Commission during the administration of former president Gloria Macapagal-Arroyo. - Rappler.com