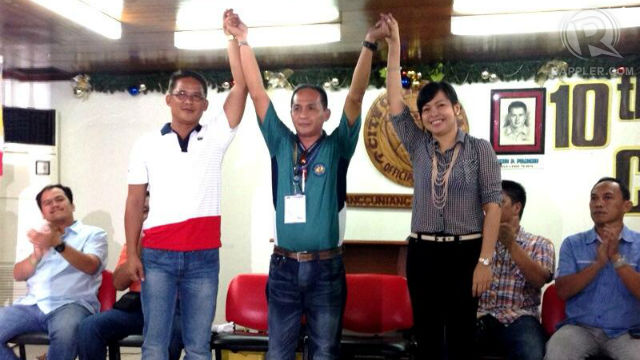 PROCLAMATION. Comelec proclaims NPC candidates Pulmones and Yu as mayor and vice mayor, respectively.
PAGADIAN, Philippines - Pagadian Comelec chair Edmund Rey Calo declared on Tuesday, May 14, Nationalist People's Coalition (NPC) bets Romeo Pulmones and Divina Grace Yu as winners of the mayoral and vice mayoral races, respectively.
With 41,182 votes, Pulmones grabbed the top post leaving behind Liberal Party bet Priscilla Ann Co.
Co received only 40,644 votes, and is 538 votes ahead of Pulmones. Co is the wife of Pagadian mayor Samuel S. Co.
In the vice-mayoral race, Divina Grace Yu, wife of incumbent Zamboanga del Sur first district representative, Victor Yu, snagged the post with 40,100 votes.
She defeated LP's Romeo Vera Cruz with 606 votes. Vera Cruz got a total of 39,494 votes.
7-3 councilmen in favor of LP
Despite not being able to bag the city's top two posts, the Dream-Team CO of the Liberal Party got 7 out of 10 seats in the council.
Winning LP candidates were: Jigger Ariosa, Bienvenido Culve; Glavys Gavenia; Ricardo Ona; Wilson Co; Baleleng Fernandez; and Tata Quicoy.
The remaining 3 posts were taken by NPC candidates: Ernesto Mondarte, Cesar Dacal Jr, and Troy Asugas.
Of the 123,007 voters registered in the 151 clustered precints in Pagadian, only 87,130 voted on the election day or 70.83% of the total voters. - Rappler.com

James Annjo Salomon is a Rappler mover from Pagadian city.