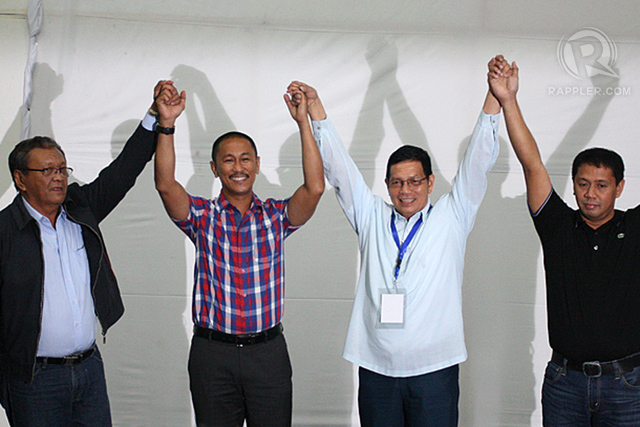 RE-ELECTED. Governor Esmael Mangudadatu (2nd from Left) and Datu Lester Sinsuat (right) were proclaimed governor and vice governor by the provincial board of canvassers of Maguindanao. Photo by Manman Dejeto/Rappler
MANILA, Philippines (Updated) -- The man who rose to power following the country's bloodiest massacre gets a second term.
The provincial board of canvassers of Maguindanao proclaimed Esmael "Toto" Mangudadatu and his runningmate Datu Lester Sinsuat as the governor and vice governor of Maguindanao on Wednesday, May 15, at 11:15 pm.
Mangudadatu and Sinsuat, both members of the Liberal Party, defeated their rivals Tucao Mastura and Ali Midtimbang of the United Nationalist Alliance (UNA).
It was a landslide win for the reelectionist governor. He got a total of 195,473 votes while Mastura had 94,678 votes from 34 out of 36 municipalities, with a voter turnout of 310,227 out of 544,430 registered voters.
Anticipating his proclamation, Mangudadatu arrived at the Shariff Kabunsuan Cultural Center in Cotabato City, where the provincial canvassing was being held, at about 5 pm.
With Mangudadatu leading by at least 90,000 votes with election returns from 33 out of 36 municipalities already canvassed as of 3pm, his legal counsel asked the PBOC to lower the threshold to allow for Mangudadatu and Sinsuat's early proclamation.
The PBOC decided to make an early proclamation after the results from the municipality of Parang came in.
They did not wait for transmission of results from the municipalities of Gen. SK Pendatun and Sultan Kudarat, bailwick of Mastura, the town's former mayor, anymore after it was determined that Mastura's numbers could not catch up with Mangudadatu's lead.
Mastura told Rappler his camp is mulling the filing of an electoral protest. He said they are "gathering evidence" of vote-buying, PCOS irregularities and intimidation tactics.
In an interview with Rappler hours before the proclamation was made, Mastura called for calm.
"Let us all calm down. Let's not think of doing anything, especially unlawful acts," he said. "Let the law take its course," he added.
At the canvassing, Mangudadatu dismissed Mastura's claims. He told Mindanews that the allegations are mere black propaganda.
Mangudadatu won his first term as Maguindanao governor in 2010 after beating Andal Ampatuan Jr. and other candidates.
In 2009, Mangudadatu's wife, sister and supporters died in the Maguindanao Massacre, where 58 people were killed. Ampatuan is facing charges for the massacre.
(Read: Mangudadatu's biggest challenge)
Then a member of the Liberal Party, Mangudadatu's challenger, Mastura served as his campaign manager in 2010.
(Read: When a kingmaker wants to be king)
Mastura joined UNA soon after the Liberal Party chose Mangudadatu as their official candidate. - Rappler.com, with reports from Manman Dejeto