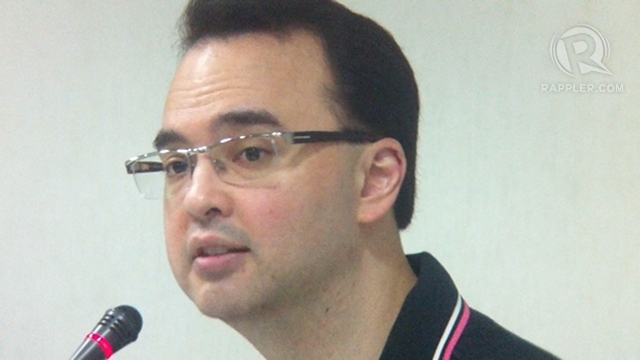 3RD PLACE. Re-electionist Sen Alan Peter Cayetano grabs the 3rd spot in the latest canvass report. File photo
MANILA, Philippines – Re-electionist Sen Alan Peter Cayetano grabbed the 3rd spot from his fellow re-electionist, Sen Chiz Escudero, after canvassers processed over 20% of certificates of canvass (COCs) Thursday, May 16.
The national board of canvassers (NBOC) counted 5,597,679 votes for Cayetano as of 2:54 pm on Thursday. The board, which is composed of the Commission on Elections (Comelec) en banc, counted 5,581,201 votes in favor of Escudero.
Based on its 6th canvass report, the NBOC has so far processed 66 of 301 COCs, or 21.92% of the total.
In its 5th report issued earlier on Thursday, Escudero occupied 3rd place.
United Nationalist Alliance (UNA) bet Richard "Dick" Gordon, who entered the magic 12 on Wednesday, May 15, was booted out of the winning circle based on Thursday's reports. Gregorio Honasan, who is also from UNA, took the 12th place from Gordon by an 80,000-vote margin based on the 6th report.
Surprise front-runner Grace Poe remains in first place, with 6,504,294 votes.
Team PNoy leads
The composition of the winning slate is still 9-3 in favor of the administration ticket, Team PNoy:
POE, Grace (Team PNoy) – 6,504,294

LEGARDA, Loren (Team PNoy) – 5,967,495

CAYETANO, Alan (Team PNoy) – 5,597,679

ESCUDERO, Chiz (Team PNoy) – 5,581,201

BINAY, Nancy (UNA) – 5,315,184

ANGARA, Sonny (Team PNoy) – 5,232,977

AQUINO, Bam (Team PNoy)– 4,927,748

PIMENTEL, Koko (Team PNoy) – 4,828,881

TRILLANES, Sonny (Team PNoy) – 4,666,117

EJERCITO, JV (UNA) – 4,602,150

VILLAR, Cynthia (Team PNoy) – 4,504,611

HONASAN, Gringo (UNA) – 4,335,339
(Check official results so far through this link.)
Comelec chair Sixto Brillantes Jr said the NBOC expects to proclaim up to 6 senators on Thursday. The NBOC as of posting time, however, was still hearing a motion by UNA to suspend the proclamation. – Rappler.com